While running through a department store from one ride to the next (elevator to escalator) my son noticed a very nice pair of women's shoes that were on sale for $70. My husband coughed that "are you kidding me?" cough, and I just threw up my hands and said "Don't look at me, my ankles hurt just looking at them."  Which led me to the realization that I am very "unfeminine" in many ways.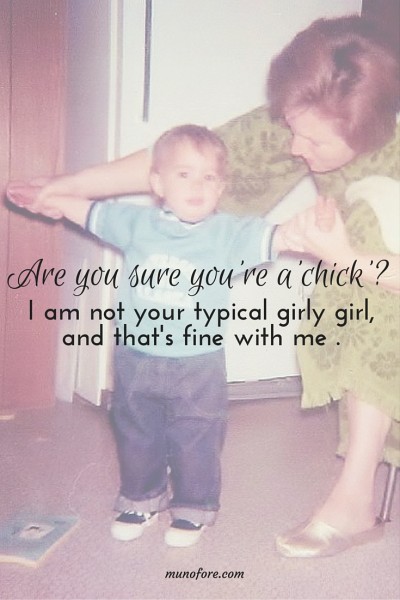 Some stereotypical American woman things I have not experienced:
read the Fifty Shades series
spent over $35 on a pair of shoes
had a manicure or a pedicure
spent over $20 on a hair cut
watched anything related to or associated with the Kardashians
purchased make up from a cosmetics counter at a department store
Other non-woman things about me:
ESPN and NFL Network are usually the first channels I check when looking for something to watch.
I like playing video games, and the first time I played Wii Boxing I knocked my husband's Mii out (thank you, Coach Ingram!)
I can be out the door in 15 minutes (used to be 5 minutes, before I became a Mommy, now I have to pack his stuff and get him ready too).
I have packed for a last minute weekend get away in under an hour, including my son's stuff food and activities for the car ride all loaded in the car and on our way.
I own a hair dryer that I use once a month, if that. Otherwise I do not own a curling iron/ hair straightener or whatever other hair perfection devices are out there these days.
Shopping is not therapeutic for me. Get in, get what you need, get out.
I don't enjoy chatting on the phone for the most part. Now if it is a friend I haven't spoke to in ages, that's different.
My purse and shoes combo? White sneakers and a simple black shoulder bag that has as much J's stuff as mine.
Most days I only accessorize with my engagement and wedding rings.
Chick Flick or Action Movie? - action movie every time.
Dark chocolate is just "okay" in my book.
The tool set is MINE and it is not pink.
My favorite shoe designer? Reebok.
My favorite clothing designer? uh, I couldn't even name one.
Ok, some of those may be more signs of my innate frugalness, but if I am going to splurge my first choice usually isn't "girly" things.
If any of the above excite you, good for you. I am not into motorcycles, but I have friends that are - more power to you. I not only have enough self esteem that it doesn't bother me that I don't enjoy many of those stereotypical activities, I have no problem with women (or men) that do.
Maybe that could become the new archetypal American woman: does what she wants and accepts other women for doing the same. Live and let live.
[Tweet "The new archetypal American woman: does what she wants and accepts other women for doing the same. #feminism"]