Its one of those horrifying sounds as a parent. The gagging cough that wakes you out of a dead sleep and causes you to leap across the house in 1.3 seconds. Your child is vomiting and your mind is racing? Is he okay? Did she make it to the bathroom in time? How bad is it?
You immediately go into auto pilot. You comfort your child and begin the arduous task of cleaning ... them.. their clothes... the toilet... the floor... the bed...
And you finally get them back into a nicely cleaned bed to try to sleep while you sit nearby listening to every breath. Cringing at every groan. Strange thoughts start to go through your mind. Like how grateful you are.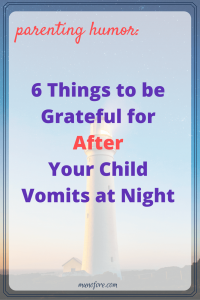 Yes, I said grateful. Not that my son was sick Saturday night, but for...
A strong gag reflex that enabled me to clean the mess without adding to it.
A working washer and dryer.
A waterproof mattress pad so I didn't have to resort to this.
[Tweet "Parenting Humor: things to be grateful for AFTER your child is sick in the middle of the night. #parenting #humor"]
A husband that went back to bed and let me handle it.
My son waking up feeling like this.
And mostly that precious moment when Dad took over and I got to do this.
Here's a gold star for all of the parents that have been through it and survived with their sanity (somewhat) intact.