Making coffee seems so simple. Ground coffee beans + water = coffee. Right? But there are many different ways to prepare coffee and each produces a distinctive taste.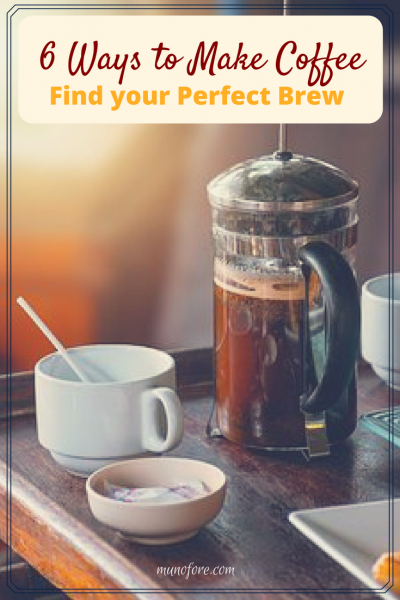 Before we jump into the coffee maker, here are my April photos for my Project 365: Coffee that I am doing over on Instagram. I'd love it if you'd join me over there for a daily cup of coffee.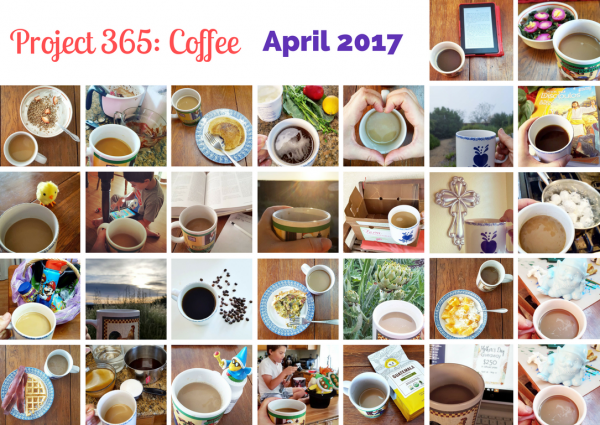 All of the links below are affiliate links. I receive a small percentage for any purchases you make through these links at no additional cost to you.
[Tweet "Six popular ways to make coffee - find your perfect brew! #coffee #coffeelover"]
Standard Drip Coffee Maker (aka Filtered Coffee)
The way most coffee is brewed in the US, hot water is poured over coffee grounds held in a filter, then coffee drips through. Programmable, easy to use, medium body, flavor and caffeine. BLACK & DECKER 12-Cup Programmable Coffeemaker
Percolator
Percolators are available for both stovetop or electric stand alone models. The stovetop versions are great for camping. Produces a strong somewhat bitter coffee (with potential for coffee grounds in your cup). Farberware Classic Stainless Steel Yosemite 8-Cup Coffee Percolator

French Press
Mix hot water and coffee in the carafe and let steep for 5 minutes, push down on the press to hold the grounds at the bottom. Medium body, intense flavor and aroma and lots of caffeine. Bodum Brazil 3 cup French Press Coffee Maker

Cold Brew
When brewed with cold water, the coffee's oils are not changed as they are in all of the other methods. This produces a crisp, sweeter than drip brew with low acid. But, it takes 12-24 hours to brew. Country Line Cold Brew Coffee Maker - 2 Quart

Moka Pot
The moka pot uses steam like espresso makers, but the pressure is 9x lower. Stronger flavor than drip but not as strong as espresso. Bialetti 6 cup Espresso Maker

Espresso
Steam is forced through the grounds resulting in a thick strong brew. Strong flavor, high in caffeine. De'Longhi 15 BAR Pump Espresso and Cappuccino Maker

The coffee maker on my wishlist
It's hard to justify the expense when I am the only one that drinks coffee in the house.  But this sure would be a fun option for all of the different drinks: regular, ice, specialty. Ninja Coffee Bar Brewer
A mom can dream, can't she?
I'd love to know what your favorite coffee method is? Let me know in the comments below. I promise no snide remarks if you prefer the over priced single cup environment destroyers.
 (well, except that one little comment 😉 ).