Carol is back this week with a "celebration" theme to the features this week which is perfect timing. I am celebrating because I am now officially an Amazon author! Whoop!
Okay, it is just a 200 word contribution to a book about pets, but a girl has to start somewhere, amirite?
Right now it is free to download, or the price may have gone up to $1. If you love animals you want to check it out. It's a light easy read that you can pick up and read for a few minutes and come back for more stories later (Amazon affiliate link ahead, I may receive a few pennies at no cost to you if you buy anything through the link.)
On to the party!
Happiness is Homemade Link Party 270
It's Mother's Day and if you are a mom, a mom~to~be, have a mom or a grandmother, favorite aunt, or know someone who acts as a mom, we at Happiness is Homemade Link party 270 hope that you are having a marvelous day.
This week I shared the mother's day cards I made for my grandkids to give to their moms. You might like to PIN it for next year.
Spring has settled in and we love the blooming flowers everywhere (not the pollen and allergies!). I'm so excited to be hostess for the rest of the month of May. I always think of May flowers and showers, the May pole, and the lusty month of May (from Camelot). "It's May, it's May, that gorgeous holiday. That lovely month when everyone goes blissfully astray Tra la, it's here, that shocking time of year When tons of wicked little thoughts merrily appear."
You all made it so hard to pick a few featured posts. The content last week was over the top. But choose, I did, so please enjoy, PIN, comment and share. And definitely, link up for next week.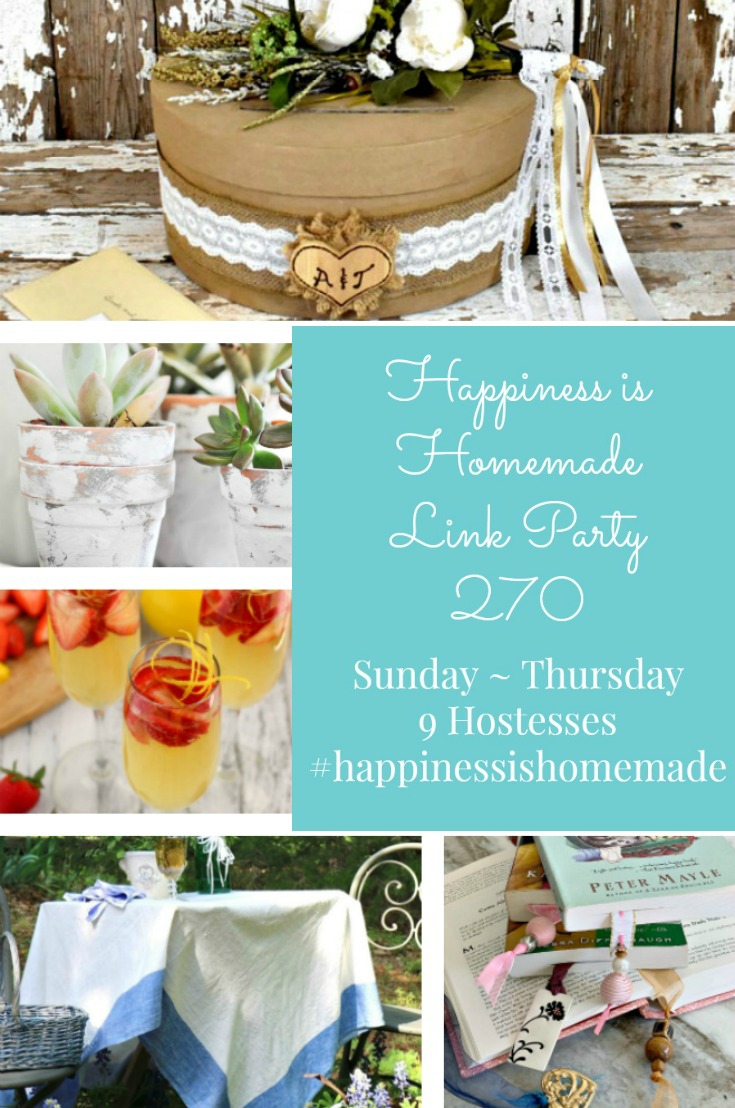 This week's Happiness is Homemade Link Party 270 features are all about celebration ~ our talents, our outdoors, our seasons, and our festivities.
Happiness is Homemade Link Party 270 Features
I love eating outdoors and this beautiful blue and white tablescape in the garden from Judith at Botanic Bleu has May written all over it.

Summer is for cocktails by the pool or patio and this Strawberry Limoncello Spritzer from Erin at DelightfulEMade looks so refreshing and summery.

I can't resist a good DIY project ~ especially one that is so easy, but packs a wallop of usefulness. Ashley at Cherish Bliss turns plain ole terra cotta pots into something special.

Taking one thing and using it as another is always a favorite project for me. What a creative idea decorating a hat box as a card collector for a special event: wedding reception, birthday party, graduation. Thanks to Tee at Tee Diddly Dee for this suggestion.

To be honest, what attracted me to this project at first was the book by Peter Mayle. I love his stories of living in Provence. But then the actual DIY grabbed me. I'm always losing paper bookmarks, and I also have random pieces of ribbon and buttons so I loved learning a way to use them from Ashley at Yarn Scissors Silk.

Well, that's our Happiness is Homemade Link Party 270 features. Hope you enjoyed them. Enjoy your day and let us see what you have been doing. Please visit all of our hostesses. We love ya!

A Labour Of Life
Blogghetti
Bluesky At Home
Crafting a Family
Ducks 'n a Row
Eclectic Red Barn
Love My Messy Messy Mess
Munofore
That Recipe
FOLLOW OUR PINTEREST BOARD!
ALL OF THE FEATURES ARE PINNED ON THE HAPPINESS IS HOMEMADE BOARD!
You are invited to the Inlinkz link party!