Whether you are planning a class Halloween party, or a family party with participants from toddlers to adults we have some frugal Halloween games to keep everyone participating and having a spook-tacular good time.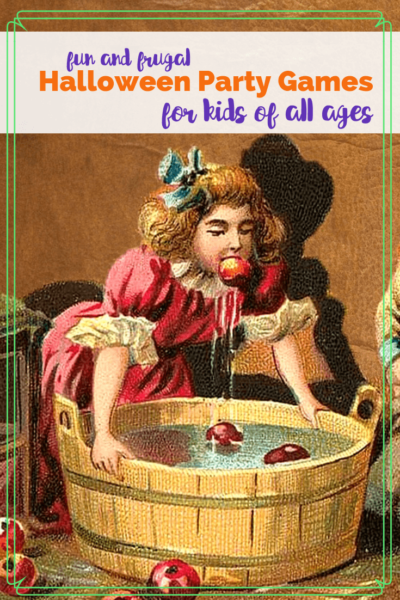 Dress Up Halloween Games
Mummy Wrap
All you need for this game is either a few rolls of toilet paper or white crepe paper.  Divide into teams and pick one person on each team to be the mummy, and the others will wrap him or her. The team that manages to cover their mummy first wins the game. You can also add to it by having the mummy run to a finish line to win.
Crazy Dress Up Race
Have a box of extra-large clothes for each team (for example a hat, sunglasses, scarf, jacket, pants). The first player puts everything on, then takes it off handing it to the next player, who then repeats the process until the last person on the team has put everything on and taken it off. Variations: 1) level the playing field by making older kids button and zip everything properly, 2) burn some of those Halloween goodies off by making the players run to a cone and back before taking off the clothes for the next person.
Blindfolded Halloween Games
Bob For "Poison" Apples
This is a fun apple-bobbing game, but with a twist. Put all green apples and one red apple (or vice versa) in a large bucket or bin of water. The red apple is going to be the 'poison' apple from the Evil Queen. The twist is that the winner is the one who manages to get the poisoned red apple.
Pin the Wart or Pin the Smile or Pin the Spider
Put a Halloween spin on Pin the Tail on the Donkey. You need a large printout of a witch's face or a giant jack o'lantern without a smile or a spider's web. Players are blindfolded then try to pin the wart on the witch or smile on the jack o'lantern or spider in the web.
Fun party games for kids of all ages.
Throwing Halloween Games
If you have players of different age and skill level you can level the playing field by having players toss from different distances.
Candy Corn Ring Toss
Put a Halloween spin on classic ring toss by painting some orange cones with a little yellow and white on top to look like candy corn. Instead of traditional rings use glow necklaces.
Pumpkin Bowling
Draw some ghost faces on rolls of toilet paper for the pins and stack them in a pyramid on top of each other. Take turns rolling small pumpkins to knock them down.
Tarantula Toss
Stretch out fake spider webs along a wall. Players take turns trying to toss plastic spiders onto the web so they stick. This one can be tricky since brute strength and accuracy don't guarantee the spiders will catch in the webbing.
Get Up and Move Halloween Games
Burn that energy!
Skeleton Race
Create a skeleton poster and cardboard bones for each team with the same number of bones for each (e.g. skull, two arms, two hands, torso, two upper leg, two lower leg). Set the bones on one side and the players on the other side with the skeleton poster. Players run to the other side grab a bone, return it to the starting line, and tape it up in the right spot. They keep going back and forth until the first team with a finished skeleton wins.
Obstacle Courses
Use your imagination and set up a Halloween themed obstacle course. A few ideas:
a slalom of pumpkins or candy corn cones
crepe paper spider webs that have to be crawled through without touching
ring toss or corn hole toss
complete a course while sweeping a pumpkin
complete it while balancing a pumpkin on your head
walk like a zombie or Frankenstein's monster
Easy Halloween games for kids that won't cost a fortune.
Sitting Halloween Games
Sometimes you want to slow things down a little at a party, or maybe you have some guests with movement issues. Here are some fun games that can be played sitting down.
Halloween Bingo
Here are some cute Halloween Bingo cards you can download for free. And to keep the Halloween theme going, use candy corn for the markers.
Spider Races
Participants are each given a straw and a plastic spider. They place the spider on a smooth surface and the first one to blow their spider across the finish line wins. Alternatively you could turn it into a relay type race with teams lined up with half on each side of a table facing each other. One side starts and blows to their teammate on the other side, back and forth until everyone has gone.
Spider Search
Fill a bowl (or two or three) with rice and mix in some plastic spiders or candy corn or mellow cream pumpkins. Each player has 30 seconds to pick out as many spiders as they can with a pair of chopsticks.  The winner is the one that finds the most. Variation: add all three items and assign different points to each one (1 for a pumpkin, 5 for a spider, 10 for a candy corn) and make them add the points too. Math and fine motor practice, what fun!
Get your guests in the spirit of Halloween with these fun party games. #kidspartygames