With the summer travel season upon us, your Friday Frivolity hosts decided upon a "travel theme" this week.  Be sure to visit the other hosts sites too for some more travel fun. I decided to go with my favorite Road Trip Movies. Movies about road trips that are perfect to watch on road trips.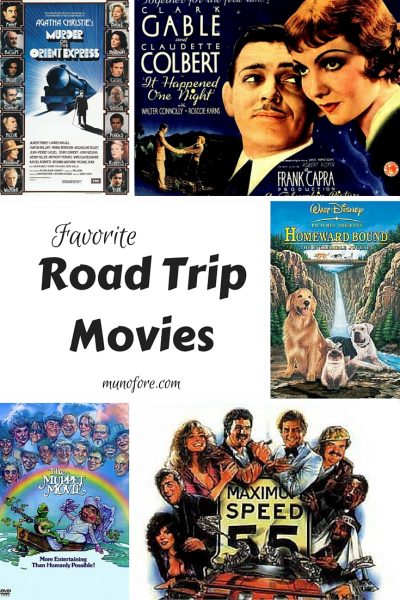 I searched quite a few lists to get inspired for this post and to my utter disdain, this classic was not on ANY of them. For shame! It is one of my all time favorite movies.
Claudette Colbert plays a young heiress trying to escape her father in Florida and get to her new husband in New York and Clark Gable is a reporter desperate for a story that offers to help her get there in this delightful rom-com. It is a must see for the hitchhiking scene alone!
Murder on the Orient Express - 1974
It's no secret I love a good murder mystery and Agatha Christie is one of the best. In this star-studded adaptation of the novel, Albert Finney plays Hercule Poirot who is called upon to solve a murder on a train. Suspects include Lauren Bacall, Ingrid Bergman, Sean Connery, Anthony Perkins, Vanessa Redgrave, etc. etc.
The movie that launched the Muppet franchise. Kermit travels across country picking up his Muppet friends on his way to Hollywood while being chased by a restauranteur that wants him to become a spokesfrog for his chain of frog leg restaurants. There are loads of celebrity cameos and so many catchy tunes. Rainbow Connection is currently stuck in my brain... and that's a very happy memory.

This cheesy screwball comedy was a favorite in my mis-spent youth. According to IMDb, "This action-comedy was inspired by an actual event: the Cannonball Baker Sea-To-Shining-Sea Memorial Trophy Dash, an anything goes, all-stops-out - and very much illegal - competition"
Another celebrity packed movie with icons such as Burt Reynolds, Roger Moore, Farrah Fawcett, Dean Martin, Sammy Davis Jr. and a very young Jackie Chan in one of his first appearances in an American movie.
Homeward Bound: The Incredible Journey - 1993
Based on a true story about two dogs and a cat that go on a journey to reunite with their owners. I am not usually a fan of remakes, but this one, with the voices of Don Ameche, Sally Field and Michael J Fox, leaves me in tears every single time...every... single...time.
Spoiler alert: they make it home.

[Tweet "What are your favorite road trip movies? Here are mine. #movies #roadtrips"]
Now on to the link-up! 😀

The Hosts:
Audrey is a wonderfully eclectic blogger, who not only can cook up a storm over on That Recipe, but also writes at Munofore - "MUsings NOt FOod RElated." Munofore touches on humor, parenting, crafting, holiday ideas, tutorials, and more! This week she shares Fun Activities based on Nate the Great to make summer reading a little more fun.

Sarah Eliza is on a mission to Devastate Boredom by living a life full of all of her favorite things... friendship and connection,
laughter,
books and music, furbaby love, minimalism, wellness pursuits, Paleo-ish cooking, and on and on! She has some funny license plates, bumper stickers and other car themed funnies she has seen in Dallas.
Facebook // Twitter //Pinterest // Google+ // Bloglovin
Lisa is an awesomely hilarious and authentic writer who marches to her own drum on her blog Syncopated Mama, providing an "un-labelly spot" for all the happily off-beat
folks out there who have been wishing to find kindred spirits. She shares her adventures building a natural home, teaching her adorbs daughter, establishing and refining positive communication skills, camping, creating, cooking, and so much more! Check out her healthy (shhh!) Remarkable Rainforest Cookies recipe



Jessica is an amazingly funny and smart blogger from Wales who writes at Babi a Fi on a whole range of topics -- from entertaining vintage nostalgia, to technology tutorials, to book reviews, to raising her adorable munchkin, and so much more! She has Five Fab Father's Day Gifts for those that haven't started thinking about what to get Dad yet.




Calling all bloggers looking for an upbeat and supportive group of pals to join in hosting the weekly #FridayFrivolity par-tay! We are hoping to add to our ranks of dedicated hosts and co-hosts, and would love for you to consider joining the fun! Co-Hosts are welcome on a temporary basis (usually a month), while Hosts make a more ongoing commitment. 🙂 Swing by here to express interest and ask any questions!
Featured Post from Last Week:
In a fun twist, since we now have four hosts we will also have FOUR FEATURES.... but you will have to go check out the other three blogs to see if you were featured there! 😉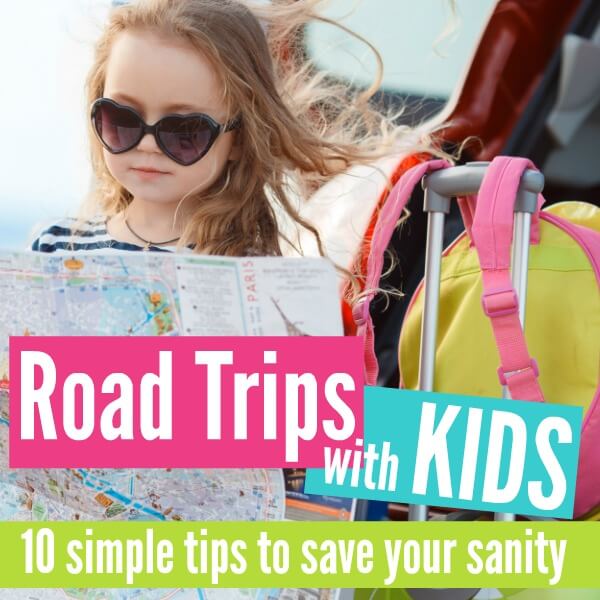 Sticking with the travel theme I chose Road Trips with Kids: 10 Simple Tips to Save Your Sanity from the Sunny Patch. Plenty of fun ideas here to make your trip more pleasant.

Now time for the new stuff!
This a link-up for all things funny, fun, encouraging, hopeful, and happy. That includes free printables, giveaways, and other fun stuff to make us SMILE and start the weekend off on the right foot.

If you're here in search of fun and uplifting reading materials, skip the rules and just start clickin'!

Bloggy buddies, thanks for coming to par-tay!
You are welcome to link up to 3 posts, and old posts are always welcome!


There are three rules only:
[Tweet "Come join the Friday Frivolity - the #linky party for all posts fun, funny, hopeful and happy!"]
Save
Save
Save