I am recovering from a busy Choctoberfest last week by packing up my kitchen in preparation for the kitchen remodel that is finally happening this week.
Technically it already started a week ago and I now have a garage full of cabinets and tile and all of the accouterments that are eventually going to migrate into the kitchen. I promise lots of photos and posts detailing the process are coming soon.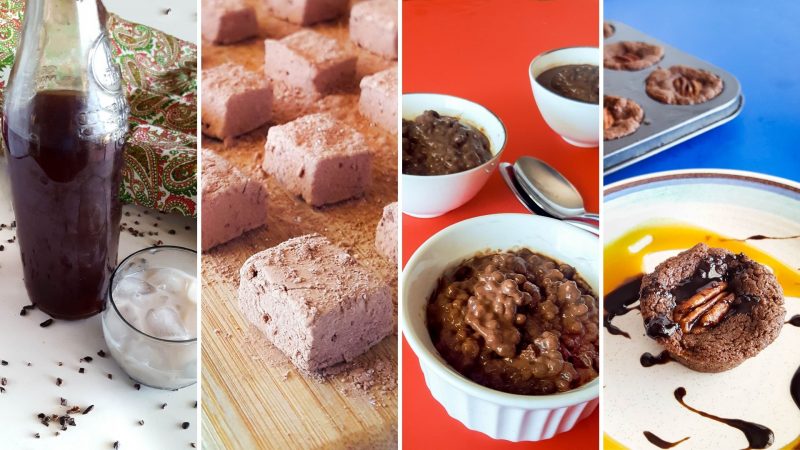 Did someone in the back ask what is Choctoberfest? Why only the best blogging event ever! A week of over 70 bloggers worldwide sharing nothing but chocolate recipes. You can see my contributions this year over on That Recipe: Creme de Cacao, Creme de Cacao, vegan chocolate tapioca and gluten free vegan brownie bites
Happiness is Homemade Link Party
Well Happy Sunday and Happy almost Halloween. This week Happiness is Homemade is focusing on all things Halloween I mean i it ever to early to start sharing the spooky fun that we all want to embrace on the 31st?
Halloween Features
First off is the most amazing affordable Chandelier that I think we all could re-create easily and inexpensively. Coastal Bohemian had demonstrated how a little creativity and a few fun crafts can come together perfectly.
Next up is a perfect Pumpkin Soup from Nancy C. Honestly is there anything more seasonally perfect?
Next up is the most perfect Halloween Tablescape from Panopoly. I mean how perfect is this? I must admit this has been pinned to recreate in my home.
Loving this bit of Fall pre-Halloween Pumpkin Patch sign from While I linger. A craft that is do-able for all of us.
and finally I did not have a drink to share but I did fall in love with the most amazing Mummy Cookies. Ann's Entitled Life has created the perfect Halloween Cookie that I think you may want to try.
Would you like to be a part of Happiness Is Homemade? We are looking for hostesses to join our team. If you are interested, please email any one of the Happiness Is Homemade hostesses and let them know. We would love to have you join our party.
Here are all of our hostesses at Happiness Is Homemade - be sure to give them a visit!
Linda @ A Labour Of Life
Viktoria @ Awesome Alice
Carol @ Bluesky At Home
Cynthia @ Create with Cynthia
Sinea @ Ducks 'n a Row
Beverly @ Eclectic Red Barn
Katie @ Love My Messy Messy Mess
Audrey @ Munofore
Audrey @ That Recipe
Let's get on with the party!