Be sure to stop by and enter the Cash for Christmas Giveaway before you drop your links for the week. We have lots of prizes, so you have a better chance to win. And, winners will be notified Thanksgiving evening, so you can get your code for Black Friday shopping if you win.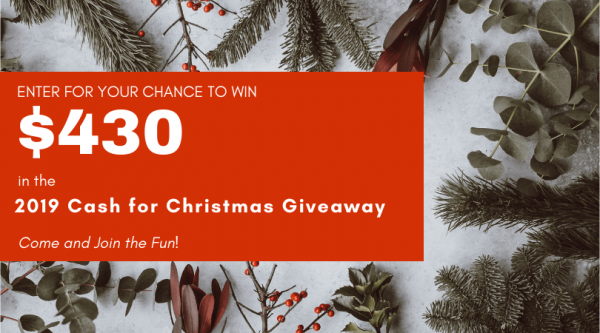 Happiness is Homemade Link Party 297
Hey there, Sweet Friends....Happiness is Homemade Link Party Link Party 297. It's Cynthia from Create With Cynthia. This month, I am the host of the party. Can I get a YIPEE?!? Now, let's get this party started. Don't forget to link your favorite recipe or DIY at the end of the post. Are you getting your home ready for Thanksgiving Day? Today, I'm sharing two easy and delicious dessert recipes that could complete your Thanksgiving dinner and two DIY project that could enhance the decor in your home. I hope you enjoy.
Happiness is Homemade Link Party 297 Features
Chocolate Raspberry Truffles!
First up it's Audrey from That Recipe. Audrey is sharing a yummy and delicious recipe that could easily be used at Thanksgiving or made for those on your holiday gift list. Audrey from That Recipe can show you how right here.
Chocolate Chip Pumpkin Blondies!
Next up, it's Nancy from Nancy C. Nancy shared a Chocolate Chip Pumpkin Blondes Dessert. Check out this dessert that would go great on your thanksgiving table or wrapped up and given as a hostess or holiday gift. Nancy from Nancy C. shows off this delicious dessert.
Fall Tobacco Basket Craft!
Now, it's Chloe from Celebrate & Decorate shows us how to create this Fall Tobacco Basket Craft. How beautiful would this look on your front door? Chloe from Celebrate & Decorate!
Sparkly Rustic Luminaires!
Finally Rachelle from My Hubbard Home shows off this easy, fun and super cute DIY craft that will show you how to make sparkly rustic luminaries for the holidays and winter months. Rachelle from My Hubbard Home! shows us how. Luminaires for your holiday decor. How nice is that.
It's November, and before you know it we will be celebrating Thanksgiving. I hope these recipes and projects will add comfort and beauty to your home. Now go out there and create something.
Don't forget to Pin the images and try out the DIY's and recipes later.
Would you like to be a part of Happiness Is Homemade? We are looking for hostesses to join our team. If you are interested, please email any one of the Happiness Is Homemade hostesses and let them know. We would love to have you join our party.
Here are all of our hostesses at Happiness Is Homemade - be sure to give them a visit!
Linda @ A Labour Of Life
Carol @ Bluesky At Home
Cynthia @ Create with Cynthia
Sinea @ Ducks 'n a Row
Beverly @ Eclectic Red Barn
Katie @ Love My Messy Messy Mess
Audrey @ Munofore
Audrey @ That Recipe
Let's get on with the party!