Sunday needs a Marketing name.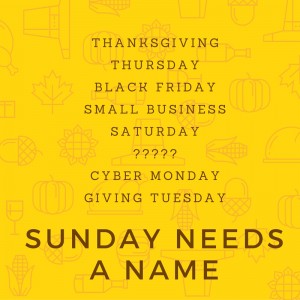 We have:
Thanksgiving Thursday
Black Friday
Small Business Saturday
Cyber Monday
Giving Tuesday
But poor little Sunday has nothing. This is a Super Big Problem! Perhaps a bit too much Super Why and Peg Plus Cat this week.  But we are creative people.  I am sure we can come up with a snazzy name.
Some suggestions:
Sandwich Sunday (in the middle of the craziness plus still eating leftover turkey)
Sleepy Sunday (too much food and shopping)
Spend more Sunday (the new ads are out)
Stop it Sunday (do we really have to have annoying marketing names for every day of the week?)
Let's hear your suggestions. Or should we just leave one simple day all alone amidst the hype?