When you get the chance to sit it out or swim, I hope you swim. (with all due credit to Lee Ann Womack). Let's all make the "Mommy in the Pool" promise this summer. Or ocean, or lake, or even the sprinklers in the front yard. Get in the water and have fun.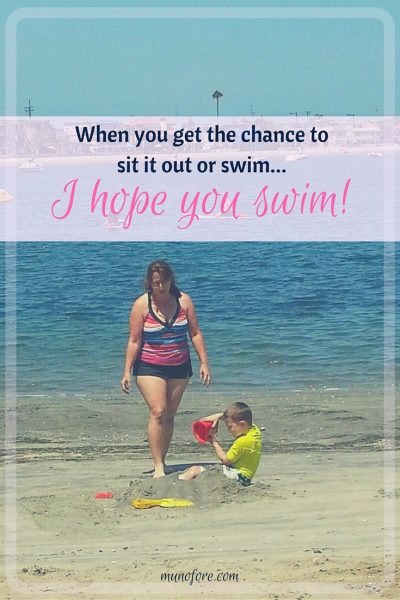 This is one of those "women things" like always taking the pictures and not being in them. That critical inner voice in our head says:
I am too fat
I am too skinny
I have scars or stretchmarks
I look awful in a swimsuit
I can't swim
I don't want to embarrass my kids (or husband or self)
I am afraid of the water
I am challenging you to tell that voice in your head to kindly "shut up". Because we always should be kind to ourselves, even when telling ourselves to shut up.
Put on a swim suit or even a t-shirt and pair of shorts and get in the water and have fun.
Sit on the steps or stay in the shallow end if you can't swim. Splash around with your kids (or nieces and nephews or grandkids or whomever). Toss a ball to them. Squirt them with a water soaker.
Laugh. Have fun. Enjoy the moment.
Release your inhibitions. Feel the water on your skin. No one else can feel it for you. Only you can let it in. (with all due credit to Natasha Bedenfield)
I am overweight. I don't have a swim suit. But, today I got in the neighbors' pool with my son and played with him. And we laughed and had fun and made some happy memories for both of us.
Much happier than if I simply sat on the sidelines and just watched him have all the fun.
Do it. Take the challenge and get in on the fun. I triple dog dare you...
Save