Today is getting crazy, and I want to be sure to get a post in today, so this is going to be a short one for me. But hopefully thought provoking and fun: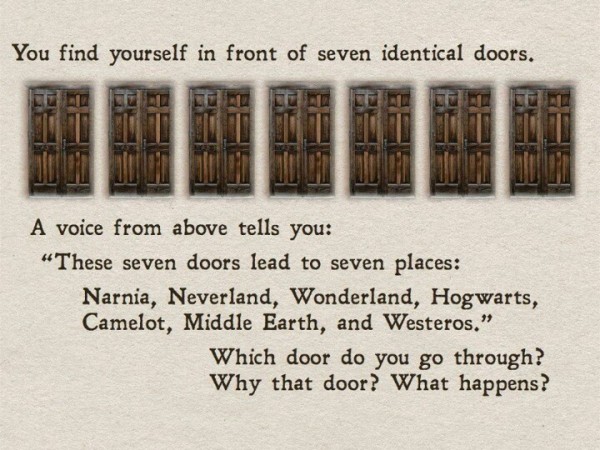 Which door do you go through?
I had to look up "Westeros", I missed A Song of Fire and Ice series.
Never read the Harry Potter series, though I saw one movie and it was fun.
I am also embarassed to admit I have never read Tales of Narnia or Lord of the Rings. I know, shame on me.
That leaves me with Neverland, Wonderland and Camelot.
I'd probably start mothering the Lost Boys out of instinct.
And I would definately b-slap the Queen of Hearts so that leaves me with:
In short, there's simply not
A more congenial spot
For happily-ever-aftering than here
In Camelot.
Why that door? I have always loved the Arthurian legend and its many tellings. I can't even see the word Camelot without thinking of the musical with Richard Burton and Julie Andrews or Richard Harris and Vanessa Williams - can't choose which I like better!
Then there was Excaliber, with a bunch of nobodies (Helen Mirren, Gabriel Byrne, Liam Neeson, Patrick Stewart), well in 1981 they were pretty much nobodies in the US.
A Connecticut Yankee in King Arthur's Court is my favorite Mark Twain book. I devoured Mists of Avalon as a teenager and enjoyed the Julianna Marguiles mini-series version as well.
What happens? I would head straight for Avalon to become a Priestess of the Mother Goddess. Did I mention how much I loved Mists of Avalon?
I think I need to download that on the Kindle and reread it.
So, what about you? which door do you choose and why?
[Tweet "Narnia, Neverland, Wonderland, Hogwarts, Camelot, Middle Earth or Westeros? #literature #fantasy "]