Are you looking for some fun and functional gift ideas for a special person in your life that loves to garden? There is plenty of inspiration in this Gardening Gift Guide. And maybe, if you are lucky, you will be thanked with some homegrown tomatoes.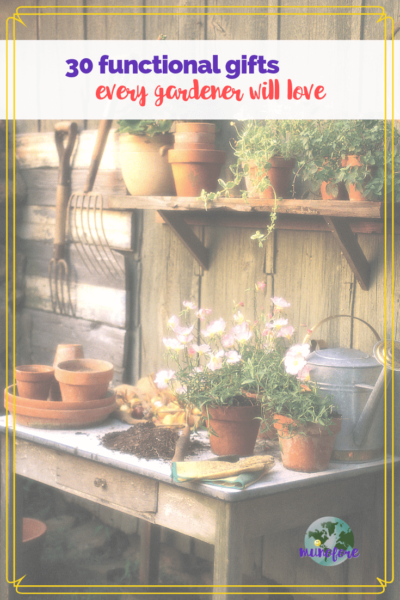 Books
Even when the weather isn't conducive for gardening, gardener's still want to plan their gardens. And they can never have too many plant reference books.
Rodale's Publishing is a leader in the organic movement. This book is great for those new to organic gardening.
The Dummies Books are always a good choice for beginners.
Gardening can vary from region to region so selecting a book that is specific to their environment is a good choice. I am in California so Sunset usually has good advice.
I am a big proponent of landscaping with native plants. It is better for the soil and the native fauna. Greg designed my landscape full of California native plants. Obviously you want to search for books specific to their region.
This beautiful 5 year planner is a waterproof notebook to plan as well as track what worked well and what didn't.
How about some gardening classes? Bluprint offers a variety of classes from garden design to raised bed gardening.
Clothing
When gardening it is important to look the part in order to inspire the plants to grow.... or, maybe it is just to protect yourself from the sun and dirt.
A good gardening hat is crucial for protecting the face from the sun. Choose one with a wide brim and a chin strap to keep it from flying off in the wind.
When you have to garden in the heat of summer, a cooling scarf for the neck is much appreciated. Just soak it in water and the crystals in the cloth will absorb it in a few minutes. Wrap it around your neck for cooling relief.
Never underestimate the power of a good set of work gloves. They need to be sturdy, comfortable, breathable and preferably water resistant. This two pack has a thick latex coating over bamboo fabric.
A fun gardening shirt is sure to please, like this one...
Or this one...
Though this one is very practical for protecting the arms. It has built in UV protection and hidden vents to keep cool.
All of that water and dirt can make MUD! A sturdy pair of rain boots or gardening clogs will help brighten their chores.
Tools
Gardening tools should put the fun in functional. They can make those boring tedious gardening chores easier so the gardener can spend time watching it grow instead of laboring.
A good composter turns garden and kitchen waste into nutrients for your garden with minimal effort. I have had this one for 10 years and it is still going strong. Put the scraps in the door, close it and give it a spin every few days. In a few weeks, beautiful compost and compost tea.
This rain barrel is a great way to be environmentally friendly and have an attractive feature in your yard. Divert water that would be wasted down the storm drain and use it to water your plants in dry months.
A foldable garden cart can be useful to move plants, mulch and other items around the garden then fold away for compact storage when not in use.
A potting bench can be very useful for a number of gardening tasks. I love the removable bin in this one to make clean up easier, as well as the drawer and hooks to keep tools handy .
Every gardener needs a kneeler/seat to reduce strain on the knees and back. This one is lightweight and has two handy pouches for toting around tools and water bottles.
Here's another handy way to carry around your gardening tools and have a container for collecting weeds or for harvesting. The Fiskars Garden Bucket Caddy fits snuggly around any 5 gallon bucket (sold separately)
The Tomato Tray may look odd, but it is supposed to produce more tomatoes by concentrating the water to the roots, suppressing weeds, and even reflecting the red to produce larger fruit. I am not sure about the last one but this should help protect tomato plants.
These potato bags are ideal for growing potatoes above ground, with a handy access flap so you can harvest a few young potatoes and let the rest continue growing.
Every gardener needs a good sturdy set of hand tools. This set is made from CR-MO alloy steel and have ergonomic comfort grip handles.
You can buy cheaper pruning shears, but you can't buy better ones. I have two pairs of the Fiskars Power Gear 2 (only because I misplaced one pair for awhile). The rolling handle makes all the difference for reducing hand fatigue, whether you have arthritis or not.
This handy gadget tests soil pH, moisture and light levels to help plants get what they need to thrive.
Help them label their seedlings and plants with a pack or two for these attractive plant labels.
This galvanized watering can makes hand watering fun and is built to last from season to season unlike plastic ones.
Despite using gloves, gardeners can always use a good bar of scrubbing soap to get the grit off.
A scrub brush helps clean under the nails.
And after getting all of the dirt of some nice smelling non-greasy lotion is always a treat.