Use decorative solar lights to add fun to your garden both day and night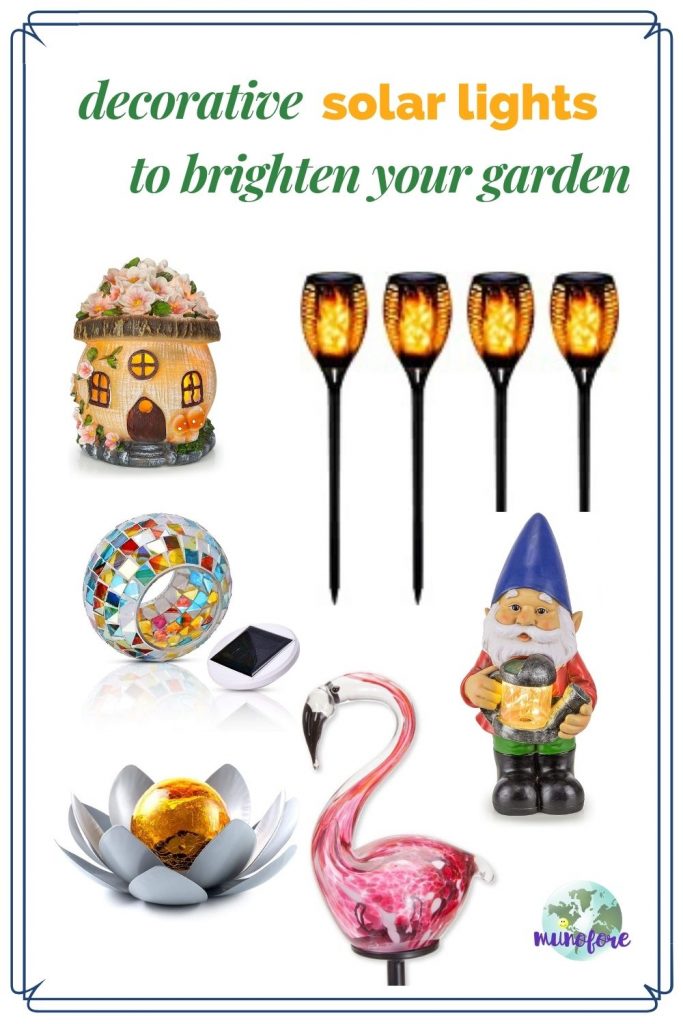 Besides plants and water features, I like to have little bits of fun scattered throughout my garden. My garden is rather informal so I can decorate with cute statues, hand painted signs and our Super Mario fairy garden.
These are all great during the day, but at night it is just a vast dark space aside from the pond lights. I could add low voltage lighting, and I may at some point. But, there are a plethora of decorative solar lights that are relatively inexpensive and make their own electricity.
I scrolled through Amazon for some inspiration and thought I would share a few of the more interesting ones with you. All of the links are affiliate links and I may receive a commission at no cost to you for any purchases through them.
Solar Gazing Ball
I love gazing balls during the day, and adding solar lights make them interesting at night too.
Fairy Landscape Tree Lights
I think these look best intermingled with the plants to add pops of lights at night and be a bit hidden during the day.
Sun and Moon with Crackle Glass Globe
The cut outs in the moon and sun create beautiful lighting effects on the area around the light.
Amber Lotus Blossom
What a lovely Zen touch for any yard.
Color Changing Stained Glass Globe
This would make a beautiful centerpiece on any table and it is attractive both day or night.
Rustic Blue Star Lantern
Great for a rustic, shabby chic or patriotic style yard. These can be placed on a table or hung up via the handle.
Solar Powered Tiki Torches
Aloha! Guess what my husband is getting for his birthday! He loves the look of tiki torches, but not the pain of dealing with the liquid and risks using actual flame.
Fireworks Flowers
These kind of fireworks won't disturb pets (or people) with any loud booms. Also available in yellow.
I'm a G-Nome!
For those into garden gnomes (me!) you need to have at least one lighted one, don't you?
Fairy / Gnome House
This little house could be the central focus of a delightful fairy garden.
Peacock Garden Stake
Add a fun splash of peacock blues with this lighted statue.
Flamingo Garden Stake
The peacock above is beautiful, but I have lawn flamingos around my pond. And this one would be a gorgeous addition to the collection.
Yoga Frog Stake
Besides the flamingo statues our pond is inhabited by a bunch (army, chorus, colony, lots and lots and lots) of very vocal live tree frogs. Maybe this fellow can inspire them to chill a bit when people are trying to fall asleep.
I now have a wish list full of decorative solar light ideas that could work nicely in my yard. Now I just need to decide which ones first.