Here is a collection of spa themed gift ideas perfect for that special someone that deserves a little pampering.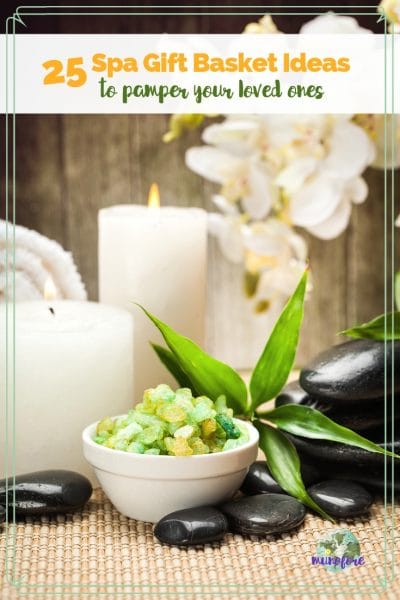 Set the Scene
The first thing you do when you arrive at a Day Spa for some treatments is get in your spa gear and in a relaxing frame of mind.
Let's start at the top and keep the hair out of the way with a set of colorful headband hair wraps. This set is adjustable and includes a few make up brushes.
What can be more relaxing than slipping into a cozy fluffy robe? This one is a combination of 70% bamboo and 30% cotton making it absorbent, soft and eco-friendly.
Sooth those tired tootsies with some soft fluffy non-skid slippers. Multiple sizes and colors.
Soft eco-friendly bamboo/cotton towels are a luxurious, yet affordable, treat everyone can appreciate. Choose a full set, or just some washcloths and hand towels.
Create a soothing atmosphere with a salt lamp and/or scented candle set. Or both!
Add a CD or MP3 player loaded with some relaxing music or nature sounds. I was streaming this one as I made this list.
For the Face
A facial treatment can relax, sooth, moisturize, nourish and heal the skin. Plus they can be a lot of fun. Here are a few different options:
For the Skin
A long hot soak in the tub is great for tired muscles as well as the skin. Help them to relax with a nice tub pillow, scrubbing tools and some soothing bath bombs or bubble bath.
And after the tub they will need some moisturizing lotion to keep the healing going.
For the Hair
Even hair needs a little TLC once in awhile. A nice deep conditioning with an all natural hair mask will leave their hair luxurious.
For the Hands and Feet
Don't forget the mani-pedi! When your hands and feet look and feel good, you feel better all over.
Spa Day Kits
If you don't feel like mixing and matching the above, try a ready made kit like one of these:
DIY Spa Ideas
Maybe you or the recipient would rather make the treatments at home instead of buying them premade.
This book is a nice place to start:
Or get some nice jars like these and make them some homemade treatments such as:
Hopefully you found some inspiration to create the perfect Spa Day Gift.