Five easy tricks to be more organized and get more joy out of life.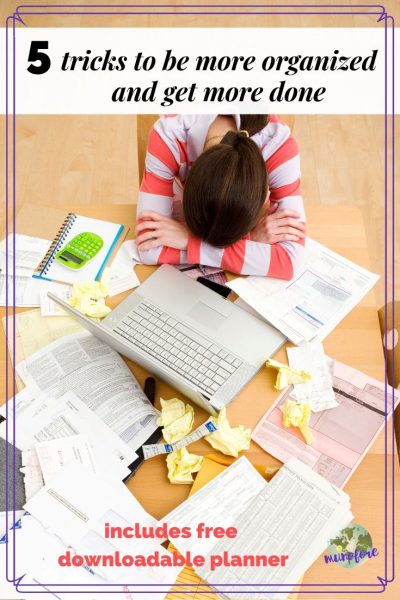 Organization is a skill that takes time and effort, but the rewards are immense: increased productivity, less stress, more free time.
Now, I am the first to admit this is a skill I desperately need to master. How disorganized am I? I am publishing this post with a free downloadable 2020 weekly planner on January 9.
But if you are reading this, you might just be less organized than I am and looking for ways to improve. So, let's work on this together and plan to get more out of life with these simple actionable items.
Get a Planner
Planners are all the rage these days and for good reason. People use them as scrapbooks, journals and more. Keep your life organized by investing in a good planner. This will give you a visual of what you need to accomplish. You can write out your feelings, create monthly vision boards and keep track of your events.
You can buy a physical planner or a printable version that allows you to print the pages you want and keep them in a binder.
I use the second option: printed pages in a 3 ring binder. I have sections for my blogs, my son's school, finances and other home stuff. So everything is in one place.
Since I went to all of the trouble to create a 2020 planner for myself, I decided to offer it to you to print and use to start getting yourself organized. No strings, no sign ups, just download and use it for your own personal use.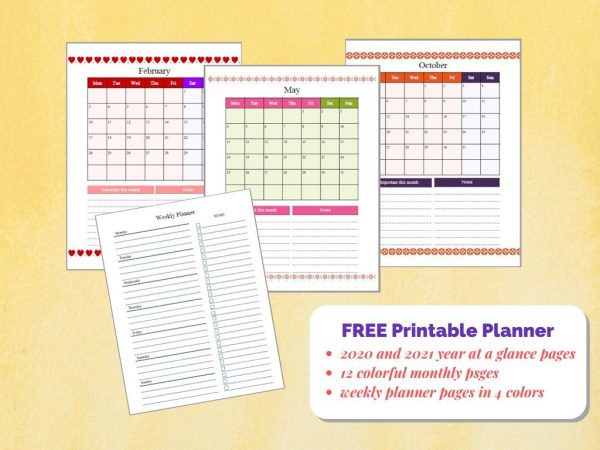 Create Monthly and Weekly Goals
Each month and week provides an opportunity for a new start. Take advantage of this gift by setting goals you can meet.
If you noticed that you struggled with productivity last month, make that a priority this month. If you
Some people find it helps to create vision boards with annual and monthly goals illustrated on them to help them stay on track throughout the year.
Set Alarms
One of the best ways to stay on top of your to-do list is to set alarms. Whether it's on your phone or setting traditional alarm clocks, having that little reminder will help you stay on track. Set your bill schedule, deadlines and other important information so you can always stay in the know.
My phone and Google calendar are filled with alarms to keep me on track. I even have one to remind me to stop working and pick up my son. I tend to get a little absorbed in my tasks and lose track of time.
Practice Saying No
One of the biggest hurdles to sticking to your personal schedule is getting caught up in other tasks.
I am giving you permission to put yourself first and say no to favors for friends and families and additional responsibilities.
It is hard to do, I know. Distractions, whether positive or negative, can throw you off of your schedule. This can make you feel disorganized and anxious. Learn how to say no and not feel guilty about it. It is okay to put your goals first sometimes.
Prepare For the Day The Night Before
We've all been there- rushing to get everything together while still trying to make appointments on time.
You have probably heard this many times before, but the best way to alleviate those rushed feelings is to prepare for your days the night before.
My husband leaves the house at 5 am. The night before, he always lays out his clothes and has his food packed for the day ready to grab and go. Our son is on the autism spectrum; routine is a must for his sense of balance. If he feels rushed in the morning it throws off his entire day. And when he is off the rest of us are too. So we have a space for everything he needs for school and it is all ready for him to grab and go before he goes to bed.
Getting organized is definitely a challenge, but a fulfilling one. Make your life less stressful and more productive by implementing these helpful tips into your daily routine. You'll begin to feel more organized and prepared for everything that comes your way.