We are "those people" that get our front yard geared up for Halloween on October 1st. We bypass the gruesome blood and guts as well as the pricey inflatables and have made most of the decorations ourselves. If you need some inspiration for family-friendly Outdoor Halloween decorations that aren't too scary, keep reading.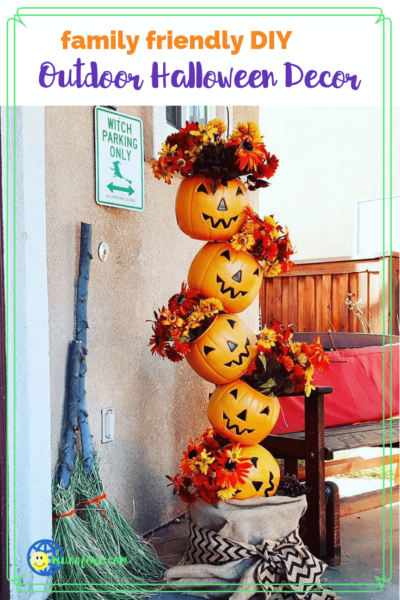 Create a Pumpkin Fairy Garden
If you have kids that love fairy gardens, they will really enjoy this decoration! It can even be a craft the family creates together. Instead of putting the fairy garden in a large bowl or pot, use a plastic pumpkin.
See a sample and get basic instructions on Joann.com 
Make Spooktacular Yard Signs
A fun way to decorate your yard or the front of your house for Halloween is by making yard signs. These should be the names of different Halloween or spooky places with arrow-shaped signs, as if they are showing the way to those places.  Stick them on stakes in your yard or attach them to a large tree in front of your house.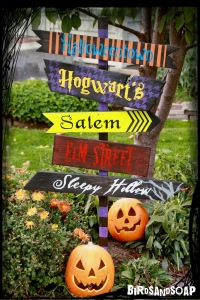 Check out Bird and Soap's post for more information
Add Parking for Witches Brooms
This is one of my favorite decorations every year. Find a gnarled tree branch about 4-5 feet long for the broom handle. Use raffia to tie on some straw (I use dried ornamental grasses that need to be trimmed back this time of year anyway). I picked up the sign for a dollar or two, or you can make your own.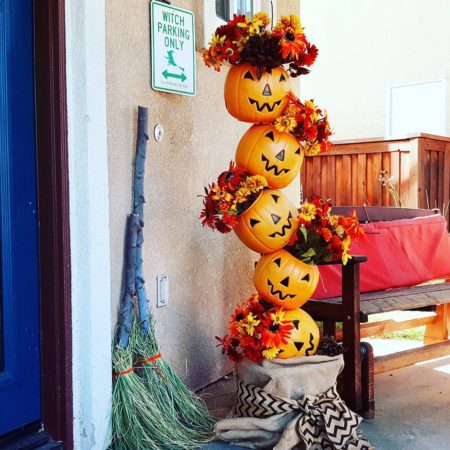 Make a Pumpkin Totem
Sitting next to the Witches' Brooms above is the Jack O'Lantern Totem. This is the side showing in October. In September and November I turn it around as in the photo below.
Pumpkin totems are pretty simple to make. You just cut a few holes in the plastic trick or treat buckets, run a pole through it and fill with silk or real potted flowers. For the base, I use a large pot filled with gravel that I wrap in burlap.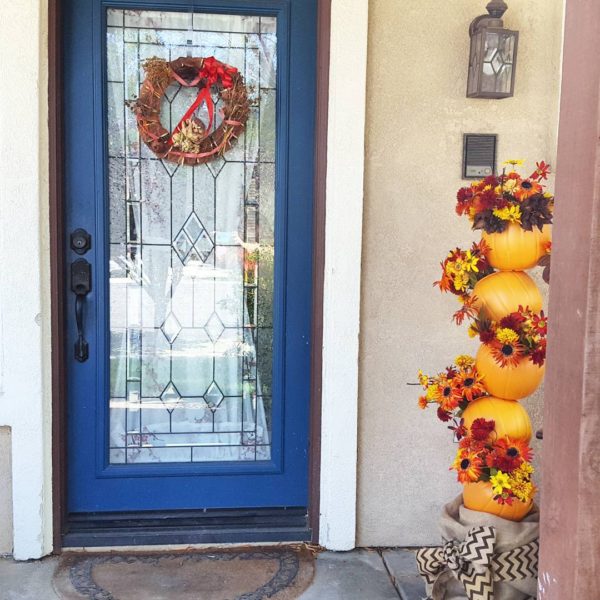 Flip for these Tomato Cage Ghosts
We have done this project for years. Flip over a tomato cage, put a milk jug or styrofoam ball over the spokes, add some wire arms and white lights then cover with a sheet. Alternatively you can hang it from a tree with fishing wire to make it look like it's floating.
Get detailed instructions on Bird and Soap's post
Turn Your Bushes into Monsters
I will be making these this year because they are cute and so easy. Cover styrofoam disks with fabric and add skewers (or paint wooden disks) then stick in your bushes.
A Girl and Her Glue Gun has a tutorial here.
Decorate your yard with these easy Halloween projects for family friendly Halloween fun.
Make these Sweet Lighted Halloween Candy Garland
So "berry" easy to make. Groan! But, these really are. I made them for Halloween and Christmas last year. Clear lights, plastic clamshell containers (the ones used for berries are perfect) and some orange and black colored cellophane.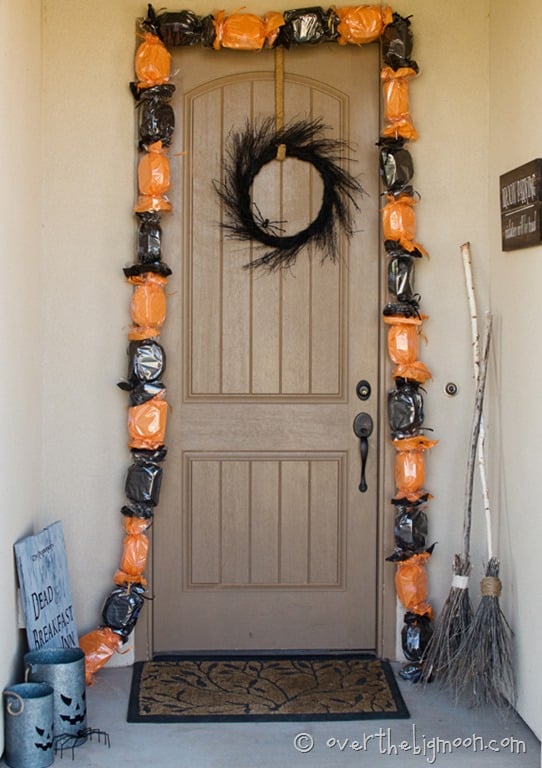 Get the details on Over the Big Moon.
Turn Your Garage into the Biggest Decoration
Did you see this one a few years ago? I think this may be the year we try it ourselves:
Are you feeling inspired to make your own Halloween decorations this year? Or do you just enjoy the labors of others, haha?
Other Halloween posts you may enjoy: