Pottery is a craft that appeals to all ages. A basic coil pot is easy to make yet it is quite versatile. You can easily vary the height and width, narrower it in some places or go with straight sides, smooth the sides or leave the coiled rope effect. These step by step instructions will get you started.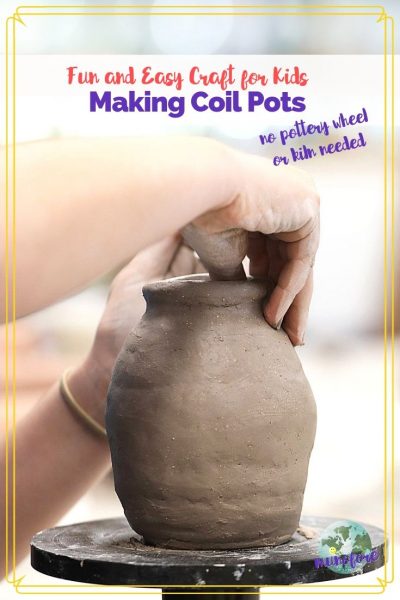 Supplies:
Clay that can air dry or that can be fired in your oven (see below)
Hard, flat surface (one you don't mind getting messy)
Clothes that can get messy (an old men's dress shirt put on backwards works great as a cover up.
acrylic paints, if desired
NOTE: One draw back to air drying or polymer clay is that it cannot hold water like kiln dried clay. So these cannot be used as vases for fresh flowers or as a dish for food or drink.
Step #1 Warm the clay. Knead the clay with your hands for a few minutes to get it warm and pliable. However, take care when folding the clay repeatedly because you can cause air bubbles to form. Air bubbles will weaken your pot's structure.
Step #2 Roll your clay into a long rope. The diameter of the rope will be the thickness of your pot, so keep the purpose and the size of your pot in mind. It's important to know that your pot will shrink as it dries. Generally, your final pot will be about 10% smaller than the original.
Step #3 Build your pot's base. Coil the clay rope, create the base for your pot. Note that the taller your pot is going to be, the larger the base needs to be to support it.
Step #4 Build up the side's. Once you have your base constructed, begin coiling the clay rope on top of your base. Each new circle of the rope makes the pot taller. Continue with the coiling until your pot is the desired height.
Step #5 If you would rather have a smooth sides pot (as in the photo above), smooth the sides with your fingers. Focus on the outside of the pot because this is what will be visible.
Step #6 Once your pot is smooth and looks the way you want it to look, it's time to air dry or follow the clay instructions and fire it in your oven.
Step #7: Paint it and glaze it, if you want. Once your pot has dried, it can be used as is. Or you can paint it, glaze it or keep it in its raw form.
Fill your coil pot with some dried or artificial flowers or just put it on display and enjoy your hard work!
Other Kids Crafts that make great gifts.