Looking for a gift for your favorite Fortnite fan? Get inspired with this fun collection of Fortnite gift ideas and score a Victory Royale when it's time to open their gifts.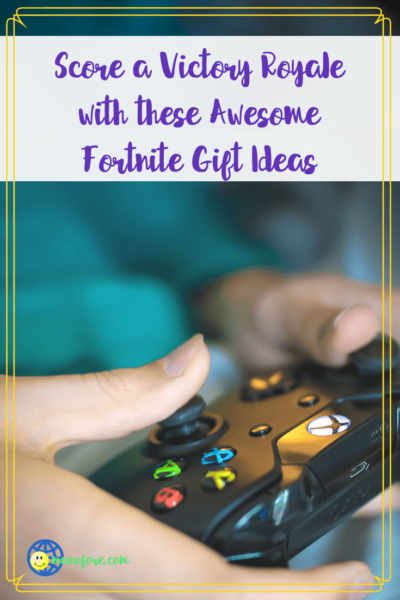 What is Fortnite?
Some people, like my mother, want to know what a game or show is about before they buy a gift for someone. Basically, Fortnite is one of the most popular online shooter game from Epic Games.  Because of the violence it is rated for over 12 years old.
Technically it is two different games depending on the system you play it on. In Save the World, the player battles zombies trying to save the survivors in a post apocalyptic world. In Battle Royale players run around the world alone or with a team, building forts and trying to shoot all of the other players to be the last one standing. There is a flying bus and parachuting and llama pinatas and dancing and plenty of other references that only players of the game will understand.
I think it is a load of fun, but if you morally object to games with guns, feel free to close this guide and select another gift.
The links below are affiliate links, I get a few pennies for any purchases made through the links at no additional cost to you. More details here.
Fortnite Clothing from Head to Toe
Fortnite-Horde Adjustable Vintage Washed Denim Baseball Cap
There are 7 different colors to choose from of this denim baseball cap all with the same logo.
They are probably dreaming of Fortnite anyway, so why not let them dress the part with these Battle Royale problems.
#1 Victory Royale Llama Pinata T-shirt
I admit it, I am a sucker for the cute Llama Loot Pinata, so when my guys asked for Fortnite shirts this is the one I picked.
You will definitely stand out in a crowd with this bright hoodie. And look, there's that cute pinata again.

'Do Not Disturb' I'm Playing Fortnite' Funny Ankle Socks 
Keep their feet warm while they play with these cozy ankle socks complete with a "mom warning" on the bottom.

Fortnite Room Decor
In case you can't tell from their shouts, they can post this sign on the door to let you know when they are battling and should not be interrupted for petty things like chores or meals.

Do Not Disturb Fortnite Door Knob Hanger
Same as above, but this one slides easily over the door knob. It's made of sturdy PVC so it will last awhile.
You get two 24x36 inch posters in this pack to help them decorate their own fort with their favorite game.
Swap out those boring plain light switch covers with some Fortnite fun. Unfortunately all of the rooms in our house have at least two switches so this won't fit.
Fortnite 2 Custom Name 3D Personalized Wall Decal Sticker
Create a custom wall decal with their name or game name. They have several sizes to choose from starting with 8" high letters.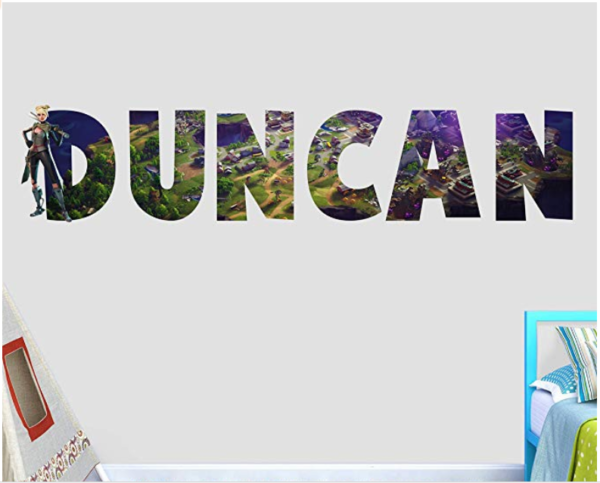 Decorative Fortnite Pillow Cover
Decorate the bed or chair with these Fortnite pillow covers. There are several options to choose from. Note: these are the cover only, you will need a separate 20" pillow to put inside.
Add a fun glow to the room with a 3D Chug Jug light or Fortnite logo light. Each light has the ability to shine in 7 changeable colors.
Fortnite Accesories and Books
Get them the tips and tricks they need to be a top player in Fortnite with this strategy guide set. Available in paperback, Kindle and audio versions.
Fortnite Novels
Is it only my son that thinks reading is torture? Get them to read instead of just play with these Fortnite novels.
Battle Storm Battle Royale: Secrets of the Island
In this series of Fortnite novelizations, follow Zane, Jax, Asha, Jin, and Blaze as they seek out adventure, uncover mysteries, and battle to become the ultimate winners of the Battle Royale.
After being dropped from the bus, Garrick must now fight for survival among 99 other players on a remote island.
How to Draw Fortnite: Learn to Draw Skins
If they like to draw, how about a book teaching them to re-create their favorite costumes from the game.
Llama PopSockets Phone or Tablet Stand
I have seen these little gadgets around and IF we ever let my son have a cell phone I think this would be one way for him to hold on to it a little easier. Or maybe I will just get one for me.

They can put this decal on their car, or maybe their golf cart, to show their love of the game.
Everyone needs a llama pinata key chain. Maybe it is just me. This would also be great to slip on a backpack or luggage to make it easy to identify at a glance.
Score a Victory Royale with any Fortnite fan with our awesome gift guide.
Fortnite School Supplies
They can carry all of their gear in one of these sturdy bookbags. There are 22 designs to choose from so you are sure to find one they will love.
Keep their lunch warm or cold with this insulated/waterproof lunch box. Four styles to choose from.

Collection of Zippered Pencil Cases
There are four different designs so they can take a different one every day or use them for school supplies, travel and more.
They can keep track of their Fortnite strategies, or class assignments, with one of these composition books. There are plenty of designs to choose from with some of the most popular characters.
Your Fortnite fan will be as excited opening these gifts as they are a Loot Llama.
Fortnite Cosplay Gifts
They will have everyone dancing with this fun novelty lights and plays music just like in the game. A must have for cosplay.

Every player has to start with some kind of pick axe to collect materials for fort building, this one just happens to be one of the most fun.
Instead of finding the llama pinata they can be the llama with this colorful mask.
#1 Victory Royale is imprinted on the reverse side of this sturdy metal necklace.
Loot Llama Plush with bonus key chains
If you don't know by now that I want this for me, you haven't been paying attention, ha ha! This cute little guy is almost 8" high and comes with two bonus key chains.
Did you find some inspiration in this guide for your Fortnite fan? I'd love to know what you picked and how they liked it.
Shopping for a Fortnite fan? Check out our collection of fun and unique Fortnite gifts. #fortnite #giftideas