Nettie Ruth Cowan on her engagement day
After 98 years on this earth, my Grandmother Nettie Ruth Cowan Smith passed away yesterday. She went in her sleep, is no longer in pain, and can hopefully now remember us all. For the last 3 -4 years she hasn't remembered any of us. Alzheimer's sucks.
It was tough for all of us knowing she was still physically with us, but we were all strangers to her. It had to be especially  difficult for my Uncle Clark and Aunt Lyse and their boys, with whom she lived. I want to publicly thank them and their four sons for all they did for her, even when it might have been easier for them to just "stick her in a home".
She was one of 12 children in a Texas farm family so poor they "couldn't even afford a dirt floor". She was the first to go to college where she met my grandfather. Here's my Uncle Clark's hysterical recounting of how Grandfather Carl was able to get Papa Cowan to agree to them getting married.
She told me on her wedding day Papa Cowan pulled her aside ("not him, mind you, but ME") and said "Ruth, you are going to have to take care of your husband and your children when they come. You can't spend your whole life with your nose in a book." She didn't completely listen. she took care of her family, but reading was always important to her. I have been told one of her proudest moments was when she took her 18 month old first grandchild in to meet the principal at the school where she taught. I looked in amazement, pointed at the book shelves and announced "It's a book."
Reading, teaching, crafting, making do with what you have instead of just buying new, all things I inherited from my grandparents - all four actually.
Just a few of the homemade goodies I have in my house made by her hands:
If I am not mistaken one of the last things she made was a baby blanket for J. I am not sure she had to much interest (or the dexterity) to do much crocheting after that.
One of my most vivid memories from my younger days was being incredibly awed and proud that I actually knew someone that wrote a book and it was my grandmother! The book was about flags and their history and was basically designed as a school pageant. I have two copies of it, but am just too lazy to go dig it out and take a picture of it.  Instead, here she is with her flags (my Dad and her sister Wanda are in the background).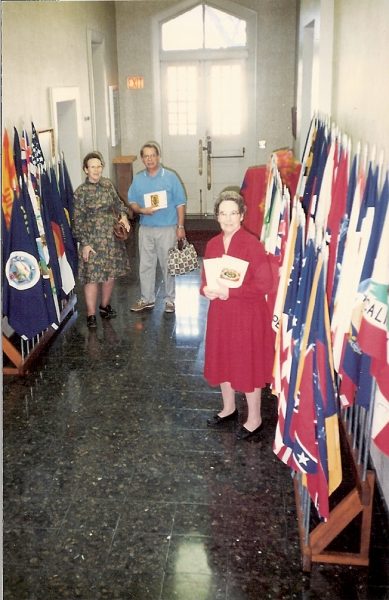 It wasn't until I was three months pregnant with J that it dawned on me that she had her younger two children at 42 and 44 years old. So why should I worry about having one just over the age of 40. Strangely just the thought of it gave me confidence.
One regret I know she had was that we never made cookies together. She mentioned it once that she just thought it was something a Grandmother and Granddaughter should do.
We might not have had the chance to make cookies due to the distance we lived from each other but we did like to talk on the phone, and more often than not the conversation turned to mom.
Me: YOUR daughter is laughing at us.
Her: Well, you know YOUR mother can be ornery.
Me: Didn't you try to break YOUR daughter of that?
Her: Oh, I tried the best I could, but you are just going to have to finish raising her right.
Us: << hysterical laughter>>
Me: Now she is rolling her eyes at us.
Us: <<more giggling>>
What other stories should I share? How she gave her son Syphillis (totally NOT true) or how she nonchalantly waded through waist deep water carrying her son to escape the Great Fairbanks Flood of 1967 (definitely true). The words that strike me from her recount of the flood was:
It was around 50 degrees so it wasn't too cold. It rained or misted all the time but I did not get wet above my hips - just damp.
The Mistress of Understatement.
There is plenty more I could write, but I think I will end it now. With a promise to keep raising HER daughter right, and not spending all of my days with a nose in book.
Miss you Grandma, much love,
~Baby Ruth
Save