Summer is a wonderful time to gather friends together for a party. But there is no need to spend a lot of money to have a great time. Here are some easy ideas to help everyone have a great time without you having to spend a lot.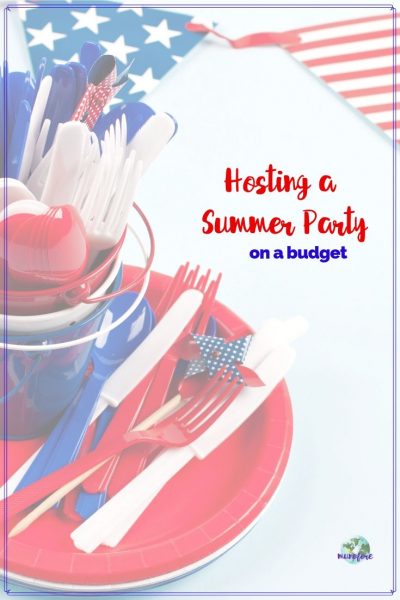 Set a budget
Determining how much money you have to spend for the Labor Day party is probably the first thing to do. Think about what you'll need:
* Location
* Invitations
* Food and drinks
* Paper goods and utensils
* Decorations
* Entertainment
Once you have an idea of what items you'll need to spend money on, you'll be better able to prepare a budget. For each of the above areas you can save money with a little bit of forethought and planning.
Location
Let's start with location. The cheapest way to host any party is to have it at home. By having your party at your residence, you have more control over who attends and how you decorate. You also don't incur the extra expense of renting a facility.
Invitations
Decide how many people to invite. Not only will this number determine how much money you'll need to spend on food and beverages, it will also help you know how many invitations to send.
Speaking of invitations, with technology today it's easy to send personal invitations to everyone you'd like to attend by using email or text messaging. Of course, you can also use a computer to make your invitations and mail them if you choose, but that would mean printing them out (paper and ink) as well as postage. Don't forget to ask people to let you know if they plan to attend.
Food and Drinks
Food and drinks will most likely be the most expensive part of hosting any party. Plan a menu and determine how much of each food item you'll need.
If you find the food budget getting out of hand, don't be afraid to ask your guests to help. There's absolutely nothing wrong with having a pot luck party. Let everyone chip in; be sure to make a list of who is bringing which items so you don't have all potato salad and no desserts. This same idea can work with beverages, as well.
Read my mom's post over on That Recipe for great tips on organizing a potluck with minimal stress.
If you want to go beyond hamburgers and hot dogs, I have plenty of great grilling and side dish recipes over on That Recipe to get your meal planning started:
Paper Goods and Utensils
Paper goods and utensils may be an expense you're not looking forward to. However, using disposables mean you won't have to spend time worrying about your good dishes or having to wash all those dishes later.
Head to your favorite discount store and grab some festive plates and napkins and maybe even utensils. Feel free to mix and match styles if you can't find enough of one.
Decorations
And since you're thinking about decorations, consider what items you can make at home. Enlist the help of your children to make patriotic decorations for Memorial Day, Independence Day and Labor Day. Or go with a luau theme and decorate with pineapples, hibiscus flowers and tiki torches.
Entertainment
If you have a pool, most of the entertainment is taken care of for you. BUT for safety sake, designate one adult as pool watcher or consider hiring a lifeguard for the day if you will have children in attendance. Many high school and college students with lifeguard training are willing to do this at a reasonable rate so your guests can all enjoy the party without potential tragedy.
Otherwise, if it will be a hot day get some water balloons, sponges, and water squirters (encourage guests to bring their own) and place "refilling stations" (buckets of water) throughout the yard. And set up a "splash free" zone, for those that don't want to get wet.
While you are at the discount store grab some beach balls, string up a rope or net and have a beachball volleyball tournament. Make a giant twister board on the lawn with spray paint or on concrete with chalk. Ask guests to bring lawn games like croquet, bean bag toss, etc. Have soccer balls, footballs, etc. available for pick up games.
--
Summer entertaining doesn't have to cost a fortune. The important thing is to gather with family and friends and enjoy the season.