Growing herbs is a great way to always have them on hand, which then encourages you to use them more often. When you have fresh herbs at all times, it also helps you to want to cook from home more often, which is healthier and even helps your family lose weight.
One great thing you can do is grow herbs indoors. This keeps them close to you and prevents you from needing an elaborate herb garden. It is a good option if you live in apartment or condo, or a house with very little backyard space.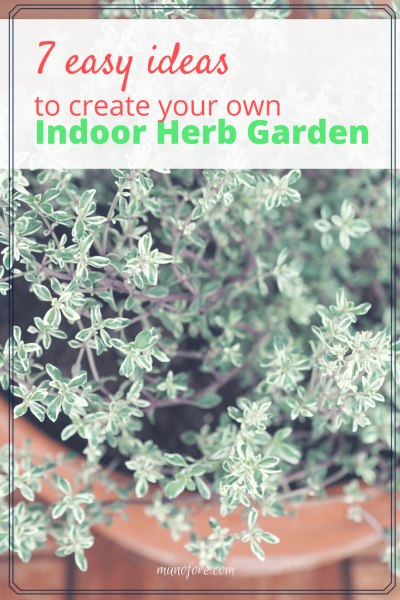 Here are some different DIY indoor herb garden ideas to try out. Many of the links below are affiliate links. I may receive a commission for purchases made through the links at no additional cost to you.
Put Herbs in Mason Jars
If you want to use individual containers, why not use mason jars? They are inexpensive, last a long time, and since you can see through them, you are able to track the growth. Get detailed instructions in this post.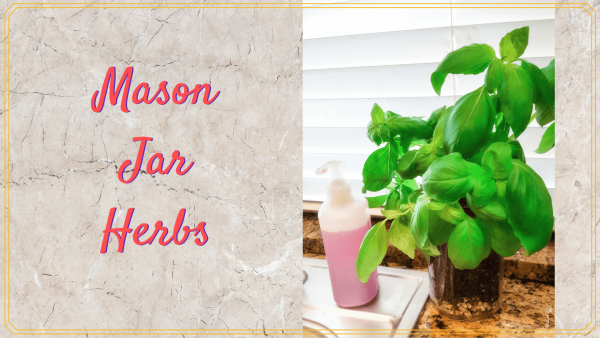 Hang Herb Pots Above the Kitchen Sink
Another option for a DIY indoor herb project is to hang the pots of herbs in front of the window, instead of trying to set them on the counter or windowsill. This is a good option when you have good light coming through the window, but not really any space to put the pots. You might have a kitchen window with just a slim windowsill, but not a roomy ledge. In this case, you can instead hang the pots of growing herbs from the ceiling in your kitchen to where they reach down to the window and get direct sunlight. Here's a fun set of self watering pots.
Create a One-Pot Herb Garden
One idea for growing herbs inside your home is to use just one large pot instead of multiple little pots. This provides a more unique growing opportunity, while also taking up less space in your kitchen. You might have a small kitchen window where there is really only space for a single large pot. Use this to your advantage by having just a small amount of several different herbs in the soil of the pot, spacing them out as much as you can. Herbs are typically small and each requires the same type of soil and watering schedule, so the majority of herbs can be grown together like this in the same container.
[Tweet "Growing your own fresh herbs indoors is easy, healthy and fun! #gardening #herbs"]
4 Indoor Herb Garden Containers
Here are 4 different container kits to help get you started on your indoor herb gardening journey.
1. Herb Garden Seed Starter Kit by Nature's Blossom
If you want to start an herb garden in your home, but don't know where to start, this is a great kit to get. It not only provides the containers, but also includes the seeds you need to get started and a pamphlet with growing instructions. You will get a total of 5 organic herbs that you can grow, including parsley, sage, basil, cilantro, and thyme. All of the seeds that come with this kit are non-GMO and organic. You will receive containers that you can place inside your home or on your patio to grow the herbs.

2. Indoor Herb Garden Planter Box Kit
Here is another herb garden kit that includes the container you need, along with a set of herbs. With this kit, you can grow dill, parsley, basil, cilantro, and oregano. It also comes with soil and a wood garden planter box. This can be used in your kitchen, sun room, or right on your patio. The box has enough room to grow all of the herbs in one box. There is a planter tray that is included that helps you choose the location of the herbs. The box is made in the USA. (red shown, also antique)

3. Miracle-Gro AeroGarden Sprout With Gourmet Herb Seed Pod Kit
This indoor hydroponic herb garden kit and container is made by Miracle-Gro. While it is a little pricier, you get a little more with the kit than some of the others on the list. You can choose from a few different types of AeroGarden containers when you get this herb growing kit. You will get a very attraction garden container to grow your herbs in, which is great for indoor use, including in your kitchen or even your home office. There are three different gourmet herb seed pods that come with it, including curly parsley, dill, and basil.

4. 5-Tier Stackable Strawberry, Herb, Flower, and Vegetable Planter
This herb growing container is perfect for growing just about anything indoors, from vegetables and herbs, to flowers. It is also frequently used for people who want to grow strawberries from inside their home. This is a vertical garden container that includes five different levels, or tiers. It is considerably larger than the other table top models on this list, but it can be used indoors or on your patio. It comes in hunter green and stone, and includes bottom saucers that help to gather the water. All of the materials are food-safe.

Hopefully you can see just how easy it is to have fresh herbs year round. The flavor they add to a dish is worth it!