New Year's Eve parties tend to be adults only events, but they don't have to be with these family friendly New Year's Eve party games that will help keep the fun flowing all the way until midnight.

New Year's Eve Charades
Charades is a game almost everyone can play. Divide the group into two teams, making sure there are children and teens on each. Give the teams about ten minutes to come up with ideas to be acted out. Think back over the past year and write down titles of songs, movies or books. Try to remember who made the news during the year. These pieces of paper will be folded up and put into two hats.
The hats will be traded and the first person will choose a piece of paper and try to act out what was on the paper. If their team can guess before the timer goes off, they earn a point. The other team would then get their turn. After a pre-determined amount of time, total up which team has the most points. They would then win the right to choose the next game.
Try a New Hat On for Size
Before the party, gather together a bunch of different hats. As the guests arrive, allow them to choose a hat. Then ask them to speak or act the way a person who would normally wear that hat would act or speak. For instance, if they get a cowboy hat they might speak with an accent and walk bowlegged like they've just gotten off a horse. Let the party-goers choose how elaborate they want to go with their new identity.
New Year's Eve Fashion Design
Ah, the classic bridal shower game. Have the following items on hand: stacks of newspapers, tape, pins, string or scissors. Divide everyone into teams of about six. Have one person act as the model. Give the teams about 5-10 minutes to come up with a paper costume. Anything goes as long they only use the materials they were given. After the time is up, the next person acts as the model. This continues until everyone has a new paper costume. Then you can have a fashion show to model their new outfits.
Printable Fun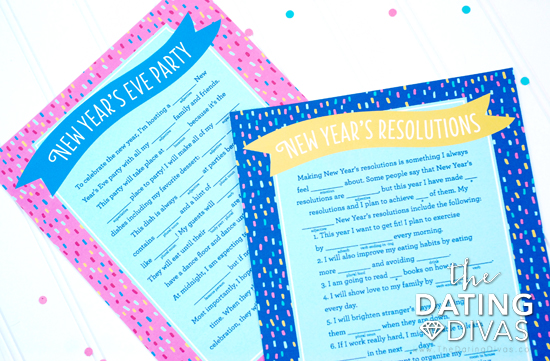 Set up a table with pencils and some of these free printables and let the kids have their own fun.
New Year's Eve Mad Libs Printables
New Year's Themed Word Searches and more
Happiness is Homemade (word search)
Domestic Mommyhood (word search)
Super Heroes and Tea Cups (word search)
Teachers Pay Teachers (word search)
Kendall Rayburn (seek and find)
Tot Schooling (party hat coloring craft)
New Year's Eve Bingo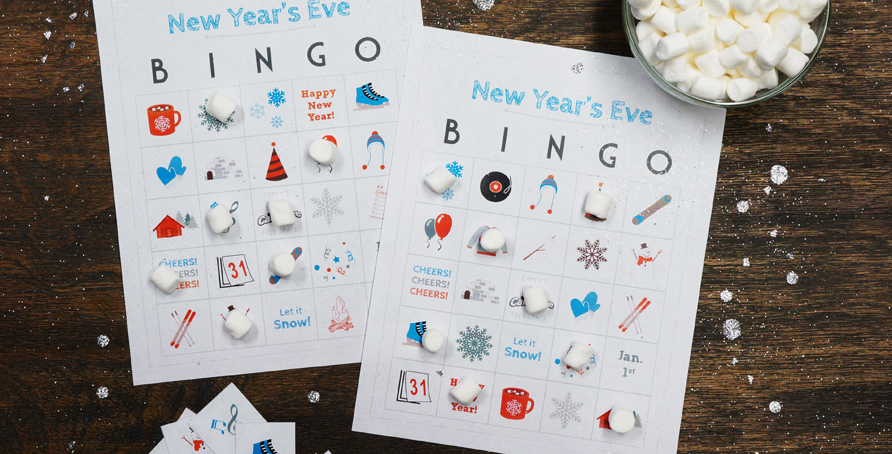 Print up some New Year's themed Bingo cards and play a round or two to keep the fun going. A few printable bingo cards you may like:
Pin the Hands on the Clock
Cut a giant circle out of butcher paper and make the clock. Then cut some hands out of cardstock. Blindfold the players and let them try to place the hands as close to midnight as possible.
Glow in the Dark Ring Toss
Put some Glow in the Dark duct tape on some bottles and use glow bracelets for the rings, set it up in a dark corner or a room lit with a black light. Get more Glow in the Dark Game ideas from A Pumpkin and a Princess.
New Year's Eve Photo Booth
Would it be a party without a photo booth including fun props? Not these days! Set up a back drop somewhere out of the way (so people aren't constantly walking through the photos). Cheap plastic tablecloths or bulletin board paper work great. Add some fringe curtains,  streamers and other New Year's decorations and place a box of props so people can take their own photos.
Here are some free props you can print.
New Year's Themed Relay Races
Relays are always a fun way to mix up the guests and let the kids burn off some energy. Here are a few New Year's themed race ideas:
Baby Balloon Pop
I love this idea from Momtastic. Blow up a bunch of balloons, some which have a paper baby inside. Run back and forth getting a balloon from a pile and back to the start to pop it. The team with the most babies wins.
Dress the New Year's Baby
Get a few similar baby dolls dressed in the same amount of clothes. Take turns dressing and undressing the baby as fast as possible.
Party Blower Pom Pom Races
Loud and annoying but fun! There's Just One Mommy explains how to use party blowers to push a pom pom the length of a table. You could make this a relay by having the teams split up on either end of the table and pushing the pom pom to the other side and back again.
Don't Look Back
One person tosses pom poms (or cotton balls) to their team mates to catch in upside down party hats. The catch? They stand with their back to the thrower and can't look back.
These are a few New Year's Eve party game ideas that nearly everyone should be able to play. A quick search on Pinterest for "minute to win it" games will yield even more ideas.
Regardless of how you plan to spend New Year's Eve, I wish you a healthy and happy New Year. Be sure to come back to the site for even more fun!