Are you looking for some learning based activities to bridge the gap this summer, or maybe some book based homeschool activities? This year my 2nd grader discovered one of the great children's detectives Nate the Great. Considering his recently developed disdain for reading, I am trying to do anything I can to encourage it. Like supplementing the reading with fun Nate the Great Detective Activities.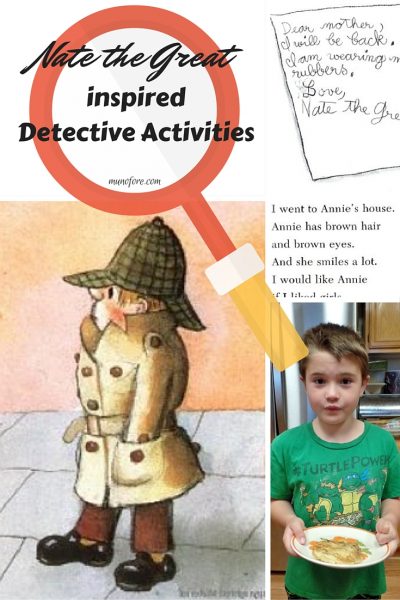 Nate the Great Book Series
For those of you not in the know Nate the Great is a marvelous series of books for early chapter book readers by Marjorie Sharmat*. Nate is a boy detective that solves such important mysteries for his friends as finding a Mushy Valentine, a Boring Beach Bag, and a six legged purple rubber octopus. He is usually accompanied and inspired by his faithful dog Sludge. His friends are an eclectic bunch from the semi-stalker Claude to the crazy cat lady in training Rosamond.
They are somewhat dated with references to such oddities as corded phones and Nate leaving notes for his mother instead of just texting her. And as in the Peanuts series, adults are almost non-existent. The stories revolve almost exclusively around Nate and his friends and their pets, with only references or an occasional cameo appearance by an adult.
Detective Activities
In Nate the Great and Me: The Case of the Fleeing Fang* Nate reveals many of his detective secrets, as well as a few recipes and some detective activities.
I also did a little Pinterest searching for some more activities to entertain your budding detectives:
Pancakes
In every book, usually when he is stumped, Nate makes himself a batch of pancakes. Unsupervised... Using the recipe in Nate the Great and Me: The Case of the Fleeing Fang* my 8 year old detective made his own pancakes too. But he had adult supervision, especially for the cooking parts. Click on over to That Recipe for the recipe.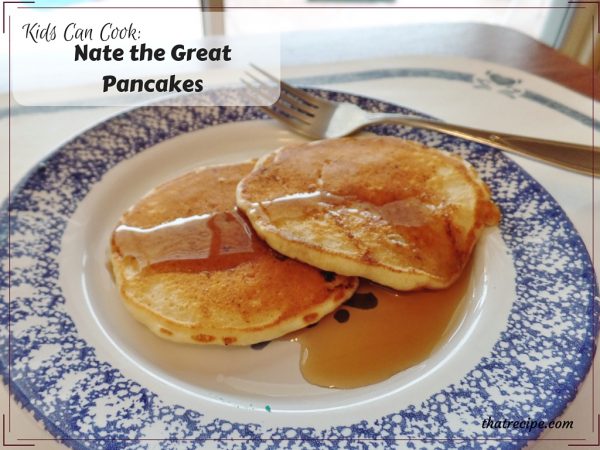 Handwriting
Also in every story, Nate leaves his mother a note telling her where he is going. And they appear as an actual handwritten cursive note like this: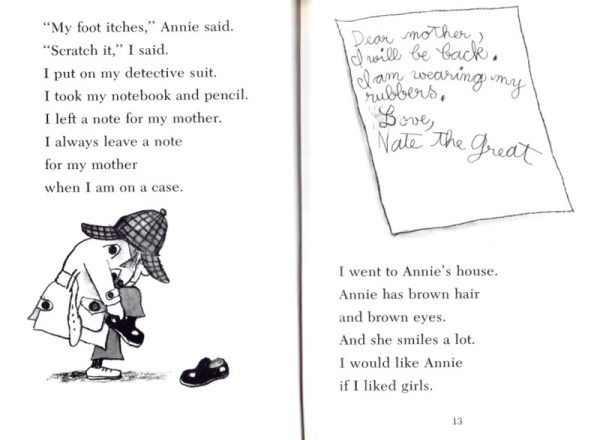 Knowing that third grade brings on cursive writing (at least at our school), and thinking that it might be a good idea to get a bit of a jump on things knowing my son's fine motor skills are a tad behind his classmates, I asked him if he wanted to learn to write like Nate this summer. I got an excited "YES, can we start now? Write my name in cursive, write Mario, write Luigi!" Slow down a minute, champ. Let's practice some letters first.
Here are a few links I found that I plan on using:
If this works well, I will plan some more themed activities on other books. Perhaps the Magic School Bus or the Magic Treehouse.
[Tweet "Fun activities based on the Nate the Great Detective series - make reading fun. #reading #kidsbooks "]
*Affiliate links - this site will earn a percentage of any books purchased through this link.