Five questions to help you decide if you should remodel or renovate your kitchen.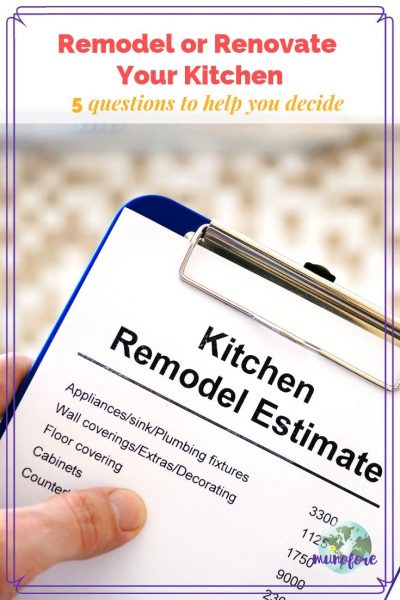 Many homeowners dream of redoing their kitchen. Some may just want a fresh look while some may feel the need to add more functionality. The process involves a lot of mind boggling decisions, starting with should you remodel or renovate?
Difference between Remodeling and Renovating
No, they are not the same thing. The difference is in the amount of work involved as well as the cost.
Renovate means to "make new again". This usually means cosmetic changes to the existing floor plan such as painting, refacing the cabinets, new hardware, or even new flooring.
Remodel means to "change the structure". Out with the old and in with the new: cabinets, floors, lighting, etc. It can be minor or be all the way to the studs replacement.
Renovating involves less work, which means less time and cost. Remodeling lets you change what doesn't currently work in the space.
We faced this decision recently so we asked our selves these 5 questions to help us decide.
1: Are you planning to move within the next 2 years?
If you are planning on moving in a relatively short period of time a kitchen remodels and renovations have a poor return on investment. You will only get about 50-60% of the money back that you put into it.
If you are going to be moving within a few years it isn't too soon to consult a local real estate agent for advice on how best to spend your money before you do put your home up for sale.
But, if you are planning on living in your home as long as you are able to, like we are, then you want to seriously consider the next question.
OUR ANSWER: We want to stay in our home as long as possible.
2: Is the kitchen layout functional?
That big empty space in the middle of my kitchen made the room look so large when we first bought the house. Parties always end up in the kitchen and just look at how many people can fit in there. It's like a mini dance floor!
Which is completely wasted space that I trudge across countless times a day from the pantry to the sink to the oven to the countertop. UGH!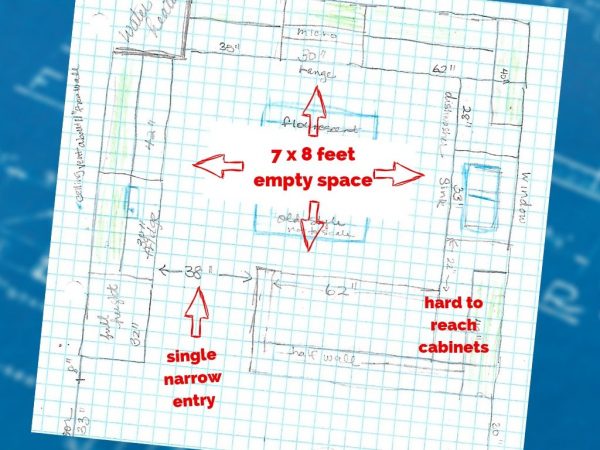 Plus, there is only one way in to my kitchen. If anyone is at the pantry or refrigerator no one else can get in or out. Two words: tween boy. If you ever need to find him, he is probably there blocking my path and complaining, "There is NOTHING to eat in here."
As I said above, we are planning on staying in our home until that darling tween carts us off to the retirement home. Having a mother with crippling arthritis for the last 30 years, I know in 10 or 20 years I will be struggling to reach the back of the bottom cabinets with things as they are.
OUR ANSWER: Give me that sledgehammer!
3: Are the cabinets in good shape?
Cabinets are one of the largest expenses in a complete kitchen remodel (along with new appliances). If your layout is good, and you have nice wood cabinets, painting or staining can do wonders for a new look.
Even if you don't like the style, you can replace the cabinet doors and drawer fronts much more cheaply than installing all new cabinets.

OUR ANSWER: Even the cheapest cabinets at the big box home improvement store are better quality than ours.
4: Can you handle the disruption?
A full kitchen remodel can leave you without a completely functional kitchen for weeks. If you hire someone there will be people in and out of your home making noise and mess. If you DIY then you are the one making the noise and responsible to clean up when you are done.
Be prepared to set up a back up kitchen in another part of the house or you will be eating out every meal.
OUR ANSWER: Not really. The tween has ASD and does not like changes to his environment or routine. And I am not sure how I will be able to create recipes for the food blog with no kitchen.
5: Can you afford it?
According to Homeadvisor, the national average for a kitchen remodel in the United States is currently $23,800, about $150 per square foot. But, that figure can vary widely based on the materials used, where you live and who is doing the work.
The site does a great job of breaking down the costs so you can realistically set your budget and expectations, so head over there after you finish this article, of course.
OUR ANSWER: We were team DIY renovation until a few months ago. I was going to add an island to the dance floor, paint the cabinets, and add a back splash. I had bounced ideas of my mother for awhile, especially with regards to making it livable in 20 years. And then she passed away suddenly and now we have the money. And she would want us to do it right.
What's next?
We have already hired the contractor and our cabinets are being built. As we progress in the project I will update the blog so you can follow along before you make the decision to remodel or renovate.
If you are considering a renovation or remodel of your own, download this free printable kitchen budget planner to get started.