We just got ourselves a family Explorer Pass to Balboa Park in San Diego. For a year, the three of us can get into any of the 17 museums and gardens in Balboa Park. Only the World Famous San Diego Zoo is not included. If you are visiting San Diego from farther away, they also have packages for one day and one week.
On Monday, the plan was to go to "The Nat" - the Museum of Natural History. J has been reading some Fly Guy and Magic School Bus books about sharks and dinosaurs a lot recently so we thought it would be a slam dunk. Well, things don't always go as planned.
First of all, GPS got us lost. Apparently I set it for avoid traffic and it had us looping all around the back streets. Lesson learned! I want exit 1B if we want to save our exploring for the park itself instead of the surrounding areas.
Annoyed from circling the park and getting off and on and off the freeway we parked in the first spot we found after the zoo parking, near the carousel. Lesson #2, print a map of the park before going next time. Maps are not plentiful like at a theme park, and my phone battery was sucked up thanks to the GPS. Luckily, we were really close to where we wanted to be.
On our way to the museum, we passed by the Spanish Village Art Center.
One look at the ground and J's eyes immediately lit up. We needed to find some "facilities" after the hour plus in the car, so we decided to explore a little. M went in search of the restrooms and J immediately dropped to the ground.
Besides the museums, theaters and zoo, Balboa Park has plenty of free things to explore. The Spanish Village Art Center is one of them.
The quaint buildings and courtyards that make up the Spanish Village Art Center were originally built in 1935 to depict a charming old village in Spain for the second California Pacific International Exposition. In 1937, the Spanish village reopened as an art destination by a group of dedicated artists. During World War II the U.S. Army used the village for temporary barracks, and in 1947 it was reclaimed and restored by the artists. Over the last 60+ years, San Diego artists have continued to preserve and enhance this historical landmark by adding to its beauty with colorful flowers and unique entryways. Today, the Spanish Village Art Center continues to be a thriving community of over 200 artisans who share their talent and the love of all things art with you. Independently juried local painters, sculptors, metalsmiths, jewelry designers, clay artists, gourd artists, photographers, printmakers, fiber artists, basket makers, mixed-media artists, glass artists, enamel artists and many many more await you at the Spanish Village Art Center.
One of the unique entryways.
Some of the colorful flowers.
There were so many beautiful pieces of art around, including paintings, glasswork, jewelry, gourds, sculpture. They had an art camp for kids going while we were there, plus a musician playing in the courtyard. They have regular exhibits and special events. You can even have a wedding or other party in the patio!
It is a lovely place to have a seat in between visiting the other things the park has to offer, maybe have a little snack, and enjoy the beauty all around you.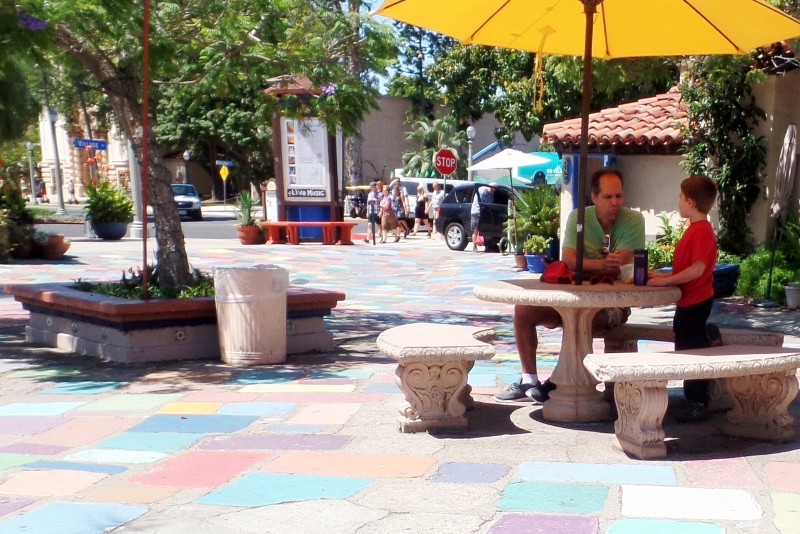 A few other fun places to sit.
I am sure we will be stopping by here again during our visits to explore the other museums. It was definitely an unexpected pleasure to stumble upon it. If you are an art lover planning to visit San Diego you want to put this at the top of your don't miss list.
Save