A traditional generic Halloween costume party can still be fun for teens and adults as it was when you were little. But if you want to amp up the fun why not try one of these fun Halloween party ideas.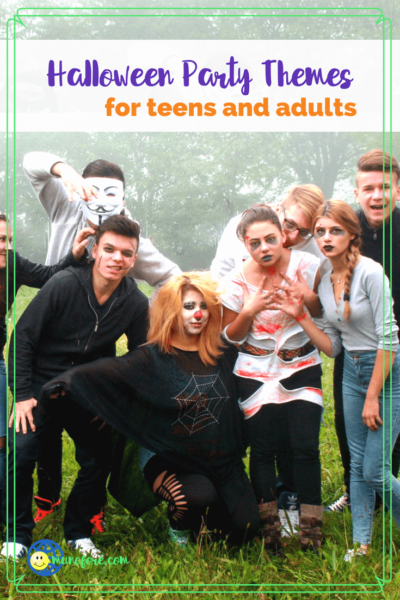 Things that Go Bump in the Night Halloween Party Ideas
If you are looking for something a little more laid back, try a Haunted Mansion party. Southern cuisine, Old South costumes, creepy Halloween-themed music, and scary décor will have the guests enjoying a party with a more relaxed atmosphere.
On the other hand, if you want a lively, music-thumping kind of party, try a Vampire Nightclub theme. Rent or buy fog machines and black lights, and have guest arrive in vampire-themed costumes. Rent a DJ or make a disc that will let the music play all night long for a party that is best for guests who love to boogie down.
Combine undead and pirates with a Pirates of the Caribbean theme. Movie posters, pirate décor and plenty of seafood and grog served in metal mugs will complete the effect. Or dump the pirates and make it a Walking Dead party complete with episodes playing on a big screen.
Literary Themed Halloween Party Ideas
If your guests are mystery buffs, host a Murder Mystery Party. Have guests come as their favorite sleuths, stage a murder (or two) and have them try to solve it in character.
Harry Potter is for kids, how about Dead Harry Potter for the older crowd? Serve food from the books (don't forget the "Every Flavour Beans!) and recreate Hogwarts inhabited by the dead. Or for the "highbrow" crowd, make it a MacBeth theme complete with the witches and ghosts.
Ten Grown Up Halloween Party Themes #Halloween #partyideas
If you like Comic Books, the next theme is simple and very entertaining. Bright colors and fun costumes will populate this Halloween party as you find Batman, Superman, and a variety of other heroes and villains gallivanting around your home. Let the fun continue with games that will involve a test of strength, such as a tug-of-war match pitting heavyweights such as the Hulk and Thor versus the Flash and your buddy who thought it would be funny to come as Wonder Woman.
Grown Up Fairy Tales - go ghoulish or racy (or both!) for an adults only affair. Serve "poisoned" apple cider, gingerbread men and houses, and Red Riding Hoods basket of goodies just to name a few.
Really Creative Halloween Party Theme Ideas
How about a Helliday theme party? If you are wondering what "helliday" is, think about having guest arrive as dead Easter Bunnies, or an evil Santa Claus, even better how about a cannibalistic Thanksgiving dinner. People may never look at cranberry sauce the same ever again.
The next theme would involve a meeting of the ancient rivals of Good and Evil. Have some guests arrive as angels, cupid and other heavenly figures while others come as the ruffian counterparts such as the devil himself or his demon companions. Want to see what happens when good and evil mix? Add specific areas in your home that are either wonderfully good or despicably evil and sit back and enjoy the show.
For costumes, recipes and decoration ideas follow our Halloween Board.
Follow That Recipe's board Halloween ideas on Pinterest.
Hope you have a Spooktacular time at your next Halloween gathering.