If you are looking for simple DIY Christmas decorations, check out this collection of Tomato Cage Trees, plus a few other ideas for turning a basic gardening implement into holiday decor.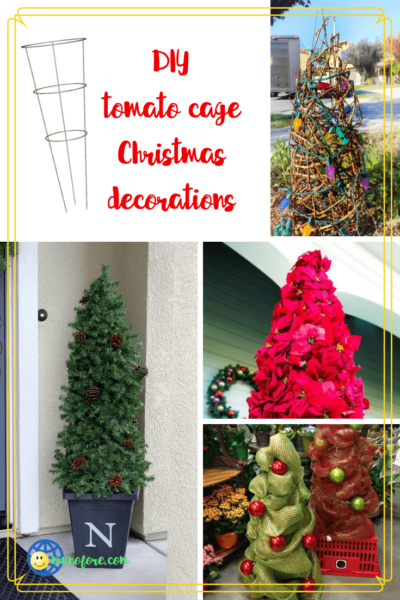 Grapevine Tomato Cage Tree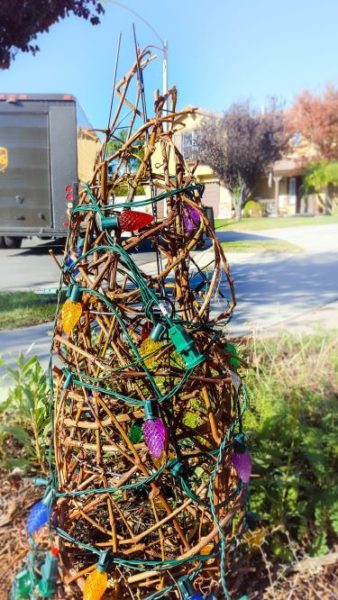 This first one is mine. We made these years ago after trimming our grapevines. Within a day of trimming the vines, wrap them around an inverted tomato cage, hold the vines in place with twist ties or twine until they dry out and hold in place.
Then wrap with lights... lots and lots of lights, if you are my husband. We have used these several years in the rain and they have held up nicely.
Honeysuckle Branch Tomato Cage Tree
Grapevines aren't the only branches you can use. Scavenger Chic uses honeysuckle branches.
Evergreen Trimmings Tomato Cage Tree
You could also use trimmings from pine or fir trees like like this one on Home Talk.

Pine Cone Covered Tomato Cage Trees
Trendy Trees covered that tomato cage tree with pine cones and burlap for a country chic look.
Evergreen Garland Tomato Cage Topiary
I also have two evergreen topiaries on either side of my porch similar to these made by Gluesticks blog.
Deco Mesh Tomato Cage Christmas Trees
Just wrap the cages with deco mesh and add some decorations and lights like Sow and Dippity.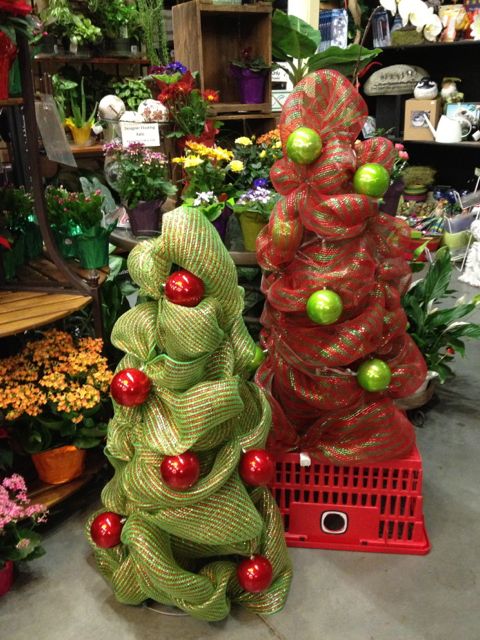 Feathered Tomato Cage Christmas Trees
This user on HomeTalk wrapped the tomato cage with some feathered boas.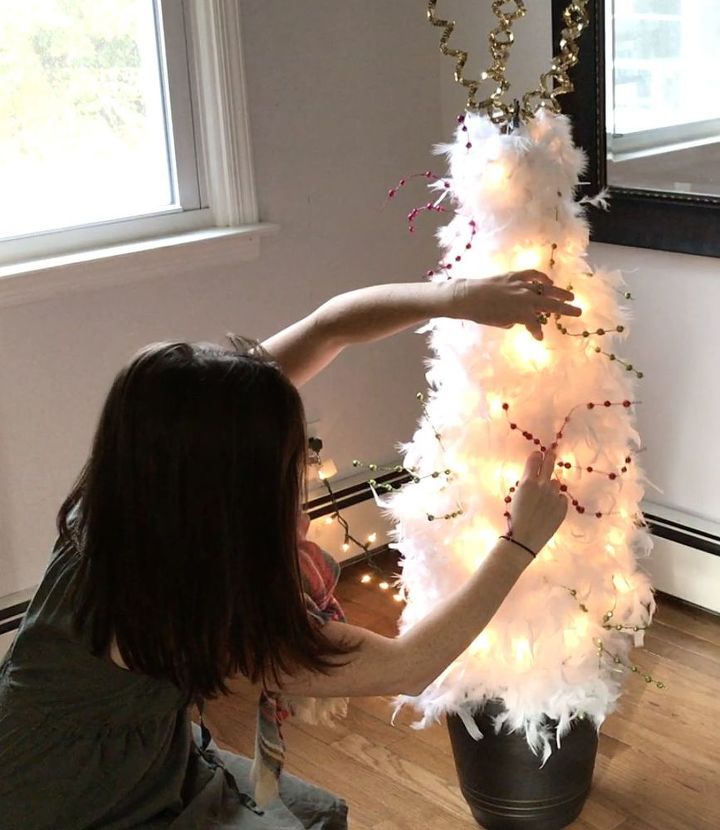 Poinsettia Tomato Cage Tree
The Hallmark Channel explains how to cover the tomato cage in silk poinsettia blossoms for this striking tree.
Honeycomb Ball Tomato Cage Tree
How fun are these party trees Oh Joy! made by covering them in different sizes of Honeycomb Balls.
Turn a simple tomato cage upside down and it becomes the base for a DIY Christmas tree decoration.
Simple Christmas Light Tomato Cage Tree
17 Apart keeps it simple by just covering the cages in lights.
Other Tomato Cage Christmas Decorations
No need to limit yourself to trees, you could also use tomato cages to create angels, snowmen or Santas.
I am not sure how well the feathers will hold up in rain and snow, but this one on HomeTalk could be really pretty on my covered porch.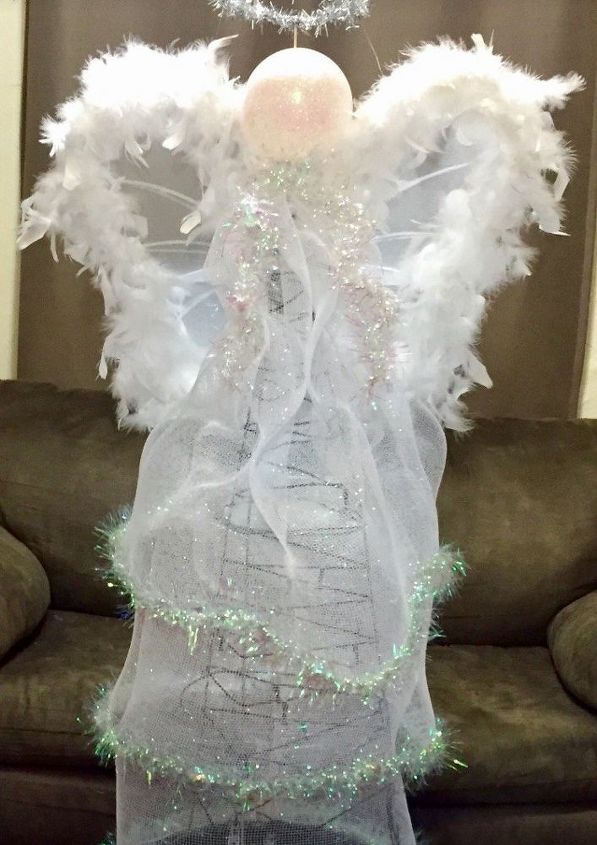 There are no instructions on HomeTalk for this one, but you should be able to figure it out from the photo. I'd consider using a paper lantern or maybe a globe light cover.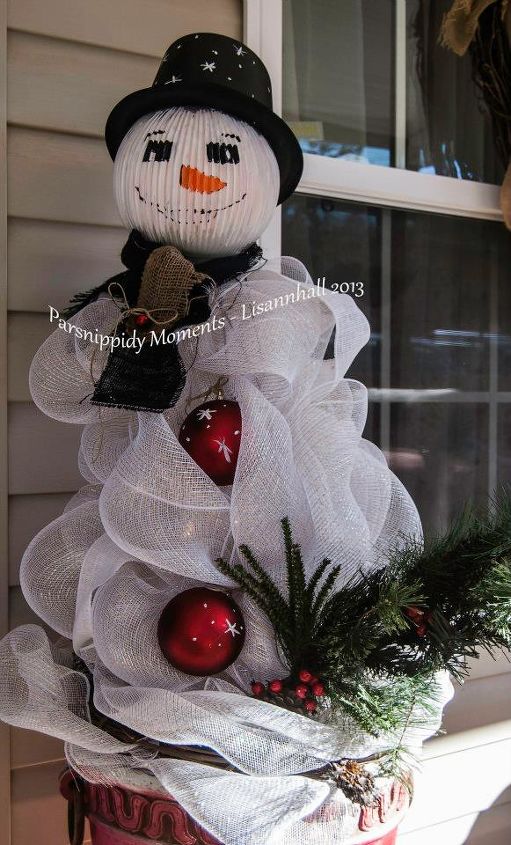 Pinterest has a few photos of Santas without instructions, but here is an easy Santa Hat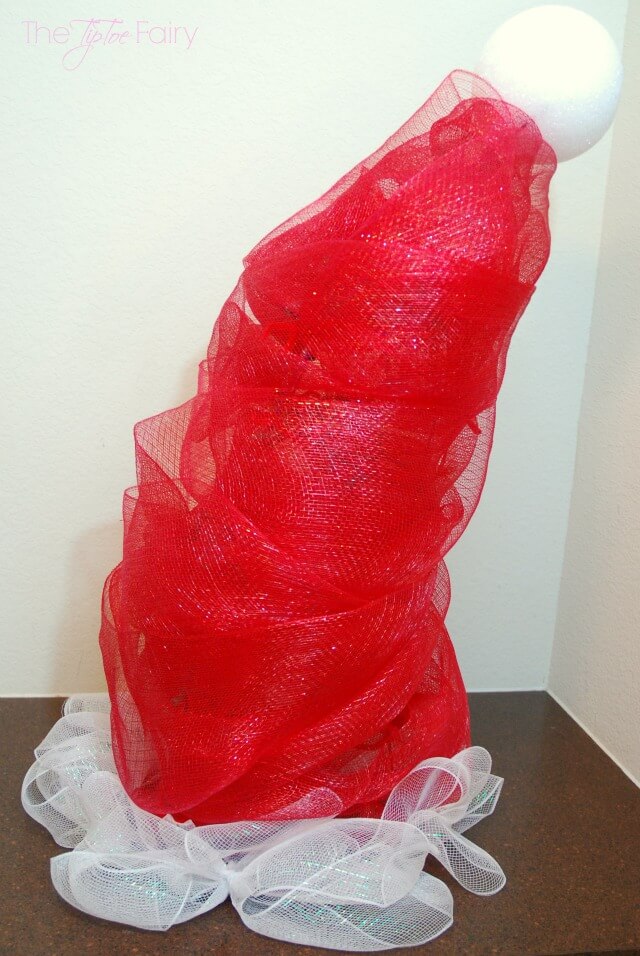 More Christmas crafts you may enjoy: