In blogging there are so many other tasks that suck up time and energy besides just writing posts. There's design, functionality, monetizing, marketing, etc., etc. etc.  It is so tempting to jump back and forth between projects and not really get anything done. But, I plan to change that this year by focusing on one task per week with my personalized 52 Weeks to a Better Blog Challenge.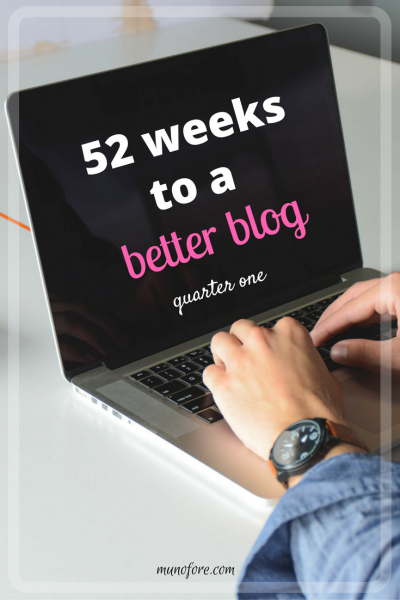 In case you'd like to join me in this challenge, here are the five simple steps I used for creating my own:
blog analysis
break down the tasks
look at my life
make a schedule
review
I am breaking it into quarters instead of the full 52 weeks for one  simple reason: things change.
My life, plug ins, social media, etc. in three or six months may look entirely different than it does now and I want the flexibility to adjust my plans.
At the moment, my first quarter looks like this: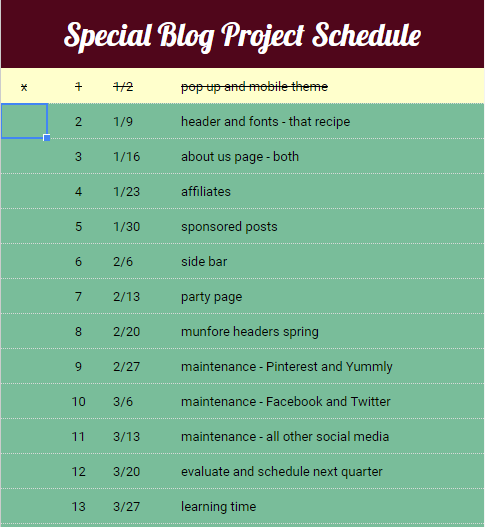 Blog Analysis
I looked at both of my blogs and made a list of things that need to be improved. One set of tasks are beyond my technical expertise. I could spend 52 weeks researching how to fix these alone. Instead I am outsourcing those tasks to a Virtual Assistant and moving on to what I can do.
I visited my site as a reader on multiple platforms (laptop, mobile, tablet) and put it through it's paces. Are the links correct? do buttons work? is it visually appealing?
Additionally I solicited advice from some of my blogging buddies for areas that could use improvement. Most of the suggestions I've already implemented, but there are a few tweaks that are in the schedule.
Break Down the Tasks
Besides all of these big projects, I still have posts to write, a house and family to take care of, sleep, etc. Trying to renovate the entire look of my blog isn't going to happen in one week.
I split up the visual aspects into manageable chunks.  I broke out the pages that need the most attention ("about me" and "party page").
And I devote some weeks to researching other ways to improve and monetize my blog, because if I don't schedule the time I am not going to get to it.
Look at My Life
Our family schedule changes every semester, based on my college instructor husband's current class schedule. Not knowing what that will be in the fall, scheduling the entire year in advance would be guess work. Plus, writing up a full 52 weeks seems daunting to me. Maybe it isn't for you.
Spring Break for my son starts March 20. If those two weeks go anything like these last three weeks he's been on Winter Break, my time blogging will be drastically reduced, as it should be. This is the best time for me to do things offline.
Create a Schedule
Once I gathered all of my information I put it into a Google Sheet, using the "to do list" template. I can make adjustments easily, plus having it accessible on all of my devices works for me.
Some people like using a paper planner instead. Do what works for you.
Review
My schedule has a review week built in for me to review my success/failures and repeat the process. I'll post updates for those interested.
As you can see from my schedule I am already off to a great start. Over on That Recipe I have a post that always gets huge amounts of hits the last week of December and first week of January. I finally got Ninja Popups (affiliate link see disclosure for details) installed and linked to my newsletter program. And, I tripled the number of subscribers in that time.
[Tweet "52 Weeks to a Better Blog. Create a personalized challenge for you and your blog. #bloggingtips #52weekchallenge"]
Will you join me?
I encourage you to make your own blog improvement plan and set it as a challenge starting whenever you read this post. There is nothing magical about January 1 to start a 52 week challenge, it just happened to work out that way for me.
By doing a little bit each week you will be amazed at the growth your blog will experience in a year's time.