Disclaimer: this is a sponsored posts and contains affiliate links. I have received discounts for publication of this post and may earn a commission for any purchases made through these links at no additional cost to you. All thoughts and opinions are my own.
How I use colors in my CoSchedule Marketing Calendar to keep me organized between three blogs plus their associated social media accounts.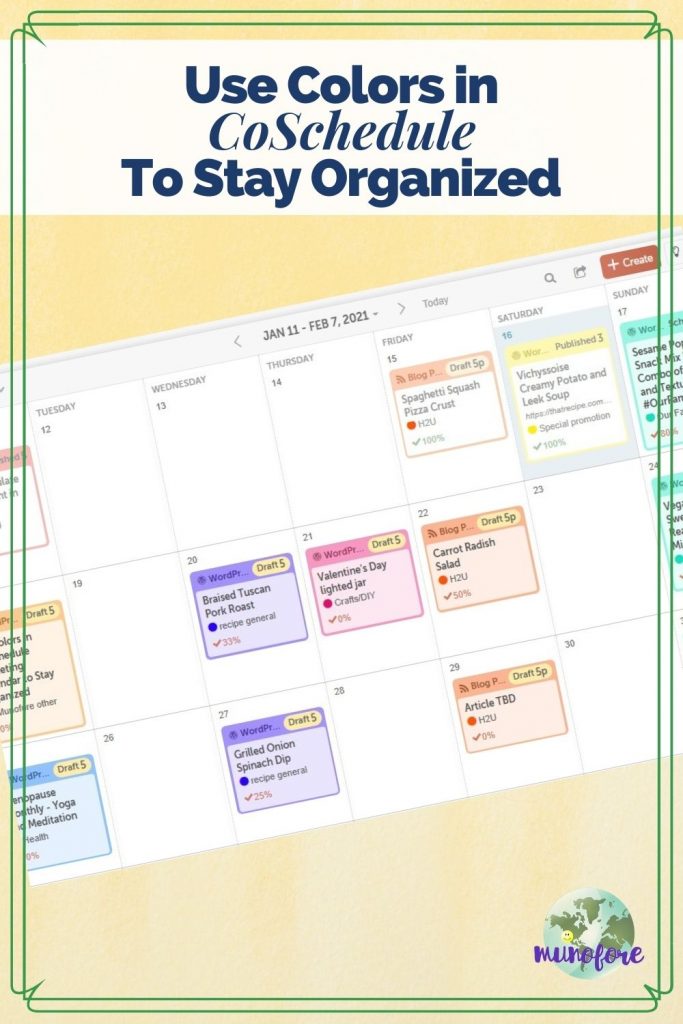 CoSchedule is an electronic marketing calendar that can be used as a blog planner, social media scheduler and tasks organizer to help bloggers stay focused and build their brand.
I am a huge fan of CoSchedule and so glad a blogging buddy encouraged me to try it free years ago. And that is a real free trial, not one of those "give your credit card and hope you remember to cancel before you are charged free" offers.
After only a few days I saw all of the benefits it was going to provide me. And even though I HATE to spend money, especially on blogging tools, I signed up.
I pay annually which saves me some money, plus the link below is an affiliate link. If you follow it and decide you love CoSchedule as much as I do and subscribe, I save a few bucks on my annual fee.
I hear someone in the back muttering "Oh great, that's how it helps YOU, but is it really going to help ME."

If you are looking to simplify your blogging tasks to one easy to use program, this could be your solution.
Here's just one example of how I use it to help me stay on top of all my deadlines.
Organization at a Glance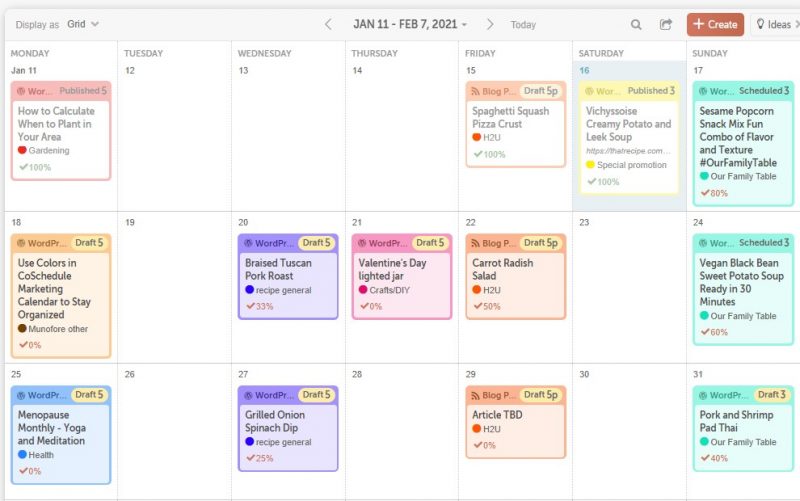 My browser automatically opens to my CoSchedule calendar when I log on so I know exactly what posts I have coming up and how far along I am before I start sliding down the slippery slope of distraction known as Social Media.
I get a gentle reminder that I have work to do at a quick glance. Because I am a mom too and sometimes a quick glance is all I get.
Isn't it pretty with all of those lovely colors?
The colors actually serve a purpose besides visual interest.
I have several types of food posts for That Recipe. Here on Munofore I have gardening, crafts, fitness and other posts. By keeping them color coordinated I make sure I am mixing up my content and I can see that I have everything on my calendar.
If you have multiple people you could assign a color to each person, or use them for different tasks (blog posts, video posts, email, etc. ).
There's no rule that says you can't have a color for personal stuff too.
Assigning Colors in CoSchedule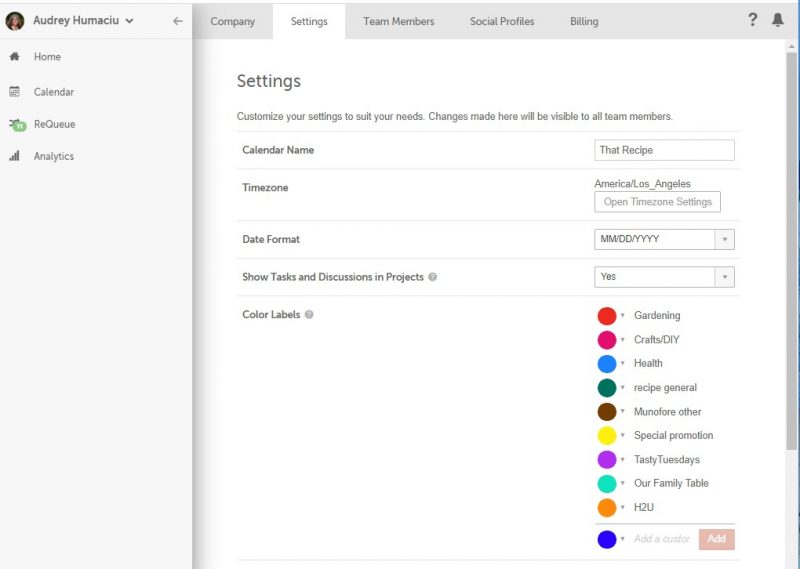 Select your Name in the upper left, then choose Settings and towards the bottom is Color Labels. Pick your colors, type in the label and head back to your Calendar.
You can assign the color at project creation by clicking the empty white circle at the top.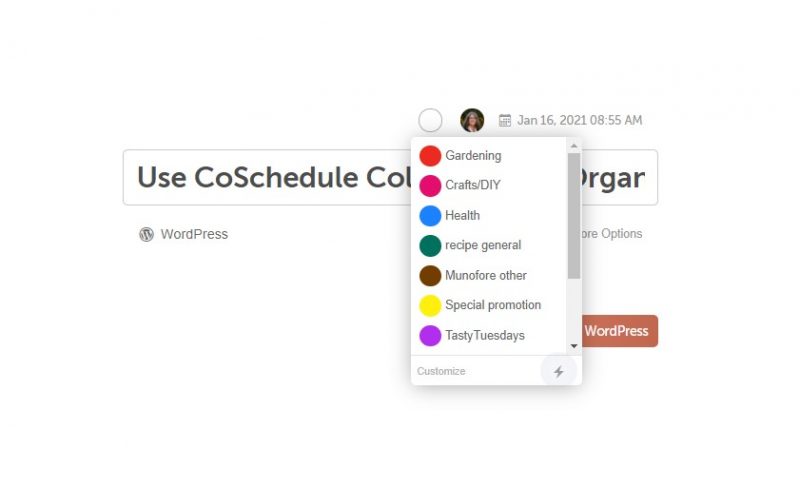 But, if you forget or want to change the color label you can do it after post creation as well.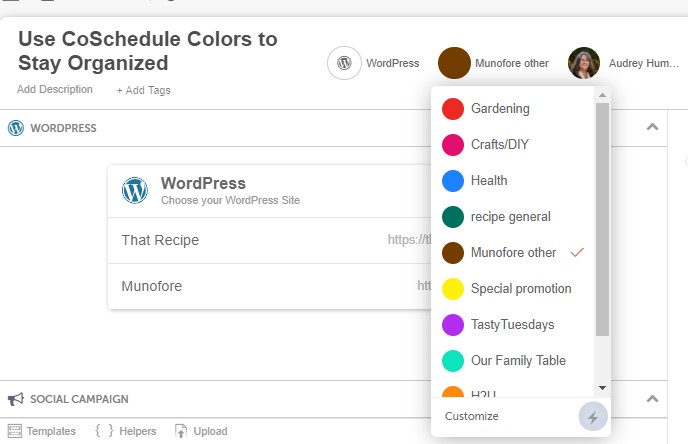 Bonus Tip: Use "Tasks"
If you look closely at the screenshot of my calendar above you might notice there is a percentage on each job. When I create them I break down the job into several steps and create tasks for each one.
Not only does this make the job seem less overwhelming, it helps me keep track of what I have left to do. Did I create the photos for that one? How about social media posts?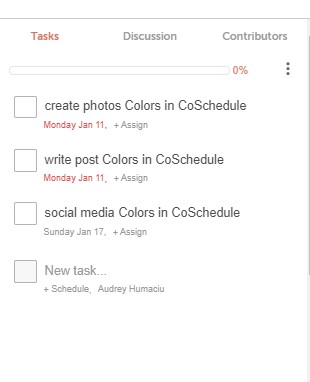 You can assign due dates and task owners if you are working with others.
If you do the same tasks repeatedly, create a task template to save yourself typing the same tasks over and over. Just click on the 3 dots to the right of the completion bar.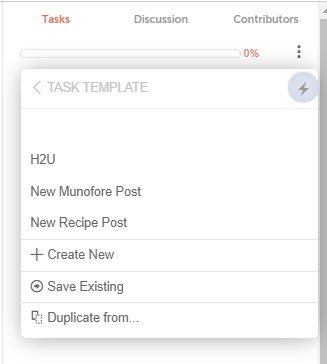 My tasks vary slightly based on the job, so I have several templates.
CoSchedule is a Blogger's Best Friend
With just a couple of clicks on the mouse and keyboard, CoSchedule helps you create a blog schedule that gives you all of the information you need to maintain a consistent posting schedule and build your blog.
More CoSchedule Tips