One of the best parts of Autumn is the smells. Cinnamon, cloves, apples, pumpkin, oranges, lavender, vanilla – they all bring to mind the wonderful fall season along with the cool rush of air that signals the coming of the fall holidays. Make your own potpourri to fill your home with your favorite Autumn smells.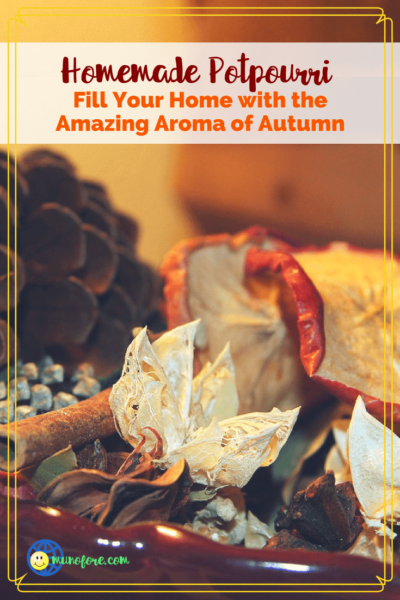 Personally, I love the smell of cinnamon, but those cinnamon scented pinecones at the door of every grocery store this time of year make me want to run straight for the anti-nausea medication. To me it is completely overpowering and I can't even imagine what it would be like in my home.
Ingredients for Homemade Potpourri
Making your own potpourri allows you to customize the smell to your liking. Use dried flowers, zests, cloves, cinnamon sticks, apples, pumpkins, and other fall-scented plants.
To be frugal you can dry flowers and fruit at home instead of buying them. Hang flowers upside down in a dry place where they will not be disturbed. Or you can also use a food dehydrator if you have one, or line a baking sheet with parchment paper and bake at 250 degrees Fahrenheit for several hours until the fruit or flowers are completely dried.
You can use essential oils if you prefer, or even make your own like this ridiculously easy cinnamon oil recipe from Food Network's Michael Chiarello.
Ways to Use Homemade Potpourri
Potpourri bowl
The simplest way to use and display potpourri is in an attractive bowl placed in an area that gets some air movement. You may want to place it where a heater vent will blow on it slightly to warm it and disperse the fragrance. Otherwise you can stir it around a bit once or twice a day for a subtle aroma.
Simmering potpourri
You can simmer the potpourri in water in a small pan on the stove, in a small slow cooker or try to find an old potpourri warmer at a yard sale/thrift store. Just keep an eye on the water level and refill as needed for an all day aroma-fest.
Lighted mason jar potpourri
My sister-in-law gifted me with one of these years ago and they are so simple to make.
You will need
a quart sized mason jar
a strand of 35 light mini lights
an attractive cloth cover for the jar (a doily works nicely)
ribbon or raffia
potpourri
Put the lights and potpourri in the jar so the lights are spread evenly through the potpourri. Leave the plug and some of the wire outside of the jar. Cover with the cloth and tie with ribbon to secure it. When plugged in the lights slightly warm the potpourri, releasing the scent.
Give as a gift
Put the potpourri in a bag like this and tie it with some ribbon or raffia and you have a thoughtful hostess gift or maybe even a teacher gift (from experience I can tell you 5th grade boys can get stinky after PE 😉 ).
Make your home smell fabulous this Autumn with these easy homemade potpourri recipes.
Autumn Potpourri Recipes
The possibilities are really endless. You may want to add some pods or flowers that do not smell but have an attractive look to them to make the potpourri more interesting appearing.
Here are three different Autumn potpourri blends to get you started.
Lavender and Spice and Everything Nice
1 bunch dried lavender
1 tablespoon ground nutmeg
1 tablespoon whole cloves
1 stick cinnamon
2 cups water
Add to a small slow cooker on low, and let it simmer all day adding water as needed.
Dried Apple Spice Potpourri
1 cup apple slices, dried
2 tablespoons ground cinnamon
2 tablespoons whole cloves
¼ tablespoons allspice berries
10 cinnamon sticks
10 small pinecones
Cinnamon oil
Combine into a jar big enough for the pinecones to fit, put the lid on tightly and shake. Add as much cinnamon oil as you think you need to make it smell as you wish. After a couple of weeks, you can remove the pinecones with tongs and allow to dry. The smell should stay. Put in a basket and leave on a dresser or bathroom counter to bring fall smells inside.
Orange Spice Potpourri
10 slices freshly dried oranges
1 bunch of pinecones
¼ cup star anise
10 cinnamon sticks
¼ cup whole cloves
Display bowl
Combine all the ingredients in a bowl using as much as you need to fill the bowl that you're using to help impart the scent to the house. You can add whole oranges, flowers, rocks and other elements to the mix to make it look extra special for the fall.
How would you use homemade potpourri?
Your turn! What are your favorite Autumn scents? Have you ever made your own potpourri at home? What combinations have you made or would you make? Let us know in the comments below.