Learn how I use CoSchedule's ReQueue Placeholder Group feature to fill my social media channels with informative posts on a weekly basis in a fraction of the time of posting manually.

CoSchedule is one of the best blogging tools for getting more done in less time. It helps me schedule posts for three blogs, schedule newsletters, stay on top of activities for my clients and constantly fill my social media channels will relevant posts.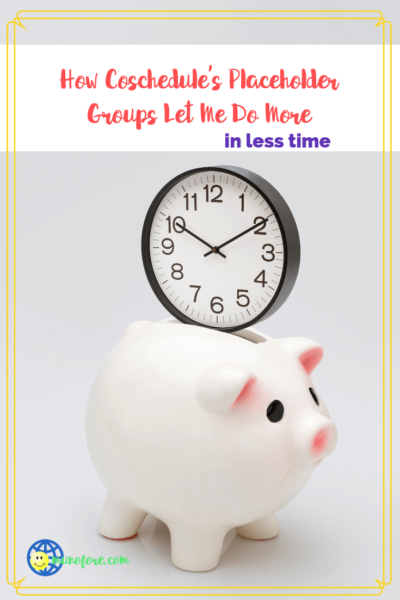 DISCLOSURE: This post contains affiliate links. I may receive a commission, at no cost to you, for purchases made through these links. full disclosure here
Why I love CoSchedule
I spent years trying to track my editorial calendar in Google calendar and using free media schedulers to keep up with the social media posting. Two years ago I tried CoSchedule upon the recommendation of one of my blogging buddies.
Before the first week of my free trial was over I was begging CoSchedule, "Just take my money already!"
It was good when I first subscribed, but it is even better now since ReQueue has been added. And it keeps getting better.
editorial calendar - check
social media scheduler - check
integrated email marketing - check
built in headline helper - check
task list templates - check
integration with Google Calendar, Evernote, etc. - check
workflow management - check
simplified team collaboration - check
integrated analytics - check
Don't take my word for it. CoSchedule offers a free two week trial to put it through its paces. And that's a truly free, no credit card needed, two week trial.
My new favorite CoSchedule tool: ReQueue Placeholder Groups
I explain the basics of how I use ReQueue to segment my automated social media sharing by season in this post on the International Bloggers' Association. This ensures I don't have a Valentine's Day craft posting in October.
But, I have recently figured out how to use Placeholder Groups to further refine my social sharing. If you do a weekly or monthly social sharing post such as #TipTuesdays #FlashbackFriday etc. you will want to pay attention to this next part.
For That Recipe, my food blog, I share cooking tips on social media every Tuesday. I could just manually create a different social media post in each of the channels every single Tuesday.
But, with a Placeholder Group I don't have to.
First, I created 3 Placeholder Groups called "Tip Tuesday - Facebook", "Tip Tuesday - Twitter and "Tip Tuesday - Instagram".
There is one drawback to Placeholder groups that makes things a bit tedious for me. It only sends one message at the scheduled time, not one per social media channel, as I would prefer. But, having three groups makes for an easy work around.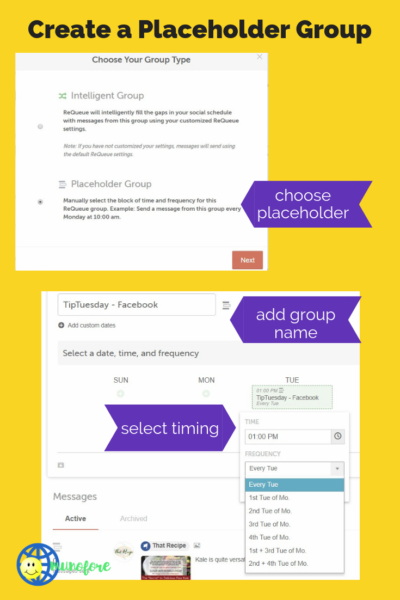 You can schedule each group to post multiple days and times. For this example I only want once every Tuesday.
The next step was to create a new message in the Facebook group. I selected my Facebook, Twitter and Instagram accounts to create 3 messages at once.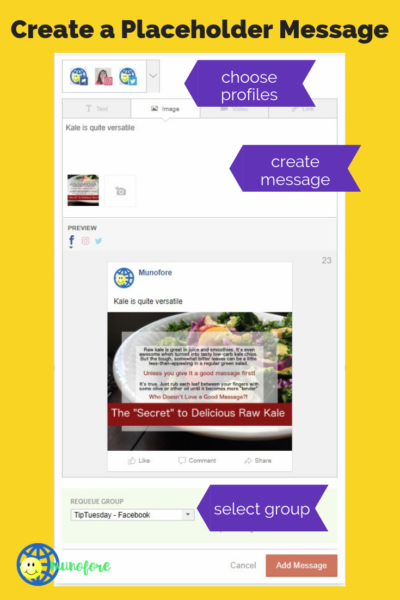 After all three messages were created and placed in the Facebook group, I open the Twitter post, added some hashtags and moved it to the Twitter group.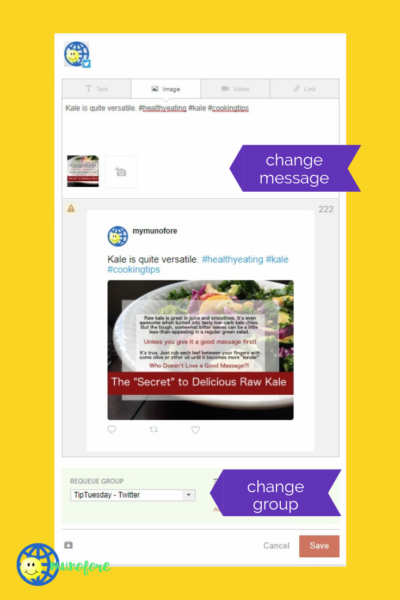 Then I opened the Instagram post, added even more hashtags and moved it to the Instagram group.
It takes me less than 2 minutes to create each set of 3 messages, so in about 30 minutes I had enough messages for a new message to post every Tuesday for a full quarter in 3 different social media channels. And unless I tell it to stop, it will start repeating those messages.
Would you spend $10 a week to save 10 hours?
I am one of the cheapest people I know. I am far more inclined to waste copious amounts of time doing things for free instead of spending any money to do it in less time.
But, time is money. If you are building a business you can't afford to waste either resource.
CoSchedule saves me a minimum of 12 hours a week. Think about what you could do with 12 more hours in a week. Create more content? Spend more time with family? Sleep?
Go check out CoSchedule and see how it can help you be a better Blogger.