This week the Friday Frivolity hosts are taking a slight departure from the fun and happy and talking about scary movies. I am a movie wimp. I do not like scary movies, particularly horror/slasher ones. Real life is scary enough. The presidential election? Healthcare premiums? IEP meetings? *shudder* I watch movies for escapism and enjoyment. Scary movies just aren't fun for me.  But, I dug deep for you, dear readers, and found the courage to came up with five scary movies that scared me away from scary movies.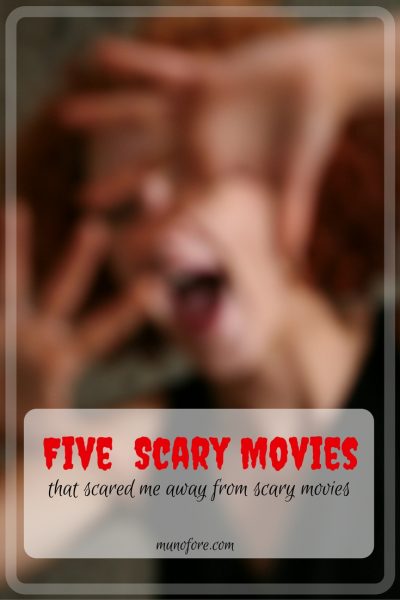 Sleeping with the Enemy
I watched this one night on TV... alone ... at night... Luckily, I have an amazing husband so my spice cabinet is a glorious mess and my bathroom towels are always crooked.

Fatal Attraction
Glenn Close? the bunny? Many male college mates were scared to fidelity after that movie because they were afraid their girlfriend or the hook-up might go over the edge. So some good things happened because of it.
The Birds
Credited my Alfred Hitchcock loving husband for forcing me to watch this one when he found out I hadn't seen it. I still get a little nervous when I see too many birds all gathered together.
Psycho
This movie in color would not have been as freaky. The sequels in color just didn't have the same edge. But the shower scene still gives me goose bumps, even though I remind myself the blood is only chocolate syrup... only chocolate syrup... only chocolate syrup.
Silence of the Lambs
If you've seen the movie, you know what line preceded this and you probably cringed and thought about fava beans and Chianti.

[Tweet "Five scary movies that scared me away from scary movies. #movies #horror #thriller"]
Pretty tame list, huh? How about you? Are you a fan of horror films or psychological thrillers? What are your favorites?
Now on to the link-up! 😀

Featured Post from Last Week:
In a fun twist, since we now have four hosts and co-hosts we will also have FOUR FEATURES.... but you will have to go check out the other four blogs to see if you were featured there! 😉
Looking for some Halloween inspiration? Two of our favorite Friday Frivolity linkers (linker-uppers? partiers? regulars?) Raising Fairies and Knights and A Bountiful Love have a fun party for you to go check out with lots of food, crafts and fun. Bloggers can drop their own Halloween links as well.
The Hosts:
Audrey is a wonderfully eclectic blogger, who not only can cook up a storm over on That Recipe, but also writes at Munofore - "MUsings NOt FOod RElated." Munofore touches on humor, parenting, crafting, holiday ideas, tutorials, and more! This week she shared made a Halloween Wreath from an old dryer vent. Reduce, reuse, recycle!

Sarah Eliza is on a mission to Devastate Boredom by living life with laughter and intention! Her blog is your spot for Capsule Wardrobe how-to's and inspiration, humor, encouragement, life-hacks, Read / DON'T Read book reviews, and more! She has some lovely Inspirational Printables for you and a review of her monthly goals.

Jessica is an amazingly funny and smart blogger from Wales who writes at Babi a Fi on a whole range of topics -- from entertaining vintage nostalgia, to technology tutorials, to book reviews, to raising her adorable munchkin, and so much more! She wrote a stirring piece on National Coming Out Day that reminds me our countries aren't that different after all, unfortunately in some cases.  
Now time for the new stuff!
This a link-up for all things funny, fun, encouraging, hopeful, and happy. That includes free printables, giveaways, and other fun stuff to make us SMILE and start the weekend off on the right foot. If you're here in search of fun and uplifting reading materials, skip the rules and just start clickin'! Bloggy buddies, thanks for coming to par-tay! You are welcome to link up to 3 posts, and old posts are always welcome! There are three rules only: