Do you want to save money, protect the environment, reduce clutter, reduce stress and have an awesome Christmas? Here are some tips and tricks for a frugal earth friendly Christmas.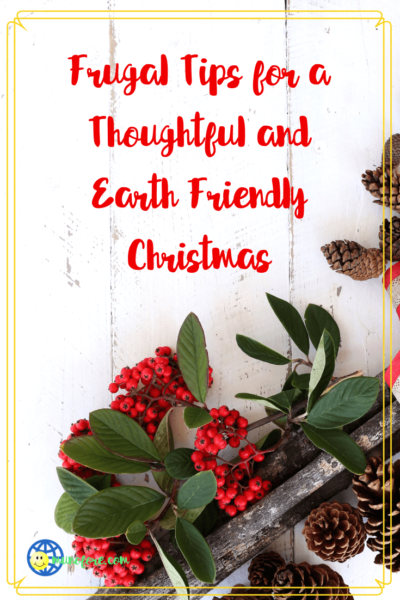 The Christmas Tree Debate
There is a huge debate as to which is more environmentally friendly, a real or an artificial tree.
Artificial trees are made from petroleum products, but with proper care can last for 10 years and do not present a fire hazard if you want to have one up for over a month.
Forests are not chopped down for live Christmas trees, they are grown on farms with the specific intent of them being cut down after a few years. While they are growing they absorb plenty of CO2 from the environment. But, since they are an agricultural product fertilizers and pesticides may be used in their production.
A potted tree that is planted in your yard after the season is another good option. We had one that grew to over 20 feet and became the centerpiece of our yard. The only drawback of this is you need a large yard to continue this tradition year after year.
My tree is covered in hand made ornaments, check this post for tutorials for over hand made Christmas ornaments
Shine Bright with Christmas Lights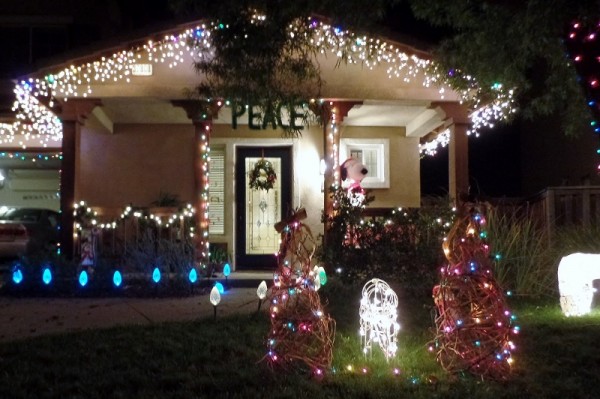 Environmentally conscious folks can channel their inner Clark Griswold now that LED and solar lights are readily available. They use far less energy than the lights of old.
We just put some solar lights around the base of the tree at the curb this year, they work perfectly with one caveat. The placement of the solar panel can be tricky. It needs to be able to catch plenty of sunlight to charge, but get dark enough after the sun sets to turn on. Unfortunately, the light from the street light is so bright I have to flip the panel up towards the tree after dark and back down in the morning. (But yeah for the security provided by the street lights).
How many strands of half dead mini-lights are in your home? I have none now, thanks to this light keeper tool. I bought it years ago on clearance after Christmas and it has helped save many a strand of lights. This one only works on "mini-lights" but now they have an LED version.
Finally, put your strands on a timer to avoid having to remember to turn them on and off. I bought this one for Halloween and love its simplicity.
Conscientious Gift Giving
Many people are trying to declutter their homes these days. The last thing they need is more cheap junk to throw away. That includes kids!
Grandparents, aunts and uncles, etc.: my child loves you, but he does not love the bag of plastic crap from the dollar store that are destroyed by Christmas dinner. Consider the gift of an experience instead, a day out with you, tickets to a baseball game or theme park, a month of tennis lessons, etc. Just check with mom and dad first to make sure it is something they will enjoy to save everyone stress.
Kids don't need or want a bag of cheap plastic junk from the dollar store that will be destroyed by Christmas dinner.
One way to put a green spin on Christmas is to make your gifts rather than buying them. Besides making less of an impact on the environment, making gifts will make less of an impact on your wallet as well.
Some people are crafty and are able to crochet or knit. If this is you, why not make them a scarf, cozy slippers ? Those who sew may want to make reusable sandwich bags or shopping bags or a cute stuffed animal. For those that enjoy hand stitching here's instructions for easy hand embroidered dish cloths.
Homemade cookies or candies can be a great holiday gift. Here are some cookie recipes to get you started. Make a few different kinds and put them in a cute box like this or a plate covered in plastic wrap with a bow on top.
Last year instead of baking for my neighbors I filled mason jars with Ree Drummond's hot cocoa mix, then added baggies of marshmallows and mini candy canes along with the instructions. Soups mixes, bread mixes, cookie mixes all fit nicely in mason jars and make lovely gifts
Bath oils, bath salts and sugar scrubs are great gifts to give to the women on your list. You can make your own relatively easily and for very little money.
Try to find local arts and crafts shows or festivals. You can find some unique locally made gifts at these events. Not only can you find great gifts, you'll also be supporting the local economy. Gifts made close to home require less fuel for transport.
Green Gift Wrapping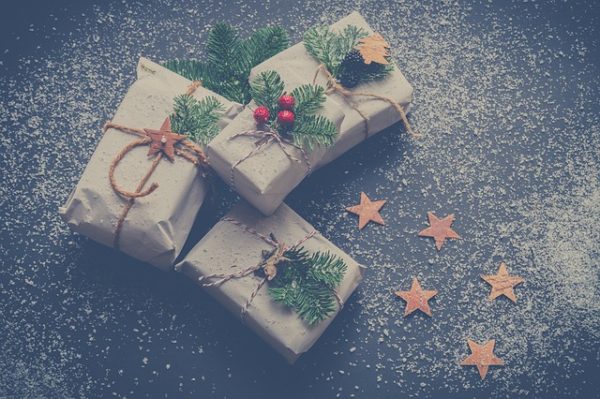 Many of my gifts growing up were wrapped in the Sunday newspaper tied with kitchen twine. Comics for the kids, pink section usually for the women and the green section for men. Alas, many of us no longer subscribe to the paper. But, you can reuse other paper for a frugal and environmentally friendlier gift wrap.
Those 800 art projects your child has brought home in the last few months? Grandparents LOVE these!
If you shop on Amazon, chances are you have received at least one package stuffed with brown paper as filler. I know, I know. You have visions of tossing that from the last few orders you received. Leave it plain or decorate it (or let the kids decorate it), add some twine or raffia along with a clipping from your yard and voila a gorgeous, cheap and eco-friendly gift.
You could use part of the gift as the wrapping, a nice scarf or hand sewn (or not) cloth bag that can be used as a shopping (or beach bag) is attractive and practical.
Finally reuse those gift bags, ribbons and bows for the finishing touches from year to year.
Save money and the planet with these green Christmas tips.
These are but a few of the many smart ways to put a green spin on your Christmas and save yourself some money.
Other Christmas posts you may enjoy: