We have had some of our giant lilac plants die in the yard this year, leaving big empty spots. I can replant them, but it will take awhile for them to get that big again, so my husband and I decided to add some fun decorations to brighten up the yard and fill in. The newest addition is this fun garden sign I made from an old skim board.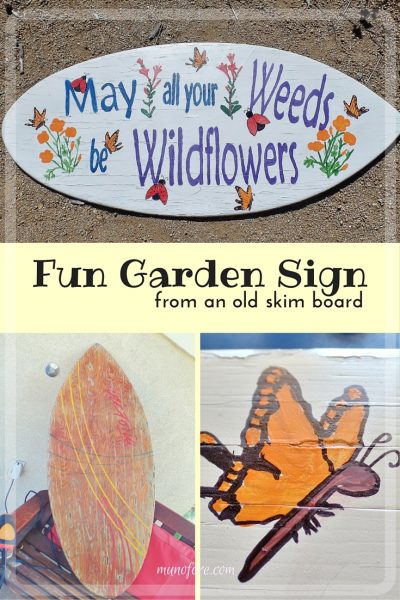 I bought this beauty about 20 years ago at a rummage sale. I had always planned to make a table out of it for my tropical themed room. It never happened and I have been holding on to it every since.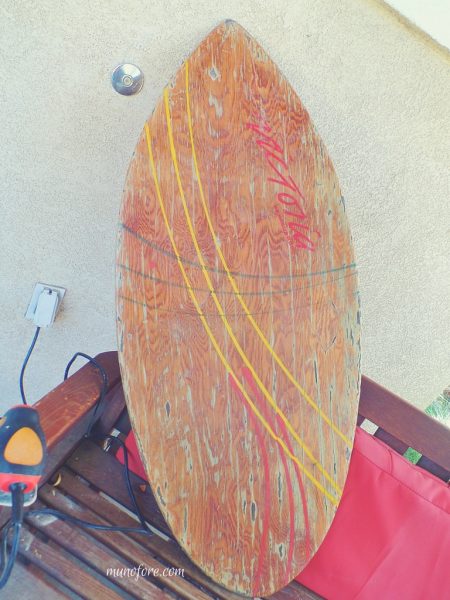 It is now quite beat up and could not be used in the water for very long. But it was perfect for my purposes. First, I scraped off any chipping coating with a wire brush.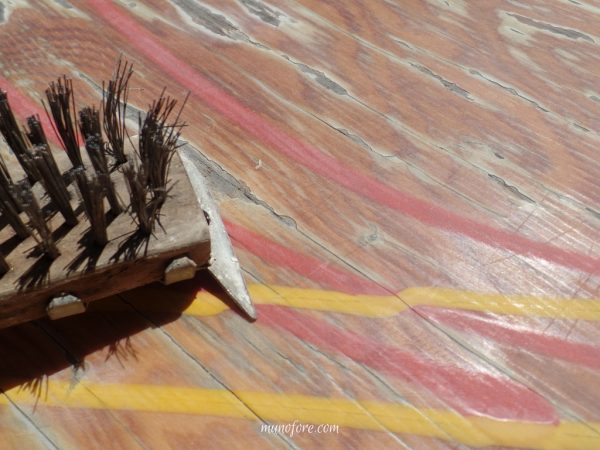 I only sanded briefly because I did not want to smooth out the weathered look. Then came a few coats of white spray paint.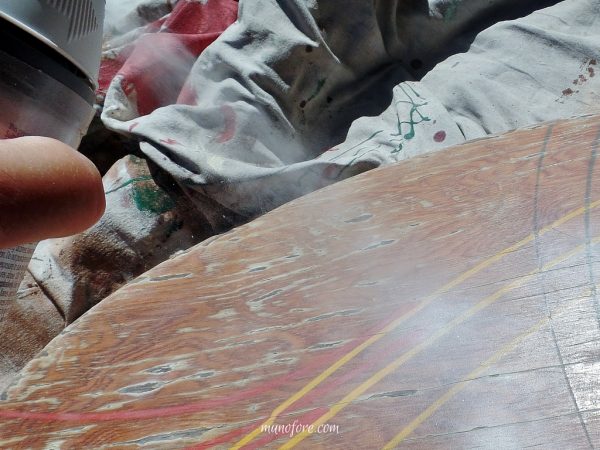 Once dry it was ready to be painted. I could have attempted to  hand paint the letters, but I wanted them to look neater than I could ever do. So I decided to go with some rubbed ink jet print outs.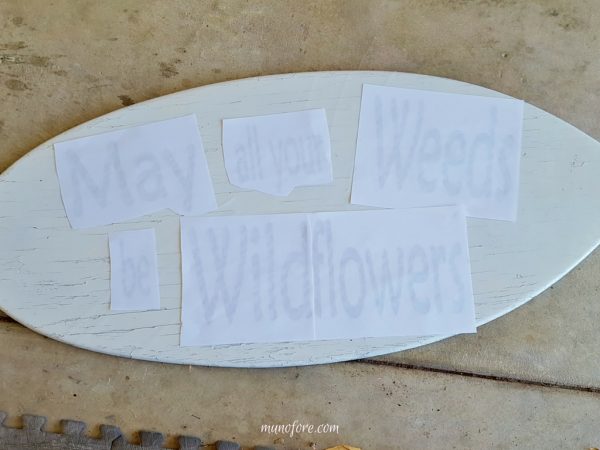 To create the words, I wrote the saying in Word using Word Art. For this one I split it up into five different Word Arts so I could have differing sizes. Before printing I chose "flip horizontal" for each one. When printed and placed on the white board it reads correctly. Then I rubbed each letter with a pencil so the ink would rub off on the board.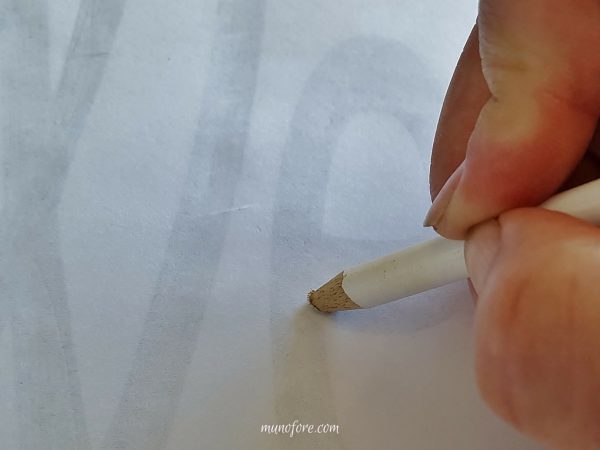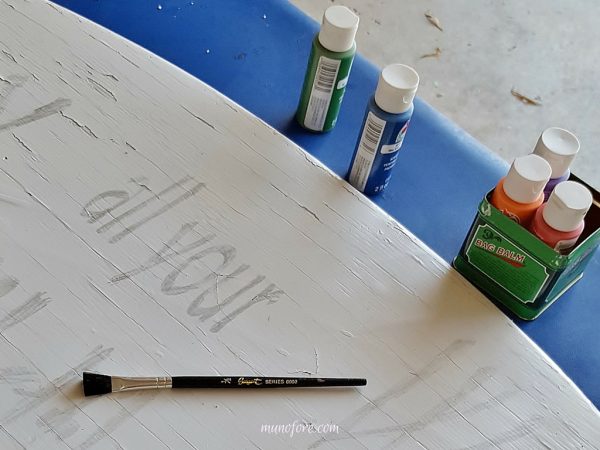 Then it was time to paint. I used the leftover acrylic paint from the TMNT Handprint Christmas Ornament. It may not have been the best choice, but I did not want to spend any money on this.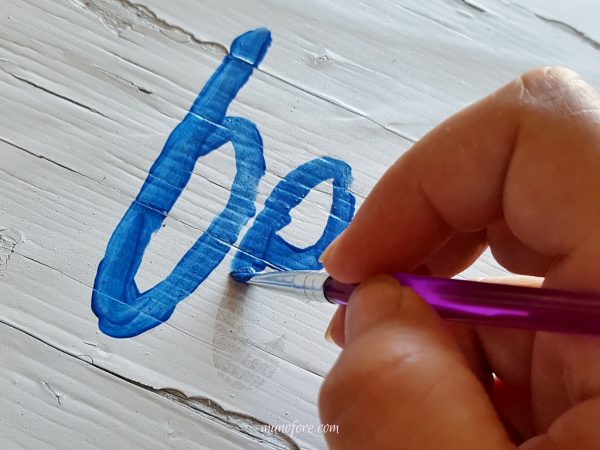 I found some pictures of wild flowers (Eschscholzia californica and Zauschneria califfornica to be exact)plus a lady bug and butterfly. I figured I would do the same technique. Except, it only works with black ink. Or at least it only worked with the black for me.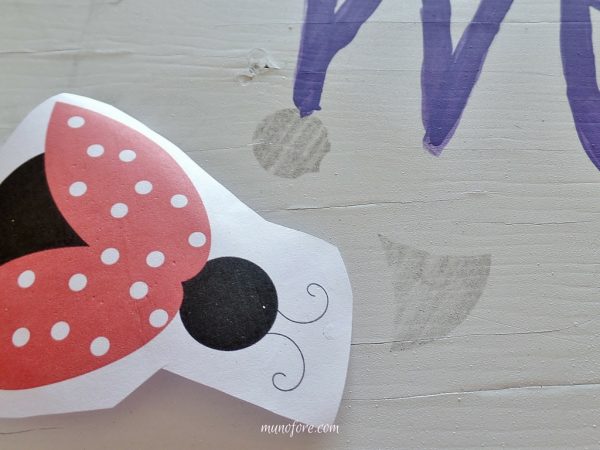 So I traced around the flowers and insects with a pencil, flipped it back over and rubbed that.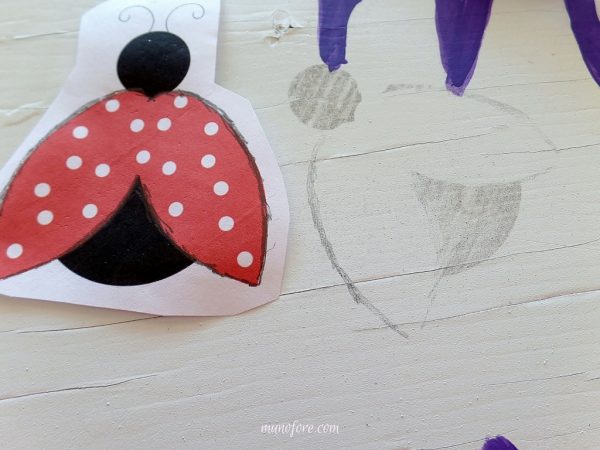 I painted everything except for the black, which I didn't have. No amount of mixing was going to give me the right color so I grabbed a permanent black marker and filled in the details.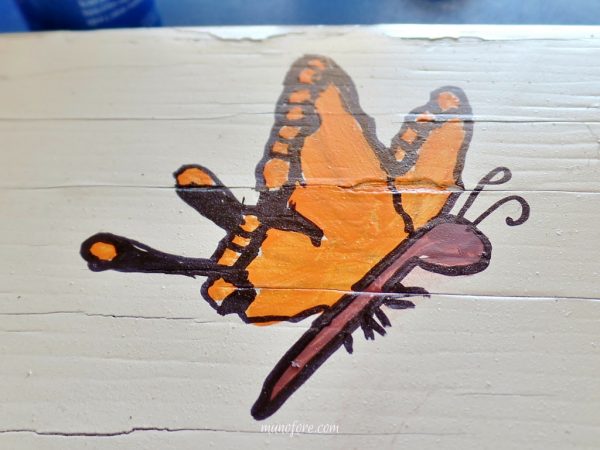 I didn't even need to do that much detail because it will be viewed from at least 8 feet away. I sprayed it with clear lacquer after letting it dry overnight.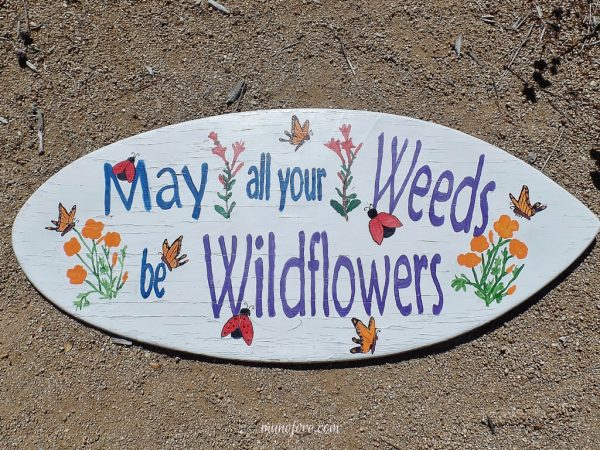 I just nailed a few small nails in the back and ran a wire between them for hanging. And here it is hanging on the fence.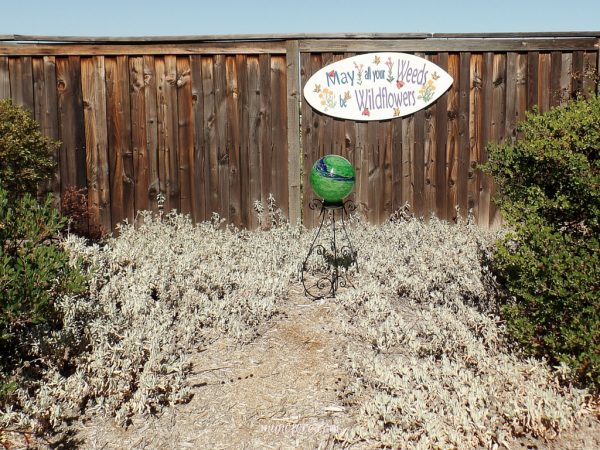 For those that aren't following me on Instagram you may have missed the gazing ball story. My husband splurged on this at the store and I remained a bit reserved about it until night time. There is a solar powered light inside!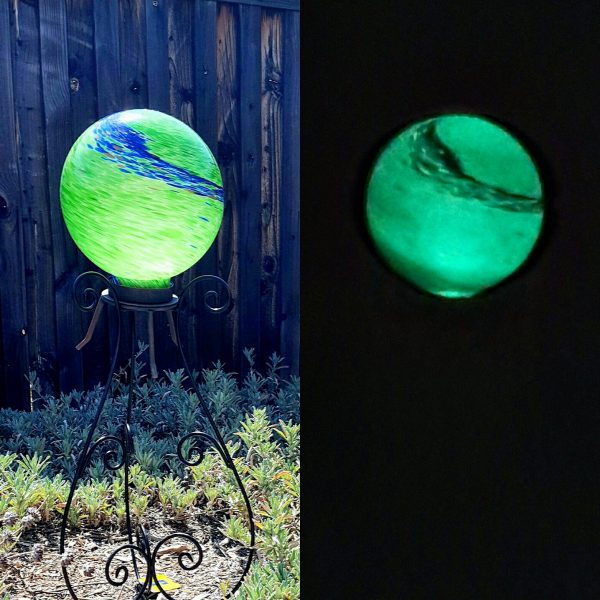 The sign and gazing ball are not as beautiful as a 6 foot high and wide ceanothus, but at least it isn't a huge bare spot as you look at the TV room window anymore. Stay tuned for more ideas we have.
[Tweet "Fun Garden Sign - repurpose an old skim board into a whimsical garden sign. #gardenart #upcycle #DIYwin"]
Save
Save