Looking for a simple but special homemade gift? How about Homemade Milk Bath Mix?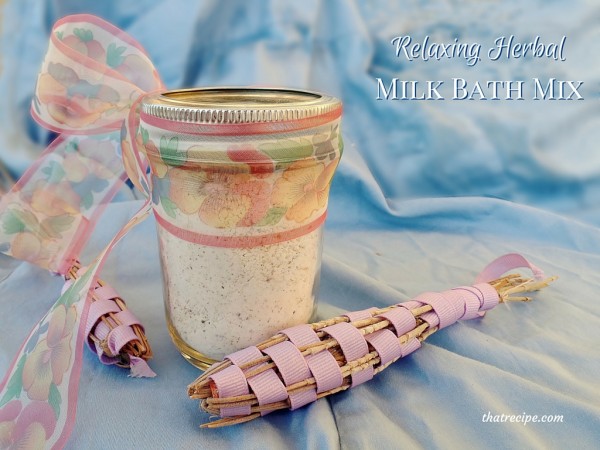 You toss a few ingredients together in a jar, add a pretty label (like this free printable one), decorate the jar with some nice ribbon and/or material and POOF! you are done.
They get to soak away the stress of the holidays in a soothing milk bath that is relaxing for the mind and skin.
I have quite a few Gifts in Jars recipes on That Recipe, including a bread mix, a bean dip mix and a lovely sugar scrub recipe that can be changed up with different herbs and flowers. But this one contains Epsom salt, which can be used as a laxative, so I didn't want to put it on the food page. Not that most people would think milk bath would be edible, but you never know.
I like to use Celestial Seasoning's Tension Tamer Tea (affiliate link!!!) to make this or dried lavender blossoms from my garden. Pick a tea or dried flowers that smells nice and relaxing to you. My husband does not like the smell of lavender, go figure! So, I definitely do not use it in my bath mix for personal use. But, most people find it a calming scent.
You are welcome to use essential oils if you prefer, but I like the more rustic look and feel of the herbs.
[Tweet "Gifts in a Jar - Relaxing Milk Bath Mix. Treat a loved one to a spa treatment in a jar. #gifts #homemade"]
Relaxing Milk Bath Mix
This makes enough to fill a 1 cup jelly jar, which is about two baths. Double it for a pint jar and quadruple it for a quart jar.
Ingredients:
½ cup powdered milk (cow's milk or goat's milk)
¼ cup Epsom salts
¼ cup baking soda (or cornstarch or ground oatmeal)
1 or 2 chamomile tea bags or 1 or 2 teaspoons dried lavender blossoms (something that smells nice and soothing)
Directions:
In a small bowl combine the milk, Epsom salts and baking soda. Open the tea bags and empty the contents into your hand. Rub your hands together, crushing the tea or flowers finely into the bowl (or use a mortar and pestle or a coffee grinder). Mix ingredients together and pour into jar. Decorate as desired.
Label the jar with the instructions: Add ½ cup to a hot bath. Relax and enjoy.
And that is all there is to it.