Crafting handmade beaded bracelets, anklets and foot jewelry is a simple project that reaps beautiful results that can be a stylish personalized accessory or a great gift for family and friends.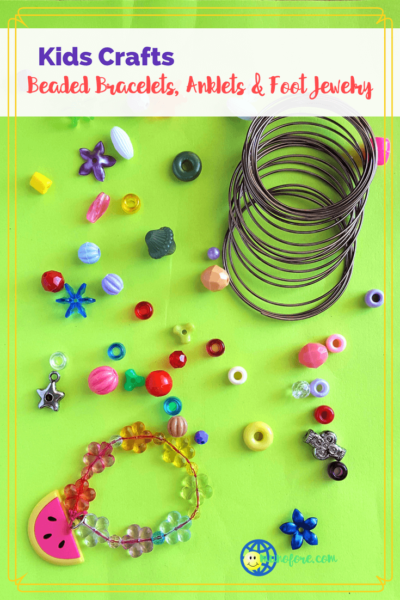 If you've ever walked into a bead store, it's an amazing experience. Shelves line the walls and each shelf is filled with hundreds of different types of beads. Metal beads, shells, glass beads, colorful beads, simple beads, a bead for every taste, personality and jewelry type. Creating customized jewelry is a simple task, and kids can express their creativity and style with the bead selection.
Choosing and stringing the beads can be accomplished by toddlers and preschoolers depending on the size of the holes. It is a great fine motor exercise and you can work in some color and shape identification as well. For younger kids you may want to use elastic beading cord for a slip on bracelet.
Older boys may scoff at the thought of making beaded bracelets at first, declaring it be too "girly". But, if you pick up some letter beads along with sports themed beads or maybe these cool hand carved bone beads  they will probably be more interested. Even the 5th and 6th grade tough guys in my catechism class wore the WWJD bracelets they made themselves (after they tried to arm wrestle over the bead colors). Or you can just give them some pretty beads that you like and tell them to make you (or Grandma!) a present. 😉
Pro tip: learn from my mistake, make sure the beads fit on the wire or thread before giving them to easily frustrated children. It also tends to look best if all of the beads have the same size holes, though this is not imperative.
Making your own beaded bracelets is a fun and cretive craft for kids of all ages.
Beaded Bracelets or Anklets
You'll need:
• Wire or nylon thread. Wire is more durable; however, it is less flexible. If you want a lot of movement in your bracelet you may prefer nylon thread
• Crimp beads – the little beads you place on the end to keep the other beads from falling off
• Crimp pliers
• Beads of your choice
• Clasp
Step #1 Plan your design. Lay out your beads the way you're going to place them on your bracelet.
Step #2 Cut your wire or thread. Add a few inches on the ends so you have enough room to work with.
Step #3 Slide a crimp bead on one end of the wire and slide it through one end of your clasp. Then slide the end of your wire back through the crimp bead so you've created a loop with the clasp in the loop.
Step #4 String your beads.
Step #5 Add your crimp bead and the other end of your clasp and you're done. You now have a custom piece of jewelry you created yourself.
Caribbean Foot Jewelry
If you have a lot of smaller beads or you're ready for a more difficult beading project, you can make foot jewelry aka barefoot sandals like this.
You'll need:
• 50 - 75 small glass beads (seed beads)
• elastic beading cord, about two and a half feet
• white glue
• 4 silver or gold 4 mm beads
Step #1 Stiffen the ends of your elastic with white glue and let dry.
Step #2 String 12 glass beads on the elastic to the center of the cord. Make sure you have enough to go around your toe (the long one next to your big toe).
Step #3 Slide both ends of the elastic through a 4mm bead. This will create a loop around your toe. You may want to position the elastic around your toe as you create the jewelry to make sure it sits where you want it and fits how you want it to.
Step #4 String about 1" of beads on each end of the elastic. Make sure they mirror each other and are the same length.
Step #5 Again, push both ends of the elastic through a 4mm bead. Repeat this process a few times until you're up next to your foot. Then slide your beads on in a pattern until you've reached the back of your ankle.
You should now have a circle of beads around your ankle and a chain of beads extending down to your toe. Tie off the back of the bracelet with a double knot and trim the loose ends.
Making your own beaded jewelry is a fun and easy crafts for kids of all ages that they can wear or give with pride.