Everyone can carve a spook-tacular Jack O'Lantern with these easy tips and tricks.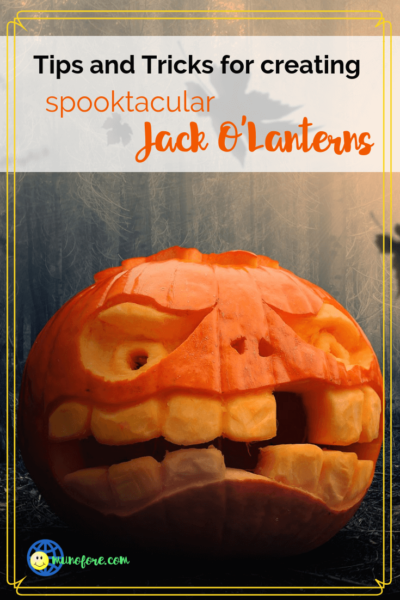 Choosing a pumpkin
For a traditional Jack O'Lantern you will want to find a pumpkin with a stem on it to make removing the lid easier.
As far as the shape is concerned you can choose by one of two methods:
decide what you want to carve and pick a pumpkin that has the right shape
pick the pumpkin first then choose a design to fit it
Odd shaped pumpkins with blemishes can be great for scary themes.
Do not limit yourself to pumpkins, consider butternut squash, acorn squash, turnips, pineapples and more.
Clean a Pumpkin for Carving
The first step is to cut off the top of the pumpkin. Don't cut straight down in a circle, as this will just cause the lid to fall in. Cut at angle, larger on the top and narrow towards the inside of your circle to allow the lid to rest on top when you are done carving. I usually carve a notch in or out of the circle to make it simple for me to fit the lid on in the semi-dark 🙂
After you cut off the lid, next comes removing the seeds and pulp. Last year I tried the beater on the drill trick that was sweeping the internet. IT WORKS! Just attach an electric beater to a drill and scrape along the insides of the pumpkin until you have removed all of the strings and seeds.
Tips for Carving a Pumpkin
When you begin carving the pumpkin, it really just takes some practice. However, these tips can be helpful:
Use a variety of cutting tools, from cookie cutters to different knives
Pin your template (if using) in place with push pins
Apply petroleum jelly to the finished design to keep it from wilting too soon
Tips and tricks for carving Jack O'Lanterns plus over 100 pumpkin carving stencils.
Pumpkin Carving Patterns
Design your own
There is no reason you need to use someone else's design for your jack o'lantern. Use the following ideas for inspiration or just come up with your own ideas. Create a template using paper or card stock to make carving simpler.
Easy pumpkin carving ideas
If you are not a skilled carver (ME!!!!) or are looking for something creative but simple, here are a few fun ideas: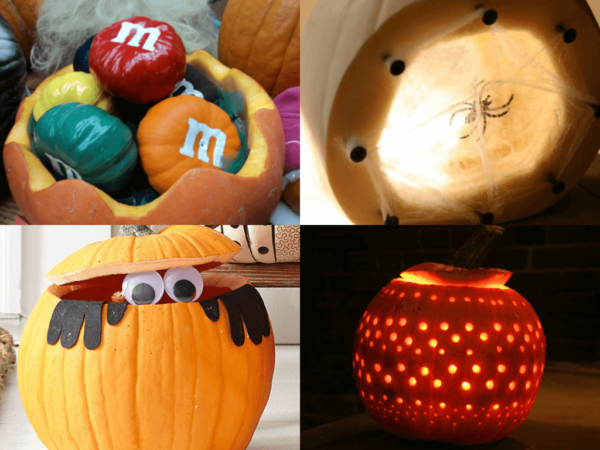 Pumpkin Carving Stencils:
There are thousands of stencils on the internet you can use. Here are a few sites to get you started:
The Pumpkin Lady - hundreds of stencils including: cats, dogs, Americana, Christian, famous faces and traditional Halloween
Real Simple - 8 very simple Halloween theme
Better Homes and Garden - emoji stencils (sorry no poop emoji) also wine bottle and glasses
Disney - all of your Disney favorites
Pumpkin Pile - video game themes (Mario, Sonic, Pokemon and more)
Orange and Black Pumpkins - Super heroes and villains, internet memes (GRUMPY CAT <3) and more
Lighting Your Jack O'Lantern
Traditional candles work okay, unless there is wind or your design doesn't allow enough air in the pumpkin for the candle to stay lit. Here are a few alternatives:
With these simple tips, you'll have a special jack o'lantern and wonderful Halloween memories.