Disclosure: I am a Home Depot affiliate. I have not received any compensation for this post. We paid for all materials and work. This post contains affiliate links for Home Depot and Amazon for items we purchased. I may receive a commission, at no cost to you for purchases through these links.
If you are considering remodeling your kitchen, this post will detail what you can expect step by step.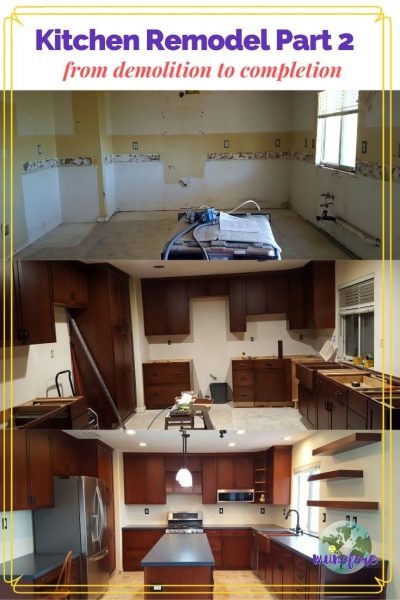 We recently remodeled our kitchen completely. Nothing remained except the plumbing, gas line and most of the electrical. We chose to go with Home Depot, but the basic process will be about the same no matter if you choose another big box store or an independent contractor.
I have split the process in two parts:
Part 1: design through delivery
Part 2: demolition through completion
Demolition
Demolition may involve multiple stages depending on how extensive your remodel is. You may just have cabinets removed and need the walls repaired, which will only take two days.
We were changing the layout, which involved the removal of the peninsula and addition of an island, which by California code has to have electricity powered to it. I would have wanted it anyway, but that meant cutting into the concrete floor, running electricity and city inspection. Add two more days to the process.
Demolition is loud, messy and smelly. Even with the area closed off by a plastic wall, dust got everywhere in the house and I could smell a musty odor for days afterwards.
TIP: be prepared to switch out your furnace filter after demo day. Ours was clogged with cement dust and other matter.
Installation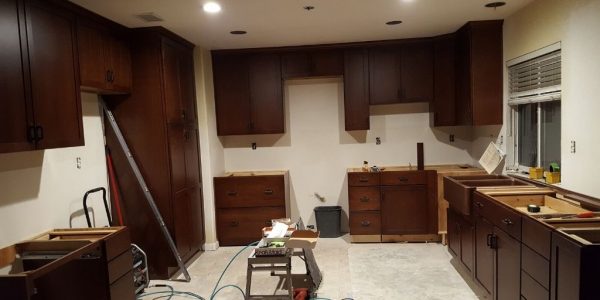 Now that your old kitchen has been destroyed and the holes have been repaired it is time to start putting it back together. It took half a day to remove everything and WEEKS to put it all back in.
Our cabinets were installed in two days, then another three days for tiling the floor.
The counter top was the annoying part. They wouldn't even make an appointment to make a template until the cabinets were completely installed. And then it was 4 days until they could fit me in. And another 7-10 working days waiting for the counter top to be cut. And the counter top I originally wanted was on back order, so another 2 weeks.
After the counter top goes in, then the appliances and sink can be installed.
Tip: Ask your contractor what you will need to provide. I knew I needed the faucet and the drains, but I had to rush out and get a new garbage disposal and "air gap" for the dishwasher on appliance install day.
Completion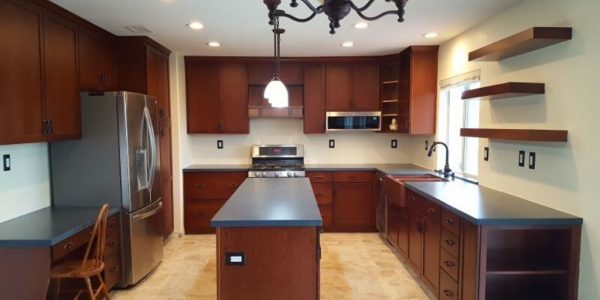 7 weeks after they started demolition my kitchen was operational with counter tops and appliances. The backsplash still has to be done and a few minor tweaks remain but at least we have running water and gas and things can be put in the cabinets and I can finally cook again!
Products we used:
Cabinets: KraftMaid Thornton Cherry Full(LY4) Square Autumn Blush
Handles: Southampton Bronze with Copper Highlights Square Drawer Pull and Pryce Bronze with Copper Highlights Drawer Pull Backplate
Countertop: Silestone Charcoal Soapstone
Sink: Rockwell Farmhouse/Apron-Front Handmade Solid Copper 33 in. Double Bowl 50/50 Kitchen Sink in Antique Copper
Vent Hood: Copper Best Copper Range Hood
Pendant Lights: Designers Fountain Mini Pendant Del Amo
Conclusion
I love my new kitchen, it is open and functional and looks fabulous. I have lots of drawers and slide out shelves to help us age in the home and the despite the darker cabinets and counters it is so much brighter.
Would I recommend Home Depot for a kitchen remodel?
Yes, with qualifications. It all depends on the subcontractors. The cabinet and flooring installers were amazing! The counter top company was ... uh... I'll be nice and say the polar opposite of awesome.
Talk to people in your area that have used Home Depot, just like you should when choosing any contractor. Ask questions about the quality of work and customer service of the subcontractors. Online reviews tend to be skewed to the negative, but check those too so you know what issues you may encounter. There was a reason the counter top company was repeatedly called out for poor communication and customer service.
General Tips for a Kitchen Remodel:
It is a long involved process. Problems will arise. When people give you a timeline be prepared for it to take the longer amount of time and then you will be happy if they finish early.
Be flexible and understanding, but stay on top of the contractors. Call them back if they don't call when promised. You can be nice about it, but it is your home and good companies should contact you immediately with any delays (I am looking at you counter top company who shall remain nameless!)
Ask questions! If there is something that doesn't look or sound right, speak up and don't just "live with it". Good companies are willing to spend the extra time to explain things to you so you are comfortable and happy.
Other kitchen remodeling posts: