Remodeling your kitchen can be a daunting experience. Read this post so you will know what to expect at every step of the process.
We recently remodeled our kitchen completely. Nothing remained except the plumbing, gas line and most of the electrical. We chose to go with Home Depot, but the basic process will be about the same no matter if you choose another big box store or an independent contractor.
I have split the process in two posts:
Part 1: Design through Delivery
Part 2: Demolition through Completion
Design
I knew exactly the style I wanted for my kitchen: Craftsman (aka Mission aka Arts and Crafts). The other half of the great room is already in that style, so the choice for me was easy.
Advice: If you aren't sure what style you want in your kitchen, head over to Pinterest and search for kitchen designs. Start a board to save everything that appeals to you.
When I sat down with Rhonda, the Home Depot Design Specialist, I already had a head start for her with a rough sketch of the kitchen and what I wanted as well as the style I wanted. It still took us HOURS to get a final plan.
Advice: Take cabinet, counter top and flooring samples home to look at in your kitchen. The bright fluorescent light in the store makes things look far different than they will in your own home. While you are making your final decisions, Home Depot (or your contractor) will come out and measure the space.
Ordering
Break out your wallet and be prepared to wait. If you are going with Home Depot or other big box store you will pay for the cabinets and installation in full before anything can proceed. If you are using an independent contractor you will likely pay for materials up front and may pay for installation later.
You will repeat the entire process with the flooring department, if you are also ordering the flooring from Home Depot. The backsplash can be ordered in either department, and you may want to get quotes from each to get the best deal (shhh! insider tip for you).
If you are ordering new appliances from Home Depot that may involve another department. But the design specialist will help you make sure everything fits in your design.
Advice: Besides the cabinets you will also have to pick all of the extras: cabinet pulls, lights, sink, faucet, vent hood, switch covers, etc. Make a list and get it all ordered before the cabinets are scheduled to be installed
Delivery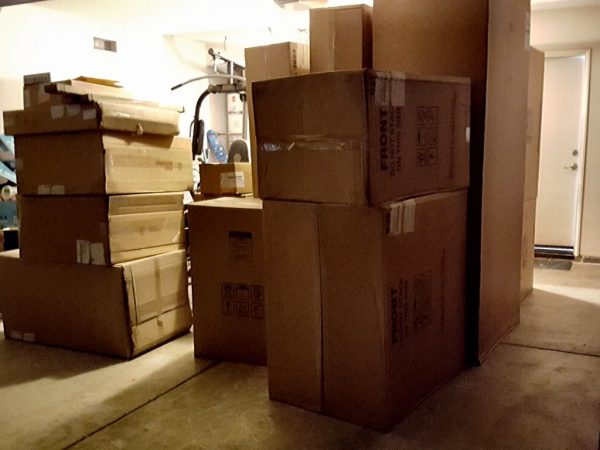 Depending on what type of cabinets you order, delivery can take up to 6 weeks. When they are delivered you will need to put them some place, most likely your garage. Which, if you are like me, means more cleaning and packing.
Then they will need to be inspected to make sure they are ready to install. Mine were all but perfect, just a few doors needed to be swapped, but that didn't hold up install.
Advice: My friend had major problems which held up installation for another month. So don't pack up your kitchen completely until the installer tells you when they are coming.
Packing and Temporary Kitchen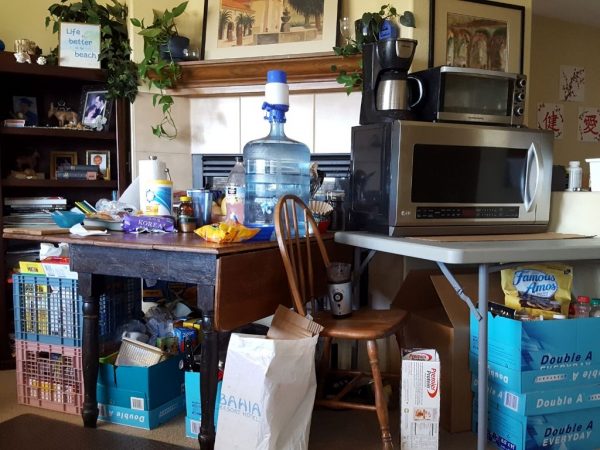 Get some boxes and remove everything in the kitchen. Be prepared to set up a temporary kitchen somewhere else in your home for at least a month (mine took 7 weeks)
You probably want to start packing up the kitchen before delivery, but save the stuff you are going to need for your temporary kitchen until you have a start date from the installer.
We moved the dining room table and a card table into another room to serve as our counter, with storage underneath. We used our gas grill, microwave and small appliances to prepare food. Dishes had to be washed by hand in a pedestal sink in a half bathroom. Drinking water came from a 5 gallon bottle equipped with a pump.
Products we used:
Electric Frying Pan: Stainless Steel Electric Skillet
Electric Pressure Cooker: Instant Pot DUO Plus 60
Slow Cooker: Hamilton Beach Portable 6-Quart Slow Cooker
Toaster Oven: Ninja Foodi 8-in-1 Multi-Purpose Counter-top Convection Oven 
Water Pump: 5-6 Gal Drinking Water Hand Press Pump Manual Water Pump
Dish Tub: Sterilite White 12Qt Dishpan
Our toaster oven died in week one so we bought the Ninja Foodi. My husband has declared it the MVP of the remodel and in his mind it is the only positive thing about the process, haha!

My MVP was the dishpan. I needed all the help I could to wash those dishes in that tiny sink.
Stay Tuned
As of the day I am publishing this we are still 16 days from a functional kitchen thanks to a huge snafu with the counter tops. So, the conclusion of our remodeling journey will have to wait until then. Keep your fingers crossed that it isn't any longer than that.
Other kitchen remodeling posts: