Is it time to replace that old dangerous and rusty gas grill? Before you toss the old one into the landfill, take a look at this fun planter I repurposed from our rusted out gas grill.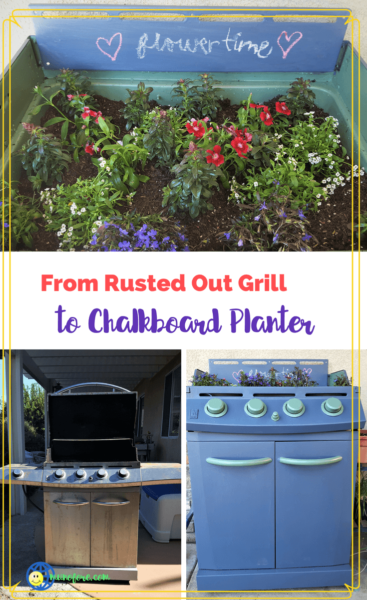 When I say ours was rusty and dangerous, I wasn't kidding. I considered replacing some parts and keeping it. But, this one was a bit beyond repair at this point.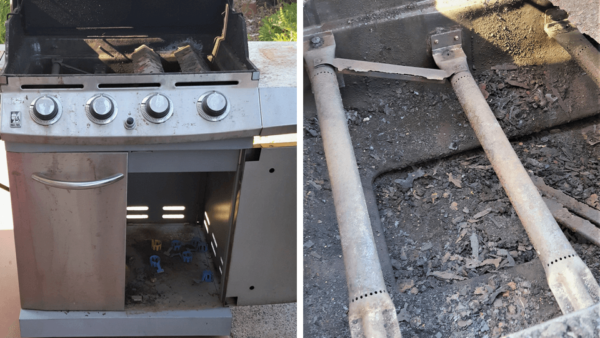 Affiliate links ahead! I may receive a commission at no cost to you for purchases through these links.
Disassembling the Gas Grill
Recommended equipment:
drill with Phillips screwdriver bit or hand held Phillips screwdriver
good work gloves (like these)
I had a few ideas I could make with it, but first I wanted to remove the lid and side shelves. I could have used a standard phillips screwdriver, but the screwdriver bit and drill made short work of it. The flame tubes come out a little too easily with no tools needed.
Cleaning the Gas Grill
Recommended equipment
Notice I said recommended equipment, not what I actually used. I couldn't find the wire brush so I used a broken trowel and a wire scrubber in addition to the steel wool. It took me a good hour of scrubbing to remove the rust and black gunk inside the grill.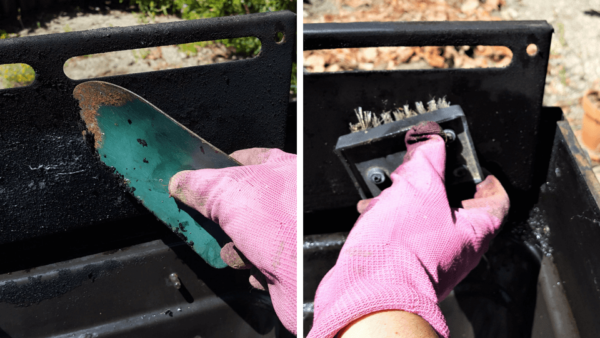 Making the Old Grill Pretty
What I used for painting:
nitrile gloves above
pale green spray paint
1 quart Valspar Denim Blue chalkboard paint
I knew mine was going on my covered porch so I risked it with the chalkboard paint to be able to write seasonal messages and decorations on it. We'll see how it holds up.
I decided to plant in the well, but I didn't want the potting soil to go through the holes so I used a little landscape fabric on the bottom to allow water to flow through, but not the soil.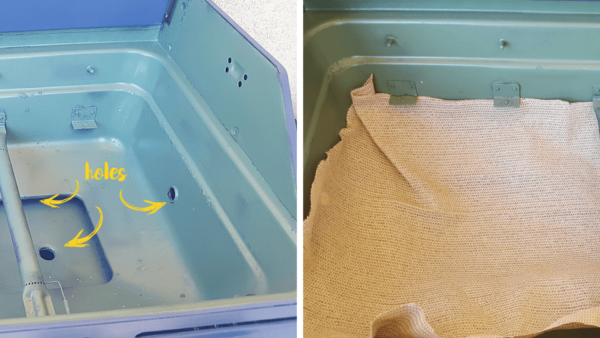 Turn your old rusty gas grill into a fun planter.
Planting your Plants
Equipment needed:
work gloves (above)
high quality potting soil
plants or seeds
Since I had to paint inside, I was a little nervous about planting edibles in it. Instead I opted for red white and blue annuals.
The Finished Product
Here's a top down view of the flowers
And on the porch with my potted herbs.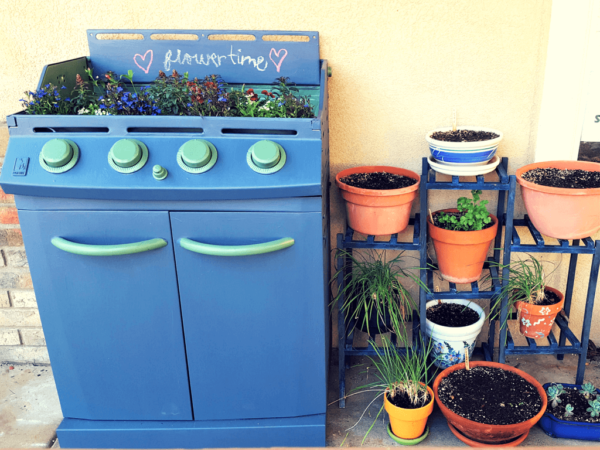 Other Ideas I Considered
Instead of planting flowers inside the grill well you could
fill the well with ice and drinks at party time
cover the top with a sheet of wood or plastic to make a party table
cover the top with a sheet of wood or plastic to make a potting table
make a miter saw stand
Do you have an old grill in need of an upcycle? What other ideas do you have to make with it? Let me know in the comments below.