Five questions to help you decide if you should hire a professional or do it yourself when remodeling your home.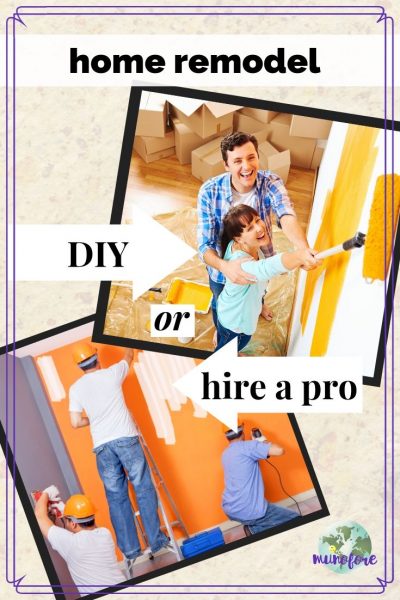 We are in the process of remodeling our kitchen. We, okay I, have been debating for the past year as to whether I wanted to do a DIY renovation or hire someone to do a complete gut job.
My husband and I considered these questions before ultimately making our decision about DIY versus hiring a pro.
Do you have the time and money?
If you hire a professional, you will pay for the materials as well as the installation. You will also be on their time table instead of your own. So doing it your self is cheaper and faster, right?
Not exactly. Contractors can get better pricing on many materials and since they perform these tasks on a regular basis they can do the overall work faster. Plus it is their job to do it. You would be doing the work in addition to all of your other responsibilities.
OUR ANSWER: My husband works crazy hours and when he is home our son demands his constant attention. No, that is not an exaggeration. It is all Dad all the time.
Do you have the knowledge?
Some things, like repainting a room or hanging drapes, are relatively simple to accomplish and do not require any special knowledge.
Structural, electrical, and plumbing issues are all considerable more complex and could be hazardous if not done correctly. You could watch YouTube videos to gain some knowledge, the question is how confident are you that you know what you are doing to your home?
OUR ANSWER: I could research the best method to paint or stain the kitchen cabinets and have them look amazingly better than they do now. But to replace any cabinets or do anything electrical or plumbing? NO WAY!
Do you have the equipment?
Many DIY projects can be accomplished with basic inexpensive tools. However power tools can often make it easier and safer. If you know how to use them and have access to them.
I am the queen of accomplishing projects without the proper tools. I recently replaced damaged laminate flooring in my kitchen with a tool box saw and hammer. It doesn't look too bad, especially considering it will be replaced soon.
OUR ANSWER: Basic hand tools, power drill and sander ...that's all we got. We would have to borrow or rent if we needed more than that.
Do you have help?
Many hands make light work. Sometimes having an extra person makes the job faster, other jobs are nearly impossible to complete without help.
Painting a room can be done solo. But hanging upper cabinets pretty much requires at least one other person.
OUR ANSWER: We have each other <3 <3 ... when our son is at school or asleep. In other words, I am on my own for the most part.
Do you have the temperament?
Home improvement can be stressful when things do not go as planned. Can you get the job done without getting too frustrated?
For us, the sub heading to this question is "Do you want to hire a marriage counselor?" Chip and Joanna Gaines work wonderfully together without becoming the Bickersons. At least that's how it looks on Fixer Upper.
We once spent 2 hours hanging drapes in our bedroom snipping at each other through much of it.
OUR ANSWER: NOPE!!
DIY or Hire or ???
For us the answer was a pretty clear "hire someone else to do it". Actually we are going for a combination of the two. The cabinets, countertops and flooring will be done by pros. But painting, and perhaps the molding and backsplash and a few other minor jobs I can do myself.
There is no one size fits all when it comes to home improvements. Ask yourself the questions above, do your research about what the job really entails. If you aren't comfortable with your abilities and time commitments consider calling in the pros.