Transform your garden into a vibrant haven of spring flowers by planting bulbs in autumn. Discover the optimal times to plant your bulbs and the key aspects of successful gardening. Welcome the spring with a dazzling display of color with some easy fall planting.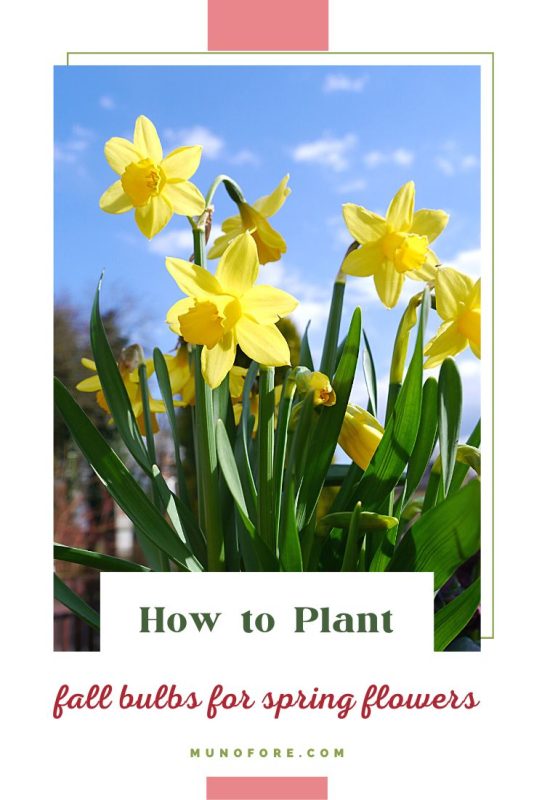 The difference between Bulbs, Corms, Rhizomes and Tubers
Gardeners usually use the term bulb to refer to true bulbs, as well as corms, rhizomes and tubers. But each of these are botanically different.
bulbs have layers like an onion (examples: daffodil, hyacinth, tulip)
corms are a solid mass (examples: crocus, cyclamen, freesia)
tubers sprout from eyes (like potatoes), can be divided so each piece has an eye or two (examples: dahlia, caladium, ranunculous)
rhizomes are modified swollen stems that grow horizontally (examples: canna lily, lily of the valley, bearded iris)
You can read a more scientific explanation of the differences here. For the rest of this article I'm just going to use the term bulb since planting and care is basically the same.
When to plant Bulbs for Spring Flowers
With a little effort in the Fall you can enjoy beautiful blooms all Spring. As with most gardening, the key is determining your frost dates. In general, you want to plant bulbs in mid Fall, when the ground has cooled but before it freezes. In Minnesota that could be by the end of October, where as in here in California we can plant as late as December.
If you miss the planting times, you can either try anyway and hope for the best, or wait for the Spring and buy flowering plants from your local nursery.
Where and How to Plant Spring Bulbs
Bulbs do best in full sun (minimum 6 hours a day) in well draining soil.
The general rule for planting depth is 2-3 times the width of the bulb. For a 2" bulb you would plant 4-6" deep. Plant true bulbs pointed up and corms, tubers and rhizomes with any visible roots on the bottom.
After planting, water the bulbs and tamp down to remove air pockets. Cover the area with 2 to 3 inches of mulch to keep them moist and hide them from hungry little critters.
Garden Design Ideas for Spring Bulbs
Bulbs look best planted in groups. In large public displays such as the Ranunculus Fields in Carlsbad, California, planting in rows can be desirable.
For most home gardens however, you will want to stagger the bulbs for a more natural display. If you want a display of several different bulbs, choose varieties that bloom at different times to extend the flower show planting taller varieties in the back.
Bulbs in containers
This is how I plant my bulbs. I have 4 containers of freesias that I hide in the backyard once they die back in late spring and bring back out on my porch once they start sprouting. Get more information from Better Homes and Gardens.
Grow Bulbs in Your Lawn
If I had a lawn I would consider this one. You create a meadow like effect by planting the bulbs throughout the lawn in Fall and then wait until after they stop blooming to mow for the first time in Spring. Get all of the information at Gardening Know How.
Mixing Bulbs with Other Plants
Bulbs look lovely as border plants and mixed throughout other varieties of plants. Longfield Gardens has some lovely examples to inspire you.
I'd love to know:
do you have bulbs in your garden?
what are your favorite bulbs
Let me know in the comments below!
You may also enjoy these posts:
Photos of the Ranunculus Fields in Carlsbad
Organic Gardening: 5 Ways to Make Ladybugs at Home