Gardening can produce ripe organic tomatoes and fragrant herbs which are great for your physical health, but did you know it is also great for mental health as well?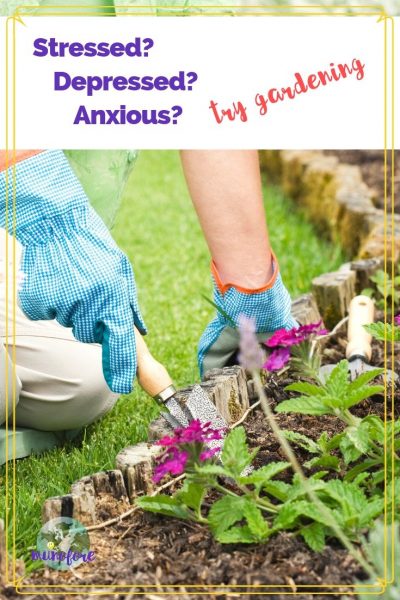 Whenever I am feeling stressed out, which has been often since Mom passed 6 weeks ago, I have found a quick stint in the garden leaves me calmer and ready to face whatever comes my way.
This has sometimes been called horticultural therapy, as you get an almost instant mood lift just from tending your garden. Some specialists believe it has to do with participating in an outdoor activity, while others believe it goes much deeper than that.
Gardening Uses Multiple Senses
Gardening is a feast for the senses. You have the sounds of nature in the bees and birds. You feel the seeds, soil, flowers, water, the tools, your gloves. You can smell the various aromas from soil to fruit and flowers. This provides excellent cognitive stimulation, which is known to be helpful for people that are depressed or anxious.
Gardening Gives You a Sense of Satisfaction
Another way your mental health can benefit from gardening is from the feeling of satisfaction you get nearly every step of the gardening process. From when you prepare the land by clearing out weeds and leveling the soil, to choosing the seeds, planting and watering them, and watching them grow. Knowing you will have fresh herbs and vegetables or flowers that you grew yourself is empowering.
Gardening Raises Your Endorphins
Don't forget about those endorphins! Any form of exercise can really get your blood pumping, which allows your brain to release endorphins, the chemical in your brain that produces happy feelings. Gardening is a highly physical activity that gets you sweaty, burns calories, and elevates your body temperature, all of which can lead to releasing those wonderful endorphins.
Gardening Lowers Cortisol
Cortisol is a hormone created in the body in response to stress. High levels of cortisol over a long period of time can result in weight gain, high blood pressure, lack of sleep and more. In a 2011 study, researchers in The Netherlands found that gardening lowered cortisol levels and increased moods better than relaxing indoors.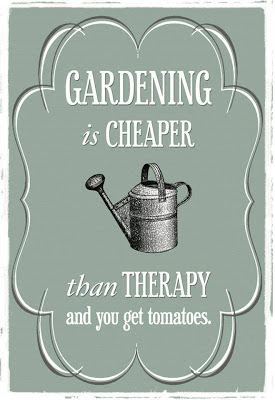 Gardening Boosts Your Self-Esteem
Many of us fall into the trap of comparing our imperfect lives to the perfect lives we perceive others to have on social media. This can lead to an overwhelming sense that you aren't good enough, which can spiral into depression. With gardening, you have the opportunity to turn that around. When you are successful at this activity and actually see the fruit (sometimes literally) of your labors, it helps to boost your self-esteem.
Gardening Builds Your Inner Nurturer
When you tend your plants you develop a sense of responsibility for their care. You become invested in something outside of yourself, and without sounding too grandiose, it gives your life purpose outside of your normal routine.
Gardening Releases Magic from the Soil
Well, not magic but microbes. Research is starting to show that coming in contact with beneficial bacteria and fungi in the soil can boost our physical and mental well being. Some even theorize that some of the diseases present in our society today are a result of our increased industrialization and separation from these healthful microscopic critters.
Get Gardening
Are you ready to lift your mood and grow a gorgeous garden? Here are some posts to get you started. And one to make you smile.