In this post you will learn some ideas to help you start your own container vegetable garden so you can grow your own vegetables, fruit and herbs easily in a limited space.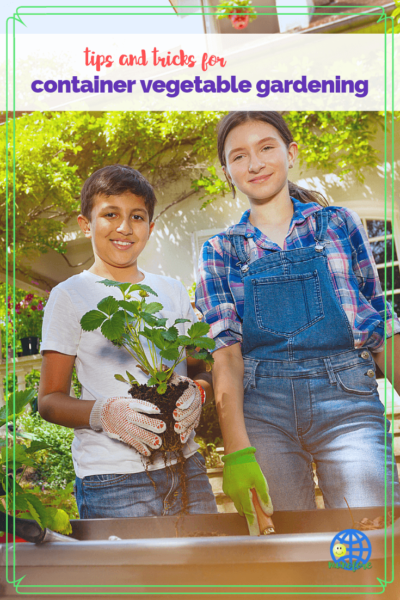 Growing your fruits, vegetables and herbs in containers can be the perfect solution for some common gardening issues:
you are in an apartment or rental home
you have mobility issues
the ground is not suitable for planting (too hard, rocky, etc.)
a water source is not near where you want to garden
you want to try something a little different
Go big or go home
One of the golden rules of growing veggies is to ensure the container is large enough. Some veggies require a lot more space than others such as potatoes and other root vegetables. If the container isn't big enough, they won't be able to thrive.
However, you may not want your plants to get too large and produce more than you can eat.
Get up and go
You'll typically find most veggies need around 6 hours of sunlight to grow properly. If you're growing peppers or tomatoes, they'll also need to benefit from plenty of air circulation due to their likelihood of developing diseases.
If you live in a really hot climate, you may need to move the veggies into the shade during the hottest parts of the day. This can be difficult if they're placed in large containers. So, to help ensure your veggie plants get just the right amount of sunlight, place them on wheels or a cart so they're easier to move around.
Go vertical
Melons, beans and other vining plants can do wonderfully in a container garden if you add a trellis so they can grow up instead of on the ground.
Attach slings made from old t-shirts or panty hose to the trellis to hold melons off the ground.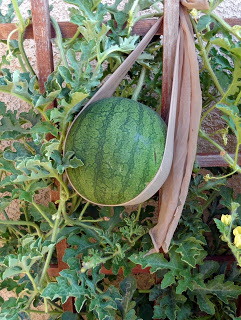 Be Water Wise
Plants grown in containers will dry out more quickly than in the ground, but they can also become over-saturated very easily. Choose containers that will work well in your environment.

Here in hot dry California summers, self watering containers make life much more manageable. While in wetter climes, take drainage into consideration.
Vegetable Garden Containers Suggestions
You can plant in simple pots, make your own containers with some basic supplies or purchase pre-made gardening kits. You may want to start simple and inexpensive the first season to see if it is something you want to do.
Homemade Vegetable Garden Containers
I have tried a variety of containers to grow different plants in my yard. My challenge is our summers can be brutally hot with no rain. So the containers need constant watering or they would dry out in a day. Some of these ideas may work better in your area than mine.

I made these several years ago from a storage tub, PVC and some recycled plastic bottles. They only cost about $10-15 to make, but they only last a few seasons depending on climate conditions.
File Boxes lined with landscape fabric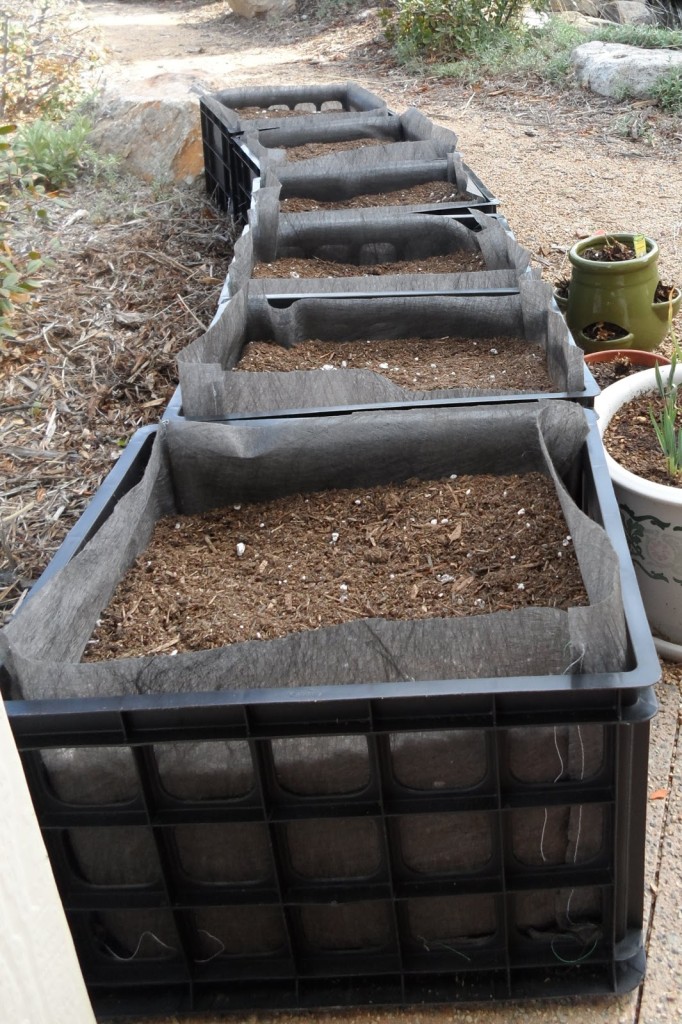 I never posted a tutorial for these, but they are easy to make. I crisscrossed two pieces of landscape fabric and sewed up the sides to make liners for plastic file boxes. Don't want to sew? Use a stapler to make the side seams.
These would do well in places with wet summers. The rain can just drain out the sides and bottom with some supplemental watering. Unfortunately I live in an area of hot dry summers and these had to be watered thoroughly daily.
Pre-Made Vegetable Gardening Containers
EMSCO Group Big City Picker Raised Bed Grow Box
The EMSCO Group Big City Picker Raised Bed Grow Box is a fantastic product that's going to make growing your favorite veggies a breeze. It comes with a self-watering system, it's easy to transport, and it protects your crops against weeds.
Designed for those with limited space available, it's one of the best compact growing kits you can invest in.
Earthbox 1010011 Garden Kit, Terra Cotta
Considering the Earthbox 1010011 Garden Kit is one of the most advanced growing kits on the market, it comes at a surprisingly low cost. All you need to do is add your veggie seeds, water and follow the simple instructions provided in the kit.
It does practically everything for you from soil control to self-watering. What's more, it promises to double the amount of produce you yield, and its practically maintenance free.
Grow Your Own Pizza Garden Full Kit
Ok, so you can't actually grow a pizza, but you can grow pizza toppings! This fun grow kit makes the perfect present for foodies letting you grow
scallions, basil and sun gold tomatoes in one handy container. Or you can opt for the tacos, caprese or herb versions.
The kit includes a small fabric container, a water catching saucer, a seed sheet and potting soil with added nutrients.
The Simply Good Box by Home Greens
If you're looking to grow microgreens, this is definitely the best option. It's one of the most simplistic containers on the list, yet it boasts some pretty cool features.
You'll receive four different types of microgreen non-GMO seeds including sunflowers, radishes, pea shoots and wheatgrass.
Root-Vue Farm Garden Laboratory Kit
If you're looking for a fun gardening kit that your kids will love, this Root-Vue Farm Garden Laboratory is just what you need. It allows you to see the roots of the veggies through the glass, giving you a unique underground view. It's suitable for children aged 4 and above, and comes complete with soil mix wafers, a growth chart, seeds, a guide and ID labels.
Container gardening is a great way to garden in small spaces or to have fresh homegrown produce without going to a great amount of effort. Follow these tips and you will be munching on your favorite veggies from your own garden in no time.