This soothing Cacao Butter Whipped Body Butter is a luxurious treat you can make for yourself or as a special treat for someone you love.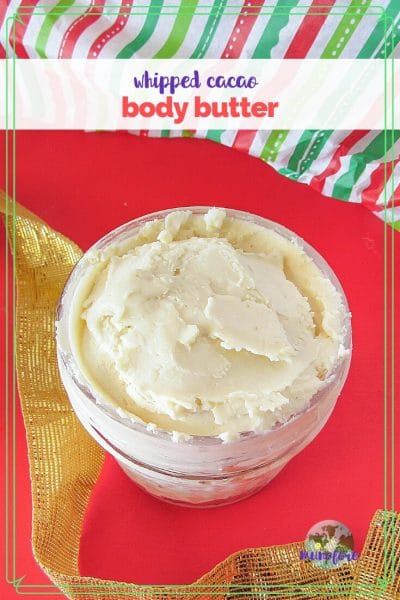 What's the difference between cacao and cocoa butter?
Cacao butter is cold pressed from raw cacao beans. Cocoa butter is extracted after the beans are roasted to be ground into cocoa powder. The heating changes the chemical properties, such as lowering the antioxidants, etc.
Can you use cocoa butter instead?
Sure, it may have slightly less antioxidants in it, but if that's what you have you are welcome to try it.
INGREDIENTS
1 cup cacao butter
½ cup coconut oil
¼ cup shea butter (optional or use more cacao butter)
½ teaspoon vanilla extract
INSTRUCTIONS
Combine all ingredients in a sauce pan over low heat.
When the ingredients start to melt, remove from heat and stir to blend.
Put in the bowl of a stand mixer. Let cool in the refrigerator until the oils begin to solidify again.
Whip with the whisk attachment until it resembles whipped cream, about 5 minutes.
Transfer to small jars (this is what I used or you can use pretty ones).
Keeps at room temperature for about 2 months.