The silk plants in this review were provided courtesy of the good folks at CSI PoshFelt, a creator of beautiful, innovative, and affordable wall panels that redefine physical space. All opinions and project descriptions are my own.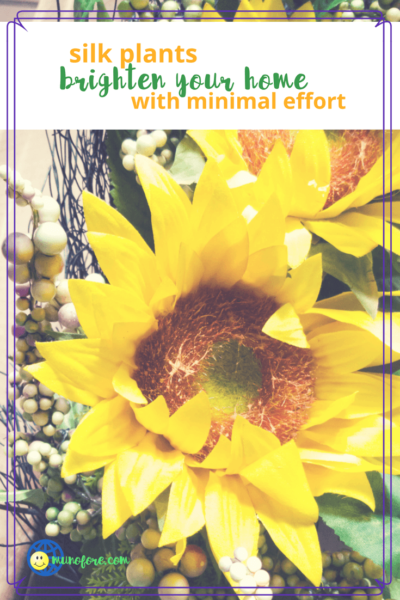 A review of silk plants may seem odd from an avid gardener like myself, but there are times when they can add the perfect touch to a room when real plants would not be able to thrive.
A few places I use silk plants to decorate are:
on top of my kitchen cabinets (too hard to water)
on the TV console (watering plants near electronics is a scary thought)
in the bathroom with only one small north facing window (every plant needs at least a little light)
seasonal decorations that are rotated out over 4-6 weeks
on my front door...
Which is exactly where this beauty now hangs to welcome guests for summer.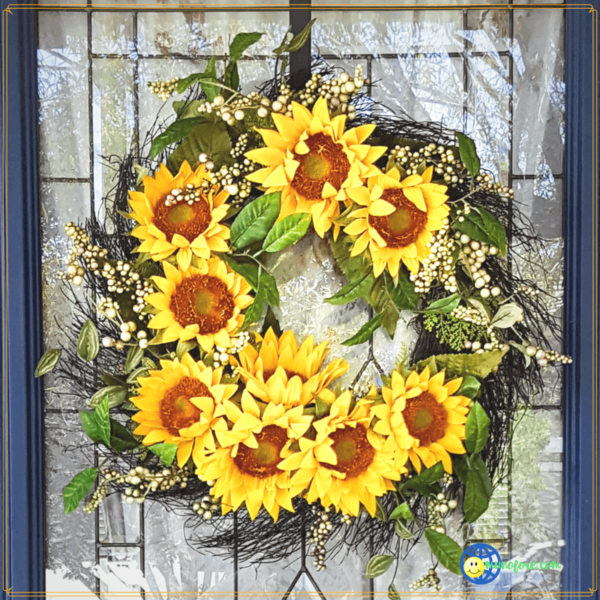 I received two of these and gave one to my mother which she immediately hung in her dark apartment entryway next to a print of Claude Monet's Bouquet of Sunflowers. Perfect match!
Silk Plants Direct
The wreaths were from Silk Plants Direct. These are definitely not your dollar store flowers. Look at the detail and craftsmanship on them.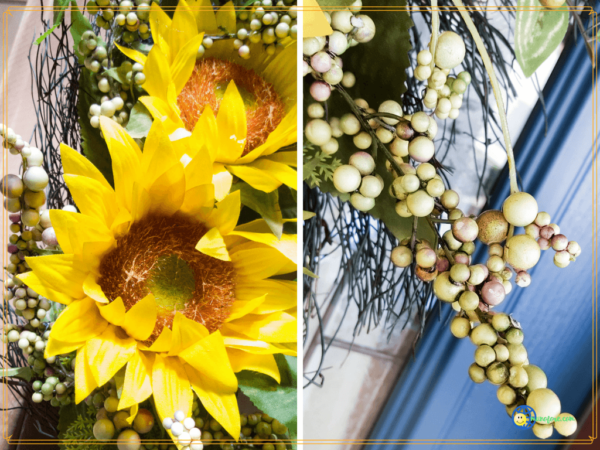 They have so many types of silk plants to choose from including individual stems, wedding bouquets, floral arrangements, potted trees and topiaries as well as choices for use outdoors. Seriously, I think they have anything you could possibly imagine in the area of silk plants and flowers. My husband is eyeing a few of these lighted palm trees for our annual Christmas light extravaganza in our front yard.
Shipping was very quick and they came well packaged in double boxing with no signs of any damage, save a few grapes that were easily slid back on and wouldn't have been noticed if I hadn't replaced them.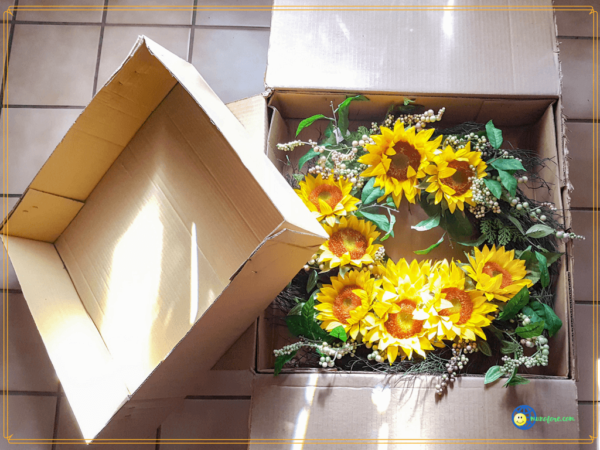 The wreaths were ready to display as is, but I wanted to personalize mine a bit so I crafted a simple burlap bow to give it just a little something extra.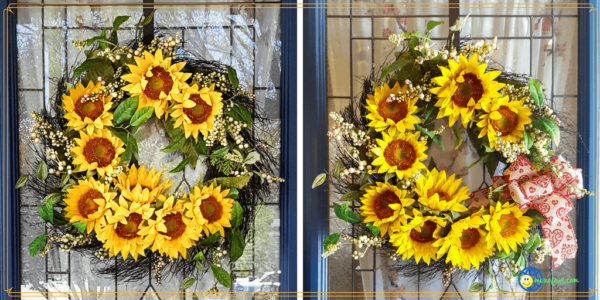 And as a bonus for my readers, Silk Plants Direct is offering a 10% discount on everything except custom product. Use coupon code BLOGGER10 at checkout.
Caring for Silk Plants
Silk plants require minimal care to keep them beautiful. Just a simple dusting or even wipe them down with a damp cloth if needed.
Silk plans do fade if displayed in direct sunshine. My front door gets a few hours of direct light each afternoon, so this will not be kept outside long term. But, it should hold up quite nicely if I rotate it with some of my other seasonal wreaths.
Silk plants add a beautiful touch to home decor in areas where real plants might not thrive or caring for them could be difficult or hazardous.
Silk plants and flowers can be a great alternative for people with black thumbs, or for when you want a plant in an area that is not conducive for growing a plant or one that accidental overwatering could be a hazard. And if you want high quality silk plants and flowers, be sure to check out the products at Silk Plants Direct.