Are you thinking of ways to use wine bottles to decorate your garden without looking like a lush? Here are 24 wine bottle garden projects to inspire you.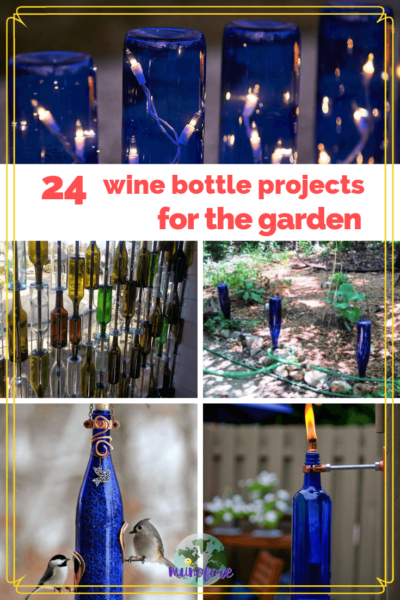 All of these come with tutorials, which believe me took some hunting. Most of my initial searches showed the same peacock wine bottle sculpture with no way to buy it. Unless you know how to weld, that one isn't happening.
Some of the tutorials explain one of several methods for cutting a wine bottle. Wonderful DIY has this detailed tutorial including a video for cutting the bottles with nail polish, cotton string and a match.
Now on to the projects...
Wine Bottle Outdoor Lights
Lining the fence with these lovely wine bottle torches from Design Sponge would create such a dramatic effect.
And the Armchair Sommelier made these table top torches with clear bottles and glass marbles.
Garden Gate Magazine shows how to line a path with wine bottles and holiday icicle lights
Protea Wines cuts the bottles in half and then uses larger solar stake lights to create these solar table lights.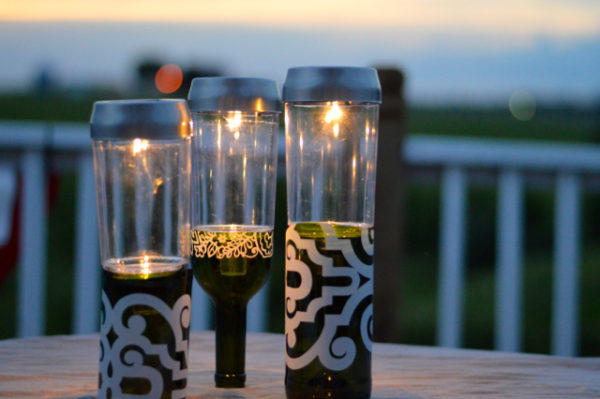 Yellow House in the Sticks stuck a small solar stake light into uncut wine bottles with reflective glass inside to create an easy glowing solar lantern. (image unavailable)
You can purchase these solar cork string lights from Amazon (affiliate link) and create your own look. Basically it is a cork with a solar panel on top and a 10 LED string on the bottom.
Saved by Love Creations shows you how to make your own wine bottle candles. I might add some citronella essential oil to keep bugs away.
Wine Bottle Planters
Off the Grid split the bottles in half and flipped the top into the bottom for a self watering wine bottle planter.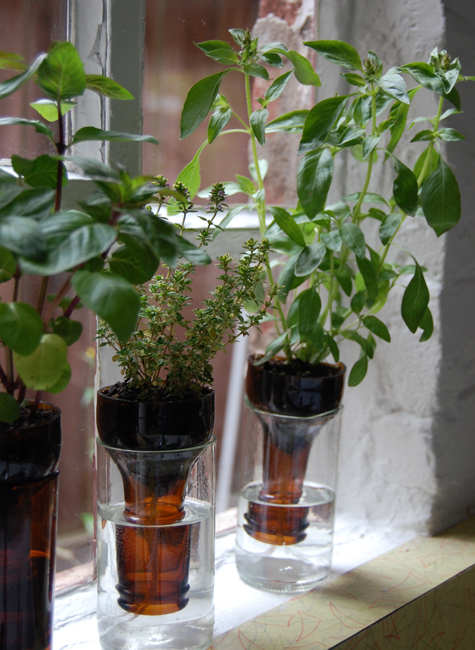 My Wild Thing and Twinkle Toes cuts the bottom off of the bottle then plants the plants UPSIDE DOWN!
This post on Mia's Garden shows how to make a beer bottle spiral garden, but you could adapt the idea for taller wine bottles.
Wine Bottle Garden Decor
This post on Mother Earth News explains a simple method for making a wine bottle border.
Flea Market Gardening also uses bottles inverted on some rebar to make this handy wine bottle hose guide to keep the hose from dragging through the plants.
Pam from Pammie Jo and Friends made a path with inverted beer bottles. With the punts (indentations) on the bottom of wine bottles I am not sure a path made of them would be safe to walk on, but I am thinking of doing something similar as a platform for a birdbath.
This project on HomeTalk uses mini wine bottles painted for plant markers.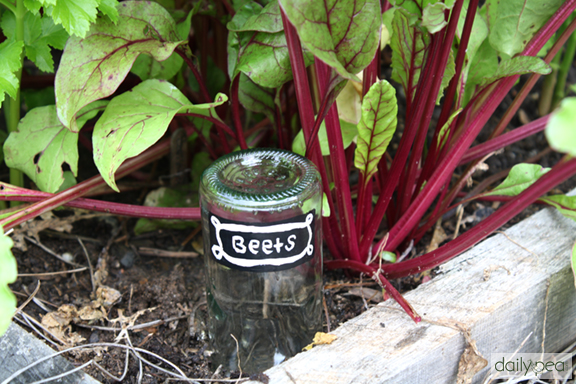 Learn how to make a wine bottle plant waterer over on WikiHow.
I would love a wine bottle privacy fence, not for the privacy necessarily, but because it is gorgeous!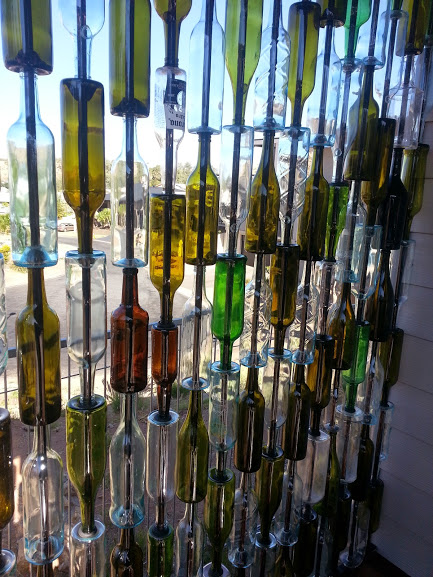 Find the tutorial for a DIY Wine Bottle Wind Chime on Homedit.
Wine Bottle Bird Feeders
The instructions for this wine bottle bird feeder with feeder ports on Rebeccas's Bird Garden uses a drill press to make the large holes.
The Garden Roof Coop just drills smaller wholes and attaches a plate to the bottom of the bottle for the birds to rest on.
Birds and Blooms uses a glass soda bottle for this Hummingbird Feeder, but I am sure you can adapt it.
Momma Young at Home has a tutorial for this wood and wine bottle bird feeder.
Wine Bottle Fountains and Rain Chains
If you have the room, this fountain with a wine bottle and barrel from HGTV would make a dramatic statement.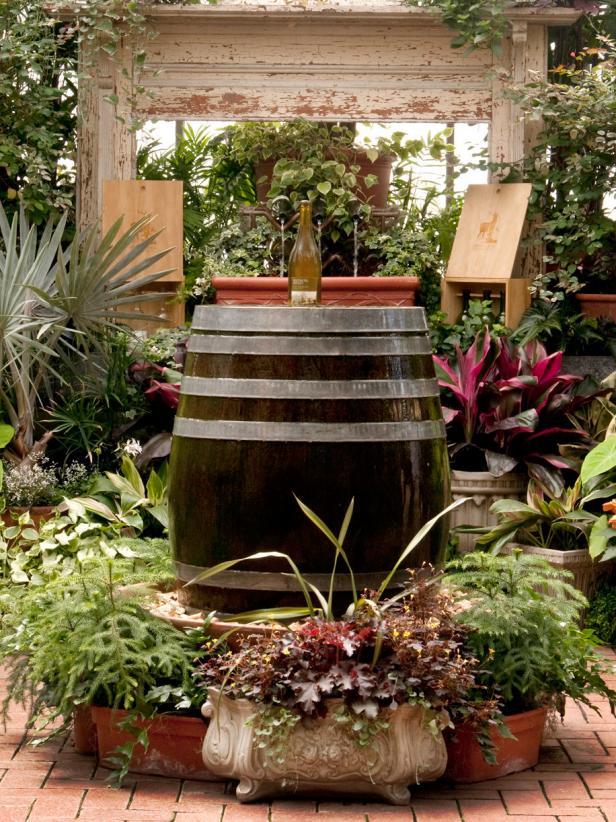 Here's another fountain with a detailed video tutorial from Tom's Fire Pits.
Junkmarket Style has this funnel rain chain made from the tops of the bottles. Use the bottoms for some of the projects above.