Are you thinking of ways to use wine bottles to decorate your garden without looking like a lush? Here are 24 wine bottle garden projects to inspire you.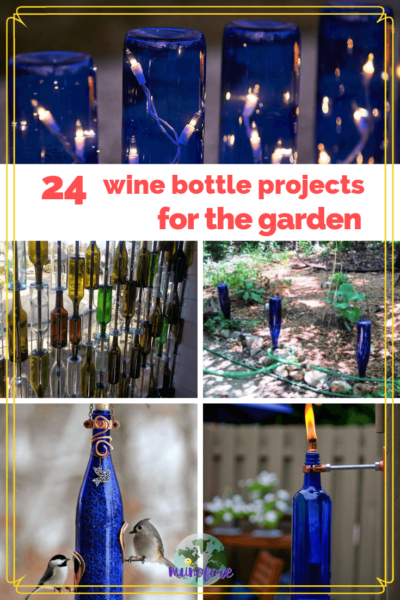 All of these come with tutorials, which believe me took some hunting. Most of my initial searches showed the same peacock wine bottle sculpture with no way to buy it. Unless you know how to weld, that one isn't happening.
Some of the tutorials explain one of several methods for cutting a wine bottle. Wonderful DIY has this detailed tutorial including a video for cutting the bottles with nail polish, cotton string and a match.
Now on to the projects…
Wine Bottle Outdoor Lights
Lining the fence with these lovely wine bottle torches from Design Sponge would create such a dramatic effect.
And the Armchair Sommelier made these table top torches with clear bottles and glass marbles.
Garden Gate Magazine shows how to line a path with wine bottles and holiday icicle lights
Protea Wines cuts the bottles in half and then uses larger solar stake lights to create these solar table lights.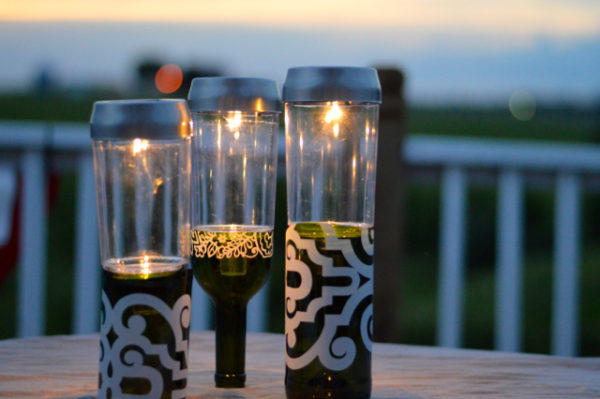 Yellow House in the Sticks stuck a small solar stake light into uncut wine bottles with reflective glass inside to create an easy glowing solar lantern. (image unavailable)