Self care is vitally important not just for stress relief but also for overall mental health. It can do everything from help after a bad day to improve your self confidence. Even small steps can make a big difference. Here are three simple ways to practice self care every day.
GIVEAWAY ALERT: we have a giveaway at the bottom of the post for $350 worth of gift certificates to be given away to 4 lucky winners. One of my readers won the last one, so be sure to enter! Imagine the self care you could do with that... or buy mom something so she can pamper herself. 😉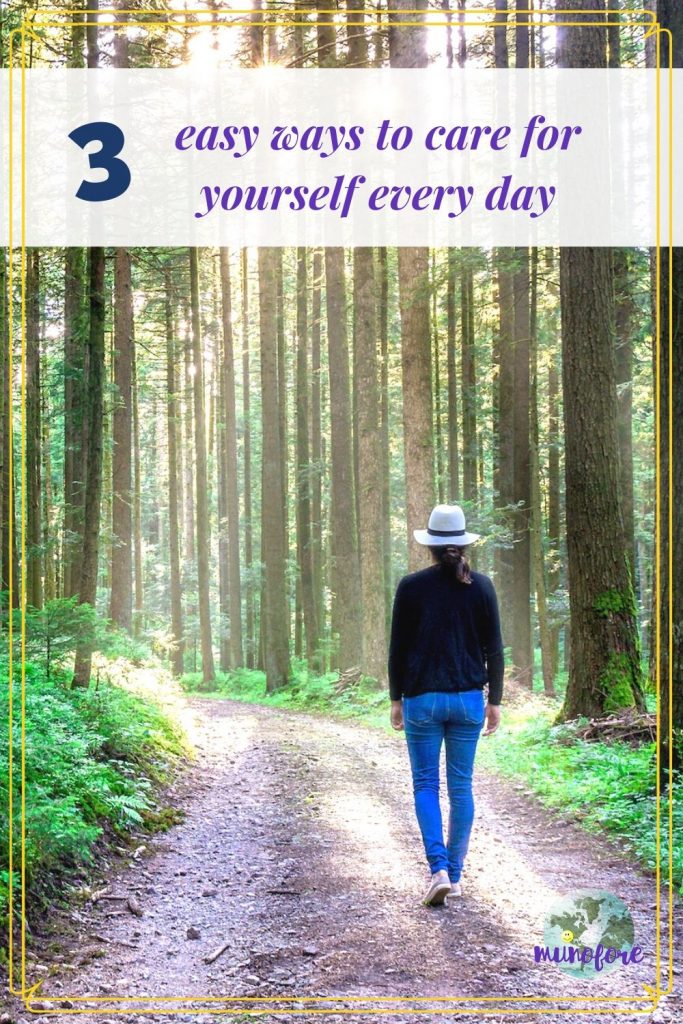 Schedule Alone Time Every Day
Make sure you have at least a few minutes each day all to yourself. I know, easier said than done. But we both know that it is necessary for your mental well being. Make an appointment with yourself to help you stick to it.
It can be a 30-minute walk that you go on after dinner, 15 minutes of meditation/prayer/bible study before bed, or just a 5 minutes in the morning before everyone else gets up while you enjoy your cup of coffee and watch the sunrise.
When my husband is home, I spend a little extra quiet time in bed in the morning while he gets up with our son. On days he works my alone time is often at night once the kid is asleep.
It might seem simple and minimal, but these little stretches of time where you are alone and just doing something for yourself, or nothing at all, can make all the difference.
Get Moving
Yeah, I know, you probably saw that one coming.
Exercise will make you feel better about yourself and raise your self confidence, which also helps your mental state. Plus, it will help to relieve your stress and the endorphins you get from it can be tremendous for improving your mood.
You don't need to go to the gym for an hour every day. Something as simple as an afternoon walk or doing some stretching or weight lifting in the morning before your shower is perfect.
Take advantage of other activities that also include exercise, like taking your dogs for longer walks, doing some gardening, or goings hiking with the family on the weekend so everybody is exercising more.
Keep a Journal
Another excellent way to start practicing self care every day is to keep a journal. This is something you can easily keep with you no matter where you are, whether you put it in your purse or briefcase, or you have a digital journal on your computer. The physical act of writing can reduce stress so a journal and pen is highly recommended.
To get you started here are some free downloadable journal pages in two sizes: 8 ½ x 11 to put in a binder or notebook, and foldable half sheets to make a mini journal that can slide in your purse.
Mother's Day $350 Giveaway
Now on to the giveaway!
We are so excited to be giving away $410 in gift cards for Mother's Day to three lucky readers. The giveaway will run from April 26th – May 10th.
The prizes are:
1 - $125 gift card

1 - $125 gift card

1 - $50 gift card

1 - $50 gift card
Each winner will choose the gift card you want. Please choose a gift card which comes from an online store and can be paid by US dollars. EX: Amazon, Target, Walmart, Macy's, Kohls, etc. You may ask for more than one gift card but must add up to your prize amount.
Now its time to meet our co-hosts who have made this giveaway possible.
Tammy - My Life Abundant | Ahna - Hammers n Hugs | Heather - Super Mom Life | Denise - This is My Everybody | Carrie - Curly Crafty Mom | Debi - Life Currents | Audrey - That Recipe and Munofore | Dana - Create to Donate | Falak - This Mama Reviews | Emily - Domestic Deadline | Kathleen - Our Hopeful Home | Tammy - Creative K Kids | Meredith - The Mom of the Year | Lisa - Blogghetti | Michelle - Our Crafty Mom | Leslie - Once Upon A Time & Happily Ever After | Linda - A Labour of Life | Marcy - Backyard Patch Herbal Blog | Kristen - White Arrows Home | Trish - Trish Sutton | Zan - At Home with Zan | McKenzie - The Enser Establishment | Sinea - Ducks 'n a Row | Jamie - As For Me and My Homestead & Coffee With Us 3 | Donna - Blog by Donna
Please stop by and say hi to these wonderful co-hosts and their blogs.
The giveaway will end midnight on Friday, May 8th, a few days before Mother's Day. The winner will have 48 hours to respond to the email claiming their prize. If we don't hear in 48 hours, we will choose another winner. The giveaway is open to anyone over 18 years of age and able to receive e-gift cards from the U.S.