Walking is a gentle way to improve your physical and mental health. It's easy to do, you don't need any special equipment and you can start at your current fitness level.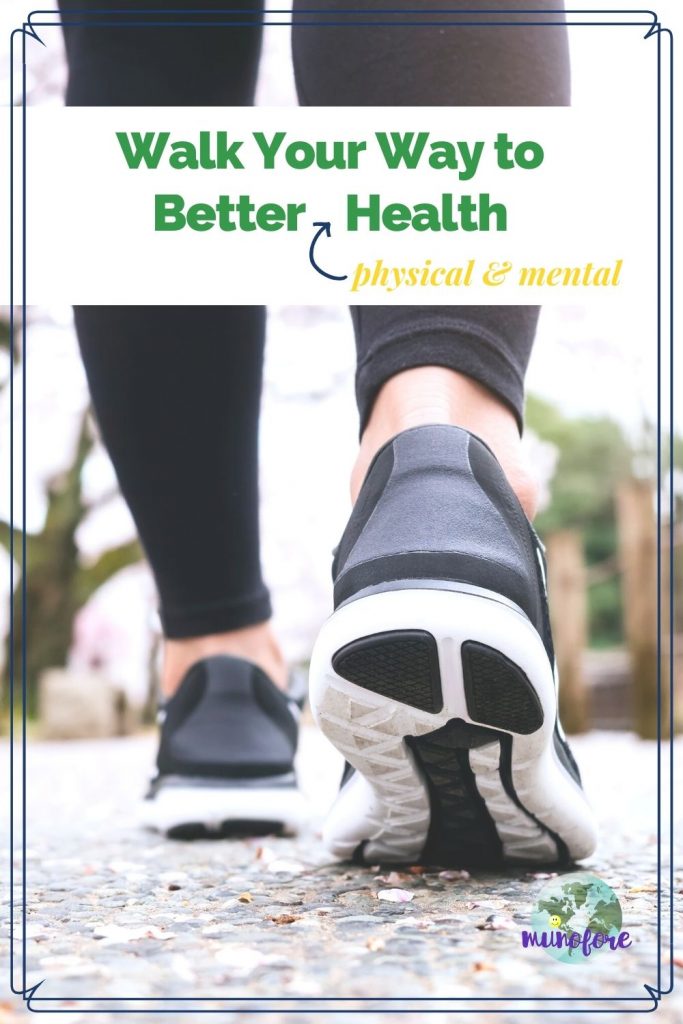 I lost over 30 pounds by walking, watching what I ate and light weight lifting. No gym membership or personal trainer, just a pair of athletic shoes and some free weights.
Then I got pregnant and the kid still doesn't sleep through the night 12 years later and I got plantar fasciitis and then the pandemic hit and ...insert more excuses here... I have gained it all back and then some.
I am tired and frustrated and depressed with how I look and how I feel. Sound familiar?
Exercise improves mental health
Studies have shown aerobic exercise can improve your mental health. It is believed that it increases blood flow to the brain which causes all sorts of great things from increased memory and cognitive function as well as positive impacts on mood.
Additionally, doing something positive for your health increases your self image and self esteem. Exercise can also help improve your sleep, and when you sleep better everything just seems better.
Jogging, dancing, cycling, and swimming are all great aerobic activities. But jogging and dancing require more stamina and a higher fitness level than some of us have. Cycling and swimming require special equipment.
If you haven't exercised in a while and are looking for something easy you can do every single day, give walking a try.
Walking is a good workout regardless of your age or physical ability.
My father-in-law started walking after he had a heart attack in his 50's and he walked daily until he got too sick from cancer 40 years later.
My mom had crippling arthritis and she still made it a point to walk around her complex for 15 minutes on most days. When the weather didn't cooperate she just did laps in her building. She used her walker and her pace was slow, but she was moving which was great for her physically and mentally.
No fancy equipment required.
The only equipment you need for walking is a comfortable pair of shoes. You don't need the $200 ones with fancy technology or a pro athletes name on them, but you do want something with a bit more cushioning and arch support than the $5 discount store model that is not much thicker than a piece of cardboard. Your shins and feet will thank you.
Getting started walking is easy.
If you're not in the best of shape (hand raised), start by going for a 10 or 15 minute walk at an easy pace and work your way up from there. As your fitness level increases you can increase your speed and incorporate some hills and stairs.
Find a local park with a nice path for walking. Concrete sidewalks are usually flat. Dirt and decomposed granite paths may not be even, but they are softer on the joints.
If the weather doesn't permit walking outside, head to your local mall or hop on a treadmill.
You can even walk in place at home in front of your TV. Get up during commercial breaks and march in place until your favorite TV show comes back on (that's about 4 minutes on network TV). If you're streaming, make yourself walk in place for 10 minutes in between episodes.
Ways to keep it interesting
While my father in law walked around the tennis court in their back yard, lap after lap after lap for decades, most people would get bored with that pretty quickly. And if your routine is boring you are less likely to keep going.
A few ways to keep walking interesting:
Mix up your route and walk in different areas of town, or visit different parks.
Invite a friend to come along with you to walk. It's always nice to have someone to talk to and having a walking buddy can keep you accountable.
Grab your phone or MP3 player and listen to music, podcasts or audio books as you walk.
The main thing is that you get out there, move around, and get some exercise in a way that's gentle on your joints, your heart, and the rest of your body. Give it a try and see if you don't start to feel better, happier, and stronger after a few weeks of regular walks.
Other posts you may enjoy: